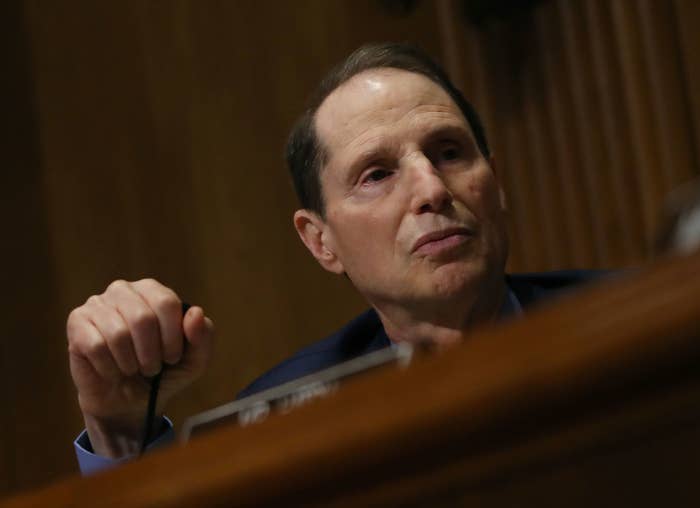 WASHINGTON — Senators in the Finance Committee were supposed to vote on Tuesday on two cabinet nominations that Democrats aren't huge fans of. There was just one issue: Democrats didn't show up.
Sen. Orrin Hatch, who chairs the committee, was furious as he sat in a half-empty chamber just after 10 a.m., leaving him unable to send Rep. Tom Price and Steven Mnuchin, President Donald Trump's nominees to head the Department of Health and Human Services and the Treasury Department, respectively, to the full Senate for approval.
"[Democrats] are deliberately boycotting this markup," Hatch said. "Why that's an important thing for them I'll never understand because these two nominees are going to move ahead regardless. … I don't remember us treating their nominees this way. At least I can't ever remember that."
Hatch called the move by Democrats "alarming," accusing them of "acting like idiots" and announcing his disappointment "in this kind of crap." Hatch repeatedly said that he cares for every Democratic member of the committee and that he had understood Monday night that they intended to show up for the vote Tuesday morning. Hatch said he was stunned by their decision to skip the vote and to instead "file a list of demands just this morning. That's not only ridiculous — it's insulting."
Sen. Ron Wyden, the top Democrat on the committee, put out a statement on Monday night saying the Democrats had asked for a delay on the Mnuchin vote to attend a vigil that evening, but left the impression they would showing up to vote the next day.
"This delay will allow members to protest the President's unconstitutional ban on Muslims entering the United States while voting on Mr. Mnuchin's nomination little more than 12 hours later," Wyden said.

Hatch pointed in particular to Price, who is a fellow member of Congress, saying, "We ought to be proud of him and we ought to be supporting a man of integrity which he is."
While Hatch allowed other Republicans on the panel to voice their own anger at Democrats' refusal to show, their Democratic colleagues were holding a press conference about why they wouldn't attend the hearing for a vote.
Wyden said in a series of tweets on Tuesday that Democrats would not show up for the vote until they get better answers from Price and Mnuchin on a variety of concerns. In a statement later Tuesday morning, the Oregon Democrat accused both nominees of misleading the public during their confirmation hearings earlier this month.
Democrats have raised a number of questions about Price's stock portfolio and whether he profited from legislation he pushed related to the medical industry. "The litany of ethics revelations regarding @RepTomPrice are strong evidence that he cannot be allowed to have control of #Medicare," Wyden tweeted.

In his statement, Wyden pointed specifically to shares Price bought in Innate Immunotherapeutics, an Australian biomedical firm, which he told senators he purchased at a discount available to all. But company officials recently told the Wall Street Journal that that wasn't the case, and the discount was offered to just 20 people, including Price, who has worked extensively on health care issues in Congress and would, of course, at HHS as well.
"It looks more and more like Congressman Price got special access to a special deal," Wyden said.

On Mnuchin, Democratic criticism has focused on his time as the head of OneWest, a mortgage lender with a record of foreclosing on homes. The party has accused Mnuchin of being a "foreclosure machine."
Wyden said Tuesday that the Treasury nominee lied in written responses to members when he said that OneWest Bank did not engage in what's called "robo-signing" — when an employee at a mortgage lender like OneWest doesn't review foreclosure documents before signing them en masse. But Wyden pointed Tuesday to "court documents and testimony [which] show that OneWest employees processed hundreds of documents a week, spending only seconds on each." The Columbus Dispatch reported on those findings using court documents in Ohio over the weekend.
"This is about getting answers to questions, plain and simple. Ethics laws are not optional, and nominees do not have a right to treat disclosure like a shell game," Wyden said.

Hatch, the longest-serving Republican in the Senate and the president pro tempore, said Tuesday that he couldn't remember a similar move by senators at any point in his 40-year history in the chamber.

He said he would reschedule the hearing, adding that he is "hopeful that … they'll come and do the job that they've been elected and sworn to do."
"I do not want to hear from any of them ever again about doing our jobs."