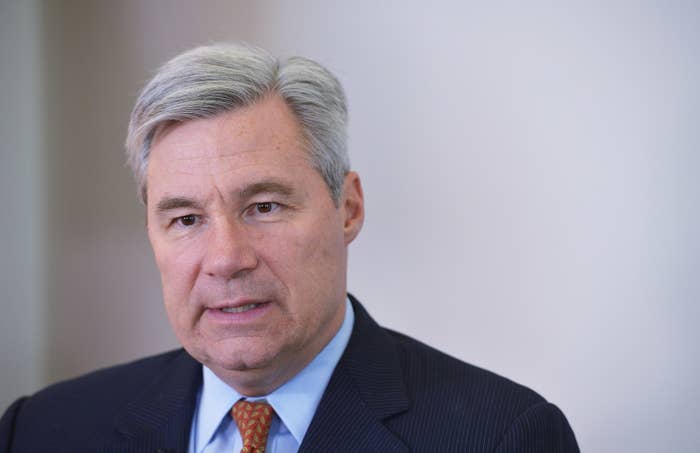 Democratic Sen. Sheldon Whitehouse declined to defend his colleague Sen. Kirsten Gillibrand from attacks over her decision to call on Sen. Al Franken to resign last year.
Although more than two dozen senators, including Whitehouse, said Franken should resign after eight women accused him of inappropriate touching, Gillibrand was first and has drawn the most ire from those who opposed the decision. Some major Democratic donors including George Soros have said they will no longer support Gillibrand. She is often blamed on Twitter for Franken's political demise.
Asked whether that blame is appropriate in an interview with BuzzFeed News' AM to DM on Tuesday, Whitehouse demurred. "That's going to be between her and the people who feel that way," Whitehouse said. "I think this was a very tough result for Al, but he did make his own choice. And I leave that for him to have made."
Whitehouse called on Franken to resign on Dec. 6, 2017, the same day that Gillibrand and many of their colleagues, including every woman Democrat, did. Franken announced he would step down the next day, a decision Whitehouse called "the right choice."
Asked if he thought Gillibrand was getting the most heat because she is a woman, Whitehouse said, "I couldn't tell you that."

Whitehouse also discussed the Russia investigation on Tuesday, telling AM to DM that President Donald Trump's behavior "suggests that Putin does" have something on him. Asked specifically if he thinks the so-called pee tape is real, Whitehouse said, "It's hard to tell. There may be a tape out there, there may be just business dealings."
The real issue, Whitehouse went on, is that he feels Republicans haven't pushed Trump and his family hard enough on any "business agreements" with Russian interests. "That ought to be a gimme as a question. Just tell us. … That is something that so far a Republican-controlled Congress has refused to even ask about, and it's astonishing that a potential conflict of interest … hasn't been explored," he said.
Following this November's election, Whitehouse said he's not too worried about the internal fight in the Democratic Party between the far left and more centrist Democrats leading to the party's own tea party moment. The Democrat argued that his party needs to focus on the big areas they agree on "and start getting things done."
"The fight between the different sides of the party ... if that drives our behavior, then we have failed," he said.