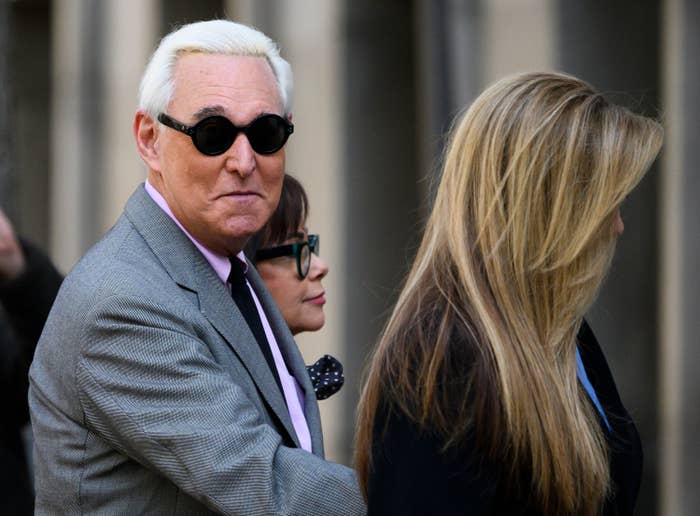 WASHINGTON — Roger Stone, a longtime adviser to President Donald Trump, was found guilty on charges of lying to Congress about his contacts with WikiLeaks, obstruction, and witness tampering.
Stone was arrested by the FBI in January on an indictment from former special counsel Robert Mueller's office, alleging that he had repeatedly lied to Congress about his contacts with WikiLeaks and its founder Julian Assange related to the site's release of hacked emails from the Democratic National Committee and Hillary Clinton's 2016 presidential campaign. He was additionally charged with witness tampering and obstruction of Congress.
A jury found him guilty on all seven counts — five of lying to Congress and one each of witness tampering and obstruction of Congress — on Friday. Stone faces up to 20 years in prison for the tampering charge and another five for each of the other six counts. He'll be sentenced in February and was released until then, Politico reported.
Stone worked officially for Trump's presidential campaign through mid-August of 2015, but he continued to act as an informal adviser to Trump after and maintained contact with the president after he took office. During the trial earlier this month, prosecutors presented records of phone calls between Stone and Trump in 2016, including a call on the day the DNC announced it had been hacked, though the contents of those conversations are unclear.
Prosecutors alleged that Stone lied to Congress about his possession of any documents, emails, or text messages regarding his conversations about WikiLeaks and the hacked emails. Additionally, Stone falsely told Congress that he had not asked his intermediaries to communicate with Assange for him and lied about talking to the Trump campaign about his contacts with WikiLeaks, according to the indictment against him.
"Evidence will show Roger Stone lied to the House Intelligence Committee because the truth looked bad. The truth looked bad for the Trump campaign and the truth looked bad for Donald Trump," Assistant US Attorney Aaron Zelinsky told the jury at the start of the trial earlier this month.
Stone was also charged with witness tampering, in reference to his attempts to keep longtime friend and radio host Randy Credico from contradicting his testimony before Congress. Stone repeatedly urged Credico not to testify, not to turn over documents to Congress or to the FBI, and to lie, according to the indictment. He also told Credico on multiple occasions to pull a "Frank Pentangeli," referencing the character from the Godfather Part II who cooperates with a congressional investigation until his brother is threatened. (Prosecutors had asked to show a clip of that scene at trial, but that request was denied).
Following his conviction, Trump tweeted that while the jury found Stone lied to Congress, a long list of Democrats and the president's perceived enemies — including greatest hits like Hillary Clinton, former special counsel Robert Mueller, and former FBI agent Peter Strzok — also lied. "A double standard like never seen before in the history of our Country?" he tweeted.
InfoWars host Alex Jones said Thursday that Stone had appealed to him to ask Trump to pardon him. "I appeal to the president to pardon me because to do so would be an action that would show these corrupt courts that they're not going to get away with persecuting people for their free speech or for the crime of getting the president elected," Jones recounted Stone saying.
Stone acted as essentially a WikiLeaks whisperer for the Trump campaign, prosecutors alleged. Stone told senior Trump campaign officials in the summer of 2016, after the Democratic National Committee said it had been hacked, that WikiLeaks had damaging information on the Clinton campaign and would release it soon. After the first dump of DNC emails on July 22, a senior Trump campaign official reached out to Stone asking when WikiLeaks would release more and what they had that could be damaging to Clinton, according to the original indictment.

At that point, Stone reached out to Jerome Corsi, an associate of his who once worked for InfoWars, and asked Corsi to get in touch with Assange and get the rest of the emails. Corsi emailed Stone on Aug. 2, "Word is friend in embassy plans 2 more dumps. One shortly after I'm back. 2nd in Oct. Impact planned to be very damaging."
The next day, Stone sent an email to then–Trump campaign chair Paul Manafort with the subject line "I have an idea" and the body text, "To save Trump's ass," according to a copy shown to jurors during the trial. Stone is longtime friends with Manafort, who was also indicted and ultimately sentenced to just under seven years in prison in March; the two cofounded a lobbying firm in DC together in the '80s. (Former Trump campaign manager Corey Lewandowski joked on Twitter Friday that Stone and Manafort would be reunited following Stone's conviction and could "re-open new 'consulting' firm behind bars.")
Among other contacts with Trump associates during that period relating to WikiLeaks, former Trump campaign aide Rick Gates testified Tuesday that Stone spoke with Trump himself in a July 31 phone call. Following that call, Trump "indicated that more information would be coming," Gates testified, according to Courthouse News. Stone had denied that he had discussed the WikiLeaks release with Trump.
On Aug. 25, 2016, Credico had Assange on his radio show and texted Stone about it, including telling him that Assange "has kryptonite on Hillary." In September, Stone texted Credico asking him to pass along a message to Assange, including a request for specific hacked emails referencing allegations against Clinton during her time as secretary of State, according to the indictment against Stone. Stone continued to text Credico asking him about forthcoming email dumps from WikiLeaks and communicating with then–Trump campaign CEO Steve Bannon about the timing, leading up to WikiLeaks publishing its first collection of hacked emails from Clinton campaign chair John Podesta on Oct. 7. After that release, "an associate" of Bannon's texted Stone, "Well done."
Bannon, who no longer works for Trump but has launched a podcast defending him from impeachment, testified as part of the trial, saying that Stone was considered the campaign's "access point" to WikiLeaks, according to Politico. Bannon said that the campaign viewed the WikiLeaks releases as helpful to Trump, but added that "the campaign had no official access to WikiLeaks or to Julian Assange," the outlet reported.
Unrelated to Stone, Assange was arrested at the Ecuadorian Embassy in London in April and faces an 18-count indictment in the US. The charges do not relate to the DNC hack but focus on his alleged conspiracy with former Army intelligence analyst Chelsea Manning to break a password to a classified US government computer in order to obtain documents that were later published by WikiLeaks.
Stone's trial was rocky from the beginning. Just weeks after he pleaded not guilty, Stone posted a photo of the judge in his trial, Amy Berman Jackson, on his Instagram account next to a crosshairs symbol. Stone blamed a volunteer for posting the image, naming a handful of members of the Proud Boys (a far-right, men-only extremist group that describes its members as "Western chauvinists") who help him with his social media accounts. Although Stone removed the post, it did not exactly endear him to Jackson, who entered a gag order limiting what he could post or say publicly about the case. Following more questionable social media posts related to the trial, Jackson banned Stone from posting on Instagram, Twitter, and Facebook altogether. That gag order will stay in place ahead of Stone's sentencing in February, Jackson said Friday.

Stone had used social media and public appearances to raise money for his defense, including selling "Roger Stone Did Nothing Wrong" T-shirts and posting photos of people (particularly attractive young women) wearing them on his Instagram. In an almost-too-on-the-nose moment, Stone was wearing the shirt when he was arrested by the FBI.

Stone did not testify in his own defense in the trial.

Stone has a long and curious role in Republican politics, even before Trump began his 2016 campaign. He has shown an almost Forrest Gumpian ability to find his way into the crazier moments of Republican politics of the last several decades. He worked for Richard Nixon; he was in some way involved in the Florida recount disaster of 2000 (he's claimed credit for organizing the "Brooks Brothers Riot," but that's been disputed); he worked as a campaign manager for Kristin Davis, the Manhattan Madam at the center of former New York Gov. Eliot Spitzer's prostitution scandal, when she considered running for governor; and, finally, he worked for Trump.
Stone has styled himself as a "dirty trickster" and leans into a movie-style mob persona (one of the main charges against him rests in part on him referencing the Godfather Part II). Everything about Stone is over-the-top: He has a tattoo of Nixon, his hero, on his back and he has a flair for eccentric fashion — top hats, three-piece suits, circular-framed sunglasses — and he frequently dresses, as a viral Twitter thread once put it, "like a tax collector from a candy themed board game."
Though he hasn't formally worked for Trump since the president took office, Stone has remained a steadfast Trump ally and has worked to support the president even since his indictment. And Trump has defended Stone as well, for example praising him in a December 2018 tweet for saying he'd "never testify against Trump."
"Nice to know that some people still have 'guts!'" Trump tweeted at the time, likely a reference to Michael Cohen, the president's former lawyer, who made a plea deal with prosecutors, infuriating the president.