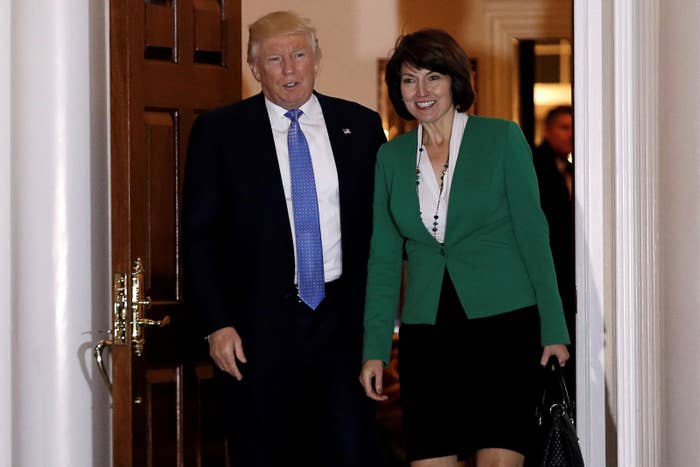 WASHINGTON — President-elect Donald Trump is expected to name Washington Rep. Cathy McMorris Rodgers as his pick for Secretary of the Interior, according to reports, opening up a space in House GOP leadership if she's confirmed by the Senate next year.

Both the New York Times and the Wall Street Journal reported that McMorris Rodgers will be named as soon as Friday, citing anonymous sources close to the transition team. Neither the transition team nor McMorris Rodgers' office responded to BuzzFeed News's request for comment.

McMorris Rodgers currently serves as the chairwoman of the House Republican Conference, where she is responsible for messaging for members of the House GOP. It's the number four position in House Republican leadership and makes her the highest-ranking female Republican in Congress.
McMorris Rodgers, of Spokane in eastern Washington, was named a vice chair of the Trump transition team earlier this year. She met with Trump late last month to discuss a possible role in his administration.
If confirmed, McMorris Rodgers would be responsible for more than 70,000 employees who are responsible for maintaining and protecting more than 500 million acres of federal lands, or about one-fifth of the land in the US, according to a 2010 Interior report. She would also oversee the National Park Service, the Fish and Wildlife Service, the Bureau of Indian Affairs (the official name for the government service the provides assistance and programs for Native Americans), and several other federal bureaucracies.
McMorris Rodgers previously served on the House Committee on Natural Resources, but left in 2011. She hails from a district that's largely rural and has pushed hard in Congress for hydropower projects and limiting federal authority over private lands and waters. She has also been a vocal proponent of federal funding to combat and prevent wildfires, as tens of thousands of acres of forest in Washington state has gone up in smoke over the last three summers in some of the worst wildfires in state history.
The Washington Republican has served in the House since 2005 and is well-liked by her colleagues in the House and was particularly close with former House Speaker John Boehner, a mentor who helped to promote her to leadership.
McMorris Rodgers is well-known for staying on message and avoiding the spotlight, preferring to give it to others, in stark contrast with the man in whose administration she hopes to serve.
Several Republicans are already looking at taking over McMorris Rodgers' position in House GOP leadership if she is formally named and then confirmed by the Senate, Politico reported. They include Indiana Rep. Susan Brooks, Georgia Rep. Doug Collins, Utah Rep. Mia Love and California Rep. Mimi Walters. Back Washington state, the Fifth Congressional District would hold a special election to fill her House seat next November.