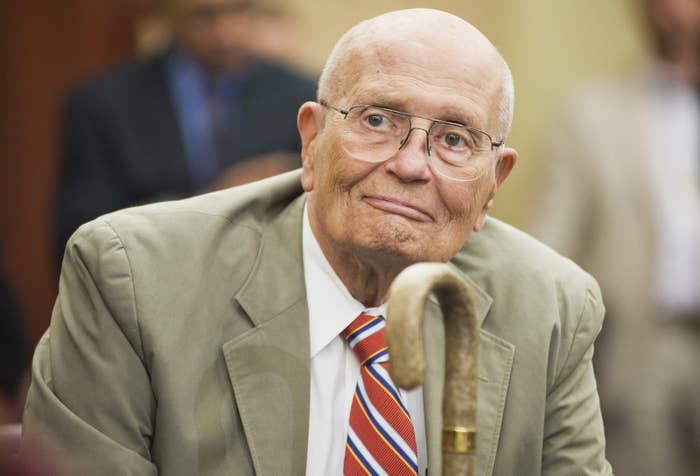 WASHINGTON — Rep. John Dingell, the longest serving member of Congress in US history, who became known for his epic Twitter account, died Thursday at the age of 92.
His wife, Rep. Debbie Dingell, who was elected to his seat in Congress after he retired in 2015, announced his death in a statement from her office Thursday night. Michigan Gov. Gretchen Whitmer had earlier confirmed the news on Twitter, calling him one of the state's "greatest leaders."

Dingell, a Michigan Democrat, served for nearly 60 years in Congress and was a longtime advocate for climate and environmental protections, including authoring the Endangered Species Act and coauthoring the Clean Water Act in the early 1970s. He was also a major proponent of the Civil Rights Act of 1964 and creating Medicare.
More recently, Dingell had become known as a prolific tweeter, even in his eighties and nineties, and helped pave the way for Resistance Twitter, now dominated by Congress members like Rep. Alexandria Ocasio-Cortez and Sen. Brian Schatz.
His frequent jabs at Republicans and President Donald Trump, as well as jokes and memes, have earned him more than 250,000 Twitter followers.

Dingell mastered Twitter in a way that was unusual for a member of Congress at the time — particularly one who was born before even television was invented. He switched seamlessly from making cracks about his own old age to raving about his beloved University of Michigan Wolverines (and the Lions and the Tigers) to responding to more serious subjects.

In the wake of the Charlottesville "Unite the Right" rally in 2017, Dingell called back to his service in WWII and slammed Trump for his response to neo-Nazis walking down the streets of a modern American city; both tweets went viral.

While there was speculation that Dingell's account, like many in Congress, was run by a younger, savvier staffer, his office always said the congressman either wrote or dictated his own tweets.

Despite his Twitter prowess, Dingell wasn't always up on contemporary pop culture, but he seemed to delight in ribbing his staff for catching him up. He memorably responded to an EPA employee accidentally tweeting their score from the Kim Kardashian: Hollywood game on an official account by asking "who/what a Kardashian is."

Dingell remained active on Twitter long after he retired from Congress and kept up on political news. As recently as Feb. 2, he tweeted at Trump, suggesting the president wasn't in a great position to be tweeting about a racist photo scandal in Virginia.

And he made a pretty solid crack about former Starbucks CEO Howard Schultz considering running for president.

Dingell was awarded the Congressional Medal of Freedom in 2014, not long after he announced his retirement. Then-president Barack Obama noted at the time that "few Americans have left a more lasting impact" on the nation than Dingell had, adding, "Our nation is profoundly better off because of his great service."

Dingell thanked Obama in a tweet after the event, saying he was "honored" to receive the award, the highest civilian honor. But in true form, he used the opportunity for a joke as well.
Dingell's family announced on Wednesday that he had entered hospice care following a cancer diagnosis the previous year. His wife confirmed the news on Twitter, saying, "we have entered a new phase. He is my love and we have been a team for nearly 40 years."
Debbie Dingell told the Detroit News that even in hospice care, her husband was still tweeting and had dictated a tweet to staff the day after Trump's State of the Union address "because he had to respond."

Dingell tweeted Wednesday night, the day news broke that he had been moved to hospice, that he struck a deal with his wife and that he could keep tweeting as long as he dictated the messages to her.
Members of Congress sent their best wishes to Dingell in his final days.
"He will go down in history as one of the most impactful members of the United States Congress," Rep. Hakeem Jeffries, a New York Democrat, told Politico, adding, "And he's a great tweeter as well."