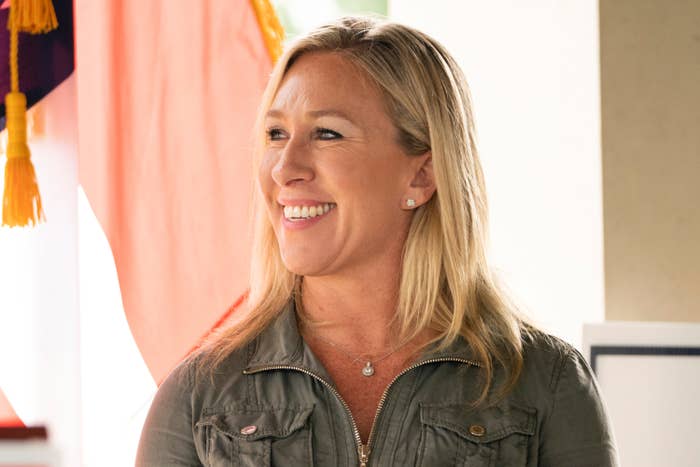 BuzzFeed News has journalists around the US bringing you trustworthy stories on the 2020 Elections. To help keep this news free, become a member.
Greene had the support of Trump — who said he believes in a core tenet of QAnon — calling her a "future Republican Star" in a tweet the day after she won a Republican primary runoff in August. She is also far from the only QAnon-supporting candidate to run for office this year; according to Media Matters, 27 candidates for Congress who have endorsed or given credence to QAnon conspiracies made it onto the November ballot across the US.
There's hardly a racist, xenophobic, or anti-Semitic conspiracy theory that Greene hasn't attached herself to in the last few years. In addition to sharing QAnon posts and theories, she has referred to the elections of Reps. Rashida Tlaib, Ilhan Omar, and other Democrats in 2018 as "an Islamic invasion of our government" and called Jewish philanthropist George Soros a "Nazi" in videos reported by Politico earlier this year. She's suggested in blog posts that Hillary Clinton is a serial killer. She has also spread conspiracy theories about 9/11 and the 2017 Las Vegas shooting, and falsely said that former president Barack Obama is Muslim.
Greene's election emphasizes the extent to which the GOP will embrace QAnon candidates with a chance at winning while trying to distance themselves from the mass delusion itself. Top Republican leaders initially danced around her candidacy but now seem poised to welcome her into their ranks. They condemned her more racist videos before she won the primary — and then refused to discuss her support of QAnon while voting for a bipartisan resolution to condemn the delusion as a dangerous conspiracy theory. The National Republican Congressional Committee initially declined to say if it would help Greene, even after congratulating her on her primary win. But on Sept. 25, the NRCC gave $5,000 to her campaign, the Daily Beast reported. The NRCC also added Greene to its "Young Guns" program, which recruits and helps promising candidates who "embody the principles of the House Republican Conference."
If you have a news tip, we'd like to hear from you. Reach out to us via one of our tip line channels.
Georgia Sen. Kelly Loeffler, who's locked in a tight three-person reelection race, campaigned with Greene last month.
House Minority Leader Kevin McCarthy said there's "no place for QAnon in the Republican Party" — while also saying that he would "welcome" Greene into the House. He said that she had "denounced" QAnon.
But that's not really true. Greene tried to distance herself from QAnon after national media began covering her race. She told Fox News in August that she hadn't made Q — the self-proclaimed US government insider who posts baseless conspiracy theories and utterly nonsensical messages to their followers — a part of her campaign. But she continued to echo QAnon theories, tweeting as recently as September about child sex abuse and using the QAnon hashtag #SaveTheChildren.
Greene was an early adopter of QAnon, beginning to post videos in support in 2017. And she was clearly a true believer. In one 2017 video that has since been made private, she called Q "a patriot" and added, "There's a once-in-a-lifetime opportunity to take this global cabal of Satan-worshiping pedophiles out, and I think we have the president to do it," the Washington Post reported.
Greene's district in the northwest of Georgia is overwhelmingly white, and the Cook Political Report ranks it the 10th-most-Republican district in the country. She finished first in a crowded Republican primary for the seat in June and then defeated Republican John Cowan in a runoff by 14 points in August, securing the Republican nomination.
Two weeks after Greene won the primary runoff, Democratic Rep. Tom Malinowski and Republican Rep. Denver Riggleman introduced a bipartisan resolution condemning QAnon. In late September, Q posted about Malinowski, screenshotting a false attack from the NRCC saying that the Democrat had lobbied to "protect sexual predators." Malinowski received death threats. Three days later, on Oct. 2, the House overwhelmingly passed the anti-QAnon resolution, though 17 Republicans voted against it.
Greene originally announced that she'd run for Congress in Georgia's 6th District, where she lived, but decided to run in the 14th instead after Rep. Tom Graves announced his retirement.