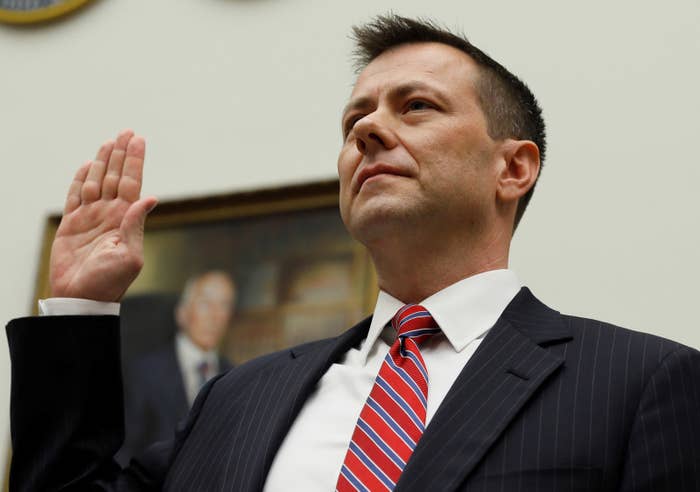 FBI agent Peter Strzok gave an impassioned defense after coming under fire from House Republicans in a committee hearing concerning anti-Trump texts he sent during the 2016 election, while he was working on an investigation into Hillary Clinton's emails and, later, on the Russia investigation.
Strzok engaged in a fiery back-and-forth with Rep. Trey Gowdy, who is the chair of the House Oversight Committee, regarding the texts to Lisa Page, another FBI agent with whom Strzok had a relationship. Gowdy focused in particular on Strozk's text to Page after she shared concerns that Trump would win the election. "No he won't. We'll stop it," Strzok texted back.
Republicans see that text as a smoking gun, claiming that Strzok intended to use his position in the FBI to throw the election to Clinton. After Gowdy pressed Strzok repeatedly on the text, the FBI agent gave an emotional response about what he called an "off-the-cuff" message, saying he had written it late at night in response to Trump mocking Khizr Khan, the father of a fallen Muslim American soldier.
"My presumption, based on that horrible, disgusting behavior [was] that the American population would not elect somebody demonstrating that behavior to be president of the United States. It was in no way, unequivocally, any suggestion that me, the FBI, would take any action whatsoever to improperly impact the electoral process. For any candidate. So I take great offense, and I take great disagreement to your assertion of what that was or wasn't," Strzok said, addressing Gowdy.
Strzok defends his texts.
US House of Representatives
Strzok said that while the texts reflected his personal beliefs at the time, they did not "ever enter into the realm of any action I took." He went on to warn that suggestions that he was pulling strings at the FBI to impact the election without his colleagues knowing or stopping him "deeply corrodes what the FBI is in American society, the effectiveness of their mission. And it is deeply destructive."

Strzok's statement was met with applause from the committee room.
Strzok was removed from special counsel Robert Mueller's investigation of potential collusion between the Trump campaign and Russia after the texts were discovered.
The hearing, which is still ongoing, was chaotic. Democrats and Republicans on the committee spent much of the hearing's first hour arguing and trying to use procedural moves to quiet the opposition, largely while Strzok sat quietly.

Early on in the hearing, Strzok declined to answer some questions from the Judiciary Committee's Republican chair, Rep. Bob Goodlatte, saying the FBI had told him not to answer due to an ongoing investigation.
That led to a lengthy fight between Republicans and Democrats, in which Goodlatte threatened to hold Strzok in contempt and Democrats tried to object. Eventually, Rep. Jerry Nadler, Goodlatte's Democratic counterpart on the committee, just tried to end the hearing entirely.
Goodlatte told him he wasn't recognized to do that. At one point, members in the hearing room could be seen shaking their heads and raising their eyebrows in exasperation as their colleagues fought.
By the afternoon, things deteriorated even further. More than five hours into the hearing, Republican Rep. Louie Gohmert repeatedly accused Strzok of lying to the committee and then referenced Strzok's affair with Page, prompting cries of outrage from other members of the committee.
"I've talked to FBI agents around the country," Gohmert told Strzok. "You've embarrassed them. You've embarrassed yourself and I can't help but wonder when I see you looking there with a little smirk, how many times did you look so innocent into your wife's eyes and lie to her about Lisa—"
Other members of the committee erupted in disapproval, with one calling it "outrageous," another, "despicable" and a third telling Goodlatte it was "intolerable harassment of a witness."
In the brief chaos as members shouted for Goodlatte to end the line of questioning, one woman member was heard yelling to Gohmert, "Do you need your medication?"
Strzok responded to Gohmert's claims shortly thereafter, saying that he has always been truthful with the committee. "The fact that you would accuse me otherwise, the fact that you would question whether or not that was the sort of look I would [give] a family member who I have acknowledged hurting, goes more to a discussion about your character and what you stand for and what is going inside you," Strzok said.
Goodlatte then told both men to stop.
Strzok spoke at the joint hearing of both the Judiciary and Oversight committees on Thursday, just one day after Page failed to appear for her own interview. Page's attorney told the committees that she needed more time to prepare and would not appear for Wednesday's scheduled hearing.
House Republicans had threatened to hold Page in contempt of Congress, but during Thursday's hearing Goodlatte's office announced that they had a deal for her to appear. Page will testify before both committees on Friday and on Monday.
Trump has frequently tweeted about the texts between Strzok and Page, whom he refers to as the "FBI lovers," using their messages to imply that the entire investigation of his campaign is unfairly biased against him, although neither of them currently works for Mueller. Trump tweeted about Strzok and Page three times on Wednesday.

There may be even more Strzok testimony on the way. At one point in the hearing, Nadler called on Republicans to release the full 11-hour transcript of Strzok's previous appearance before Congress, which happened behind closed doors. Nadler argued that parts of the transcript have already leaked and been made public.

But Goodlatte refused, saying that they had a deal with Democrats not to make the transcript public. Nadler denied that any such agreement existed. In an interesting twist, Democratic Rep. David Cicilline said he would just release the transcript himself. He gave Republicans until 5 p.m. Thursday to find a rule that would prevent him from doing so, but later tweeted that they had not come up with one.
Cicilline said Democrats are now sending the transcript to the Justice Department for any necessary redactions and then will make it public.