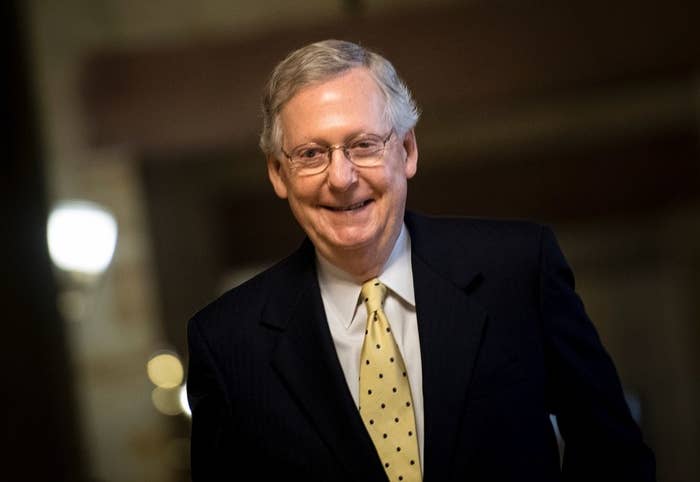 Democrats may have won the House, but Mitch McConnell is smiling.
Republicans have already picked up four Democratic Senate seats, sending Sens. Joe Donnelly of Indiana, Claire McCaskill of Missouri, Bill Nelson of Florida, and Heidi Heitkamp of North Dakota into retirement. With Sen. Ted Cruz holding on in Texas and Rep. Marsha Blackburn winning the open Tennessee seat, Republicans will hold on to their majority and even increase it.
Democratic voters across the country may be asking, "Well, what the hell happened?"
The answer is as simple as it may be unsatisfying to the Democratic base: Democrats were not going to win the Senate this year because the map was bad. And not just bad, but historically bad.
If you'll consult your Schoolhouse Rock, you'll recall that one-third of the Senate is up for reelection every two years. These races are staggered at random. (Back in 1789, senators decided who would be up for which election cycle by drawing pieces of paper out of a freaking box. True story.) And because we are a country of red states and blue states, every Senate election cycle has a slightly different flavor to it. Some are fairly even, with roughly the same numbers of Democrats and Republicans running in tough states. Other cycles are absolutely devastating for one party, forcing it to play defense on way too many states from the beginning with very few places to play offense. This election was very much the latter.
This year, Democrats had 25 seats on the ballot to Republicans' ... eight. And of those 25 seats, Democrats had to defend seats in 10 states that Donald Trump had won in 2016 — five of them by double digits — while Republicans had only one seat that Hillary Clinton won (Sen. Dean Heller in Nevada).
This is all to say that as of January 2017, things were looking pretty damn dire for Democrats in the Senate. There was really no way they had a shot at winning more seats in the Senate, much less a majority; the whole plan was just to stave off the bleeding and try again in 2020.
In recent weeks, Senate Democrats had largely given up on prospects of winning back the Senate, a big shift from months ago when the energy around the country had given them hope that maybe — just maybe — they could take control away from McConnell.
There was a moment earlier this year when it looked like Democrats had a shot at the majority, after Republican Sens. Jeff Flake of Arizona and Bob Corker of Tennessee announced they were retiring. Democrats brought in strong recruits for both seats — Rep. Kyrsten Sinema and former Tennessee governor Phil Bredesen — giving Democrats a real shot at pickups. Bredesen, however, lost his race and Arizona remains too close to call.
Even if Democrats had won Tennessee, Arizona, and Nevada — where Rep. Jacky Rosen took on Heller — they would have had to win 9 of the 10 Democrat seats Trump won in 2016 to gain a majority.
They didn't come close.
Democrats say they are heartened, however, by where they won on Tuesday. Sens. Tammy Baldwin of Wisconsin, Sherrod Brown of Ohio, Bob Casey of Pennsylvania, and Debbie Stabenow of Michigan, were never in much trouble in 2018, despite Trump beating Hillary Clinton in those states. Their victories, by pretty decent margins, will assuage fears that the Democratic party had real problems in the midwest that went beyond just the 2016 presidential election. Brown's victory was particularly striking, after Trump beat Clinton by eight points there in 2016, compared to his slim less-than-a-point victory over her in Wisconsin, Michigan and Pennsylvania.
"There was a very real conversation after 2016 and for much of 2017 whether these states had undergone a realignment after Trump. … These races [show these states] are still very good ground for Democrats," David Bergstein, national press secretary for the Democratic Senatorial Campaign Committee, told BuzzFeed News.