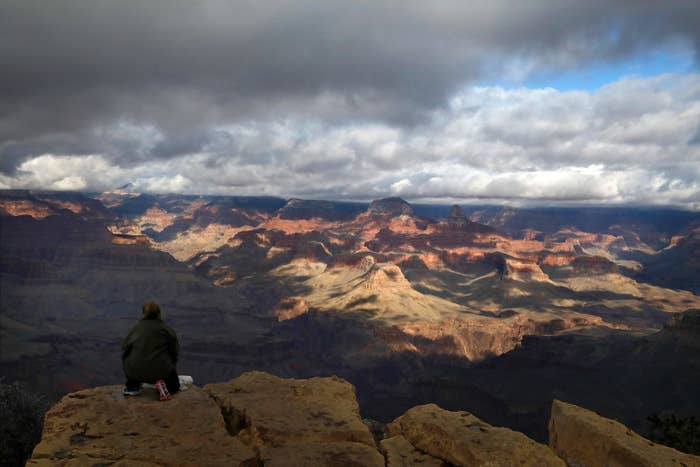 The federal government is shutting down, but the Trump administration has vowed to keep more services open and more federal employees at work than the Obama administration did during 2013's shutdown, encouraging agencies to use leftover money to keep their doors open for as long as possible.
"We want to make folks understand that it will look very different than it did under the previous administration," Office of Management and Budget director Mick Mulvaney told reporters Friday morning, well before Congress failed to fund the government by a midnight deadline.
Several agencies the government considers "nonessential" that shut down in 2013 will stay open, at least initially, even if Congress doesn't manage to come to a deal this weekend to reopen the government. Still, most federal employees will not get paid, including members of the military, until the shutdown is over. And nonessential employees who cannot go to work while the government is shuttered may not even get paid once it's open again.
National parks, for example, will not close down. But with a skeleton crew of employees authorized to work through the shutdown, they will not be able to provide many basic services to visitors, including bathrooms and clearing snow and ice from walkways.
"[N]ational parks will remain as accessible as possible while still following all applicable laws and procedures," Jeffrey Olson, a National Park Service spokesperson, told BuzzFeed News in an email earlier Friday. "For example, this means that roads that have already been open will remain open (think snow removal) and vault toilets (wilderness type restrooms) will remain open. However services that require staffing and maintenance such as campgrounds and full service restrooms, will not be operating."
According to the NPS contingency plans, about 13% of the agency's roughly 24,700 workers would stay on in some capacity. Sally Jewell, who served as Interior Department secretary under Obama, criticized this approach in a recent interview, telling the Atlantic that the lack of staff could lead to safety issues in the parks.
The monuments and memorials on the National Mall in Washington, DC, will also remain open even if the government remains shut down, senior administration officials told reporters on a conference call Friday night. The closure of those sites, particularly the World War II memorial, caused significant backlash during the 2013 government shutdown. "The American public and especially our veterans who come to our nation's capital will find war memorials and open air parks open to the public," Olson told BuzzFeed News.
The Smithsonian Institution also plans to stay open for at least the next few days, regardless of whether the government reopens. Smithsonian employees received an email Saturday afternoon instructing them to go to work as usual Monday, and that guidance for the rest of the week will come later, if the government remains closed. In an earlier press release obtained by the Washington Post, the Smithsonian cautioned that even if the National Zoo does ultimately have to close to the public, "All the animals will continue to be fed and cared for at the National Zoo." But it will stop operating the "Panda Cam" throughout a shutdown.
All active-duty troops will continue to work, but will not be paid unless Congress acts, Pentagon officials said Friday. Civilian personnel who are deemed necessary to carry out "excepted activities" will also be expected to work, but will not be paid until Congress acts. Congress passed legislation just before the 2013 shutdown to pay active-duty troops and some civilian Pentagon employees if the government closed that fiscal year. A similar bill was introduced this week by South Carolina Rep. Ralph Norman.
Still, half of the Defense Department's civilian workforce is expected to be furloughed during a shutdown, Defense Secretary Jim Mattis said Friday, adding that "it's got a huge morale impact" for the military.
Some other agencies have already told all of their employees that they are expected to report to work next week, even if the government remains closed. The federal judiciary and the Environmental Protection Agency both sent out memos to staff saying that they have sufficient funding to stay open.
"The attempt here is we're looking to the law and trying to act in a way that it minimizes the impact."
Senior administration officials told reporters Friday evening that OMB has encouraged agencies to use contingency funds to keep their doors open. Although a shutdown precludes the government from spending money, except for on "essential" services, some agencies have what are basically carryover balances from past congressional funding bills that they can work with. Others, like the US Post Office, operate through fees and don't need congressional funding.
"The attempt here is we're looking to the law and trying to act in a way that it minimizes the impact" on the public and employees, one senior administration official said.
The officials said, however, that they did not have a tally of how many agencies would be able to take advantage of such funds.
Military operations, intelligence gathering, and other missions "necessary for the safety of human life or the protection of property" will continue, according to the Pentagon. These functions include fire protection, law enforcement, and suicide counseling. But many of the everyday activities of the Defense Department — from death gratuity payments to Gold Star families to basic maintenance work to reserve training — would be halted.
Earlier Friday, Mulvaney accused the Obama administration of "weaponiz[ing]" the 2013 shutdown by not taking similar steps, arguing "they could have made the shutdown in 2013 much less impactful, but they chose to make it worse."

The director of the Administrative Office of the US Courts, which manages the federal courts as well as federal public defender offices and the US Sentencing Commission, sent a memo to judges and other officials dated Jan. 17 saying the judiciary had enough money on hand to stay open and pay employees through Feb. 9, even if the government was not to reopen by then.
The judiciary would pay salaries and operating costs through its "fee authority and no-year appropriations," director James Duff said in the memo. Jurors would also continue to be paid during that roughly three-week period.
The federal courts stayed open and operational during the 16-day 2013 shutdown, although some judges delayed schedules in civil cases to accommodate scaled-back operations at the Justice Department.
In his own memo to staff on Friday, EPA Administrator Scott Pruitt told staff that the agency can survive until at least Jan. 26 using carryover funds, and that all employees should report to work on Monday.
"As many of you are aware, annual funding for the government expires at midnight," Pruitt wrote in the memo, which was obtained by BuzzFeed News. "At this time EPA has sufficient resources to remain open for a limited amount of time in the event of a government shutdown. All EPA employees should follow their normal work schedule for the week of January 22, 2018."
"Should the shutdown occur and remain in place through January 26, 2018, we will provide further updates on the agency's operating status," Pruitt wrote. "Thank you for your hard work, dedication, and patience through this process, and for all that you do for the EPA and the American people."
During the 2013 shutdown, EPA halted inspections of some hazardous waste and chemical sites, as well as drinking water systems, according to the National Treasury Employees Union.
EPA's announcement Friday differed from what the agency proposed in its December 2017 memo outlining its shutdown contingency plans, which stated only about 800 of the more than 14,000 employees would be likely be authorized, or "exempted," to work.
When asked about last month's memo, however, EPA spokesperson Jahan Wilcox told BuzzFeed News in an email, "The plan on the website is required to be put on the site as a contingency plan, but it doesn't [necessarily] accurately reflect what our current plans will be."
Tarini Parti contributed additional reporting to this story.