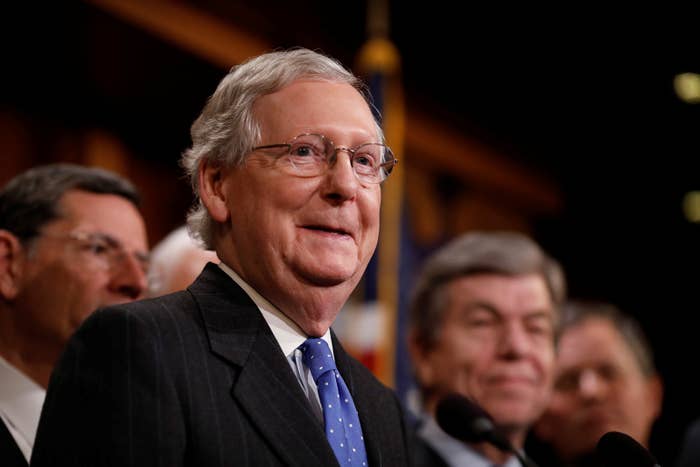 Mitch McConnell is canceling the Senate's summer break, he says, because Congress has more work to do. That the move will screw over nearly a dozen Democrats running in tight races, preventing them from campaigning while their Republican opponents hit up every summer barbecue in their home states, is just a happy accident.
Congress typically takes off about five weeks from the end of July to early September each year, allowing members to go home and campaign. It's a particularly important time during an election year and possibly even more so in 2018, as Democrats are feeling bullish about their chances to take back the House and possibly the Senate.
McConnell announced Tuesday that he is canceling all but one week of August recess this year, blaming "historic obstruction" by Senate Democrats.
Typically, canceling recess would be bad for everyone, but this year Senate Republicans are only defending one really vulnerable incumbent, Sen. Dean Heller in Nevada, while Democrats are running for reelection in 10 states Donald Trump won in 2016. The House, where Republicans will be playing much more defense in November, is still planning to take five weeks off at home.
"The cancellation of the August recess is part Republican political strategy and part appeasing Trump," a Senate Democratic aide told BuzzFeed News in an email. The aide added that it was too soon to tell how much this might affect Democrats in tough races because they can use some procedural moves to slow down nominations, potentially only allowing a few votes per week and giving members time to go home.
"Either way Mitch McConnell's new August will look a lot like the rest of 2018 — devoid of substance, bereft of meaningful legislation. It's a great stimulus package for Uber drivers and D.C. restaurants though," the aide said.
A McConnell spokesperson denied that the move had anything to do with politics and pointed to McConnell's statement as well as a memo from his office outlining the Democratic "obstruction" so far in Trump's term. Per the memo, Democrats have forced 100 procedural votes to slow down Trump nominees during his first two years in the White House, compared to just 12 of those votes that Republicans pushed during Obama's first two years in office.
But still, Republicans have pushed through judges at a remarkable pace, even over Democratic objections. They have already managed to confirm more judges since Trump took office than former presidents Obama, Bush, or Clinton got by the end of their first two years. Regardless, keeping members in town in August will allow Republicans to put even more of Trump's judicial nominees on the bench.
McConnell also said in his statement Tuesday that Congress needs to keep working through August in order to pass some spending bills to prevent another government shutdown before Sept. 30 — something Congress typically saves till the last minute.

Sen. John Cornyn, McConnell's number two, was more direct about how canceling recess would affect Democrats, telling NBC News earlier Tuesday: "I think now they're desperate because now they realize they're more exposed politically because they've got so many people up running for re-election in red states."
Democrats insisted Tuesday that losing August recess wouldn't hurt them. "The fact that the Republicans have resorted to keeping Democrats off the campaign trail in August shows you just how nervous they are about November," one senior Senate Democratic aide said.
Essentially, Democrats are threatening to spend the whole time trying to embarrass Republicans. Senate Minority Leader Chuck Schumer told reporters Tuesday that they'll use the extra time to push Republicans on populist bills that stand no chance of becoming law under the current leadership, like expanding Medicare and offering new tax credits to help cover health care costs.
A Democratic campaign operative argued that members are perfectly capable of working and campaigning, saying he's "not concerned" and that "this is basically the situation that exists right now."
The operative also pointed to Republican candidates in key races who have been criticized by members of their own party for their lackluster campaigning, including Josh Hawley in Missouri and Rep. Lou Barletta in Pennsylvania. "This keeps the spotlight and focus squarely on a bunch of GOP recruits who have not been vetted or tested," the operative said.
The Democrats up for reelection in states Trump won in 2016 are: Sens. Bill Nelson of Florida, Joe Donnelly of Indiana, Debbie Stabenow of Michigan, Tammy Baldwin of Wisconsin, Bob Casey of Pennsylvania, Sherrod Brown of Ohio, Jon Tester of Montana, Claire McCaskill of Missouri, Heidi Heitkamp of North Dakota, and Joe Manchin of West Virginia. BuzzFeed News has reached out to all of their offices for comment.
Despite a tough reelection race in which Trump has already personally attacked him, Tester applauded McConnell's decision to cut short the August campaign season in a statement Tuesday. "I will work with anyone who is willing to keep stacking more important bills on President Trump's desk this summer," Tester said.
Heller, far and away the most vulnerable Republican up for reelection, also praised McConnell's decision. "Congress needs to do its job, and if that means that we need to remain on the floor of the U.S. Senate on the weekends, overnight, and through the month of August to make more progress — then we should do it," he said in a statement.
Heller was one of 15 Republicans who wrote a letter to McConnell last month asking him to cancel recess. His office did not respond to a follow-up question, however, about how the decision would affect his ability to campaign, as his opponent Democratic Rep. Jacky Rosen is free to do so.

Heitkamp, too, called the decision "good news" in a statement, calling on the Senate to spend the month passing major legislation that will have a big impact on her home state of North Dakota, including a Farm Bill and federal flood insurance.
"There's a lot for Congress to do, and whether I'm in North Dakota or Washington, I'm always working for North Dakota," Heitkamp said, calling on the House to stay through August as well.

Donnelly's office adopted a slightly different tone, in response to questions about whether spending less time campaigning at home this summer will hurt his reelection chances. "Senator Donnelly is the hired help for Indiana, and he remains focused on delivering results for Hoosiers. That's why, in addition to his effective work in D.C., he travels across the state at every opportunity to meet with and listen to Hoosiers, and this has included visiting all 92 counties each of the last four years," Donnelly's deputy communications director, Michael Campbell, said in an email to BuzzFeed News.
The Democratic Senatorial Campaign Committee insisted that the party would be fine even without time off to campaign in August, saying in a statement that whatever Republicans want to try to pass during that month will work in Democrats' favor.

"Given his horrendous recruits Senator McConnell is right to be terrified of Senate Democrats on the campaign trial, but whenever the GOP Congress is in session they find new ways to alienate and disgust voters," DSCC spokesperson David Bergstein said in a statement to BuzzFeed News. "If Republicans want to spend the summer trying to pass another age tax on older Americans, spike premiums or slash coverage for pre-existing conditions we'll be happy to hold them accountable."
Senators will still likely take off the first week of August, but will return to DC's humidity for the rest of the month, McConnell's office said.
Schumer said Tuesday he fully hopes that Trump will join them. "We want the president to be here in Washington working with us as well because he caused a lot of these problems … We presume he won't be jetting off to Bedminster or Mar-a-Lago [or playing golf]," he said.
UPDATE
This post was updated to include statements from Sens. Jon Tester and Heidi Heitkamp as well as Sen. Joe Donnelly's office.