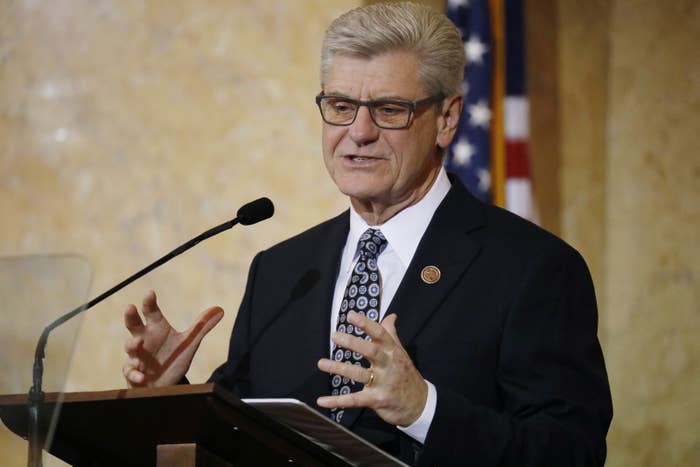 Less than 24 hours after Mississippi Gov. Phil Bryant signed the country's most restrictive abortion law, a court has put the state's new 15-week abortion ban on hold.

US District Judge Carlton Reeves signed a temporary restraining order that will prevent the state from enforcing the law for 10 days beginning Tuesday morning, arguing that the plaintiffs suing to overturn the law "are substantially likely to succeed on their claim" that the new law "is unconstitutional."
The case was brought by the Jackson Women's Health Organization, the only remaining abortion clinic in Mississippi, and Dr. Sacheen Carr-Ellis, who practices there. The clinic argued in its request to put the law on hold that it would have an immediate effect on at least one woman who is scheduled to undergo an abortion at 15 weeks Tuesday afternoon, in requesting the temporary restraining order.
"A brief delay in enforcing a law of dubious constitutionality does not outweigh that harm [to the patient]," Reeves wrote in the order.
Bryant, a longtime opponent of abortion rights, signed "The Gestational Age Act" into law on Tuesday, which bans abortion after 15 weeks of pregnancy, just before the end of the second trimester. While other state legislatures have passed similar laws in the past, this is the first to be signed into law.
The Center for Reproductive Rights, whose lawyers are representing the Jackson clinic and Carr-Ellis in the lawsuit, said in a statement Tuesday, "the law violates decades of well-established, clear precedent under the U.S. Constitution. Courts have consistently struck down similar bans on abortion before viability as unconstitutional."

Next, Reeves said the court will proceed with an expedited briefing schedule to determine whether to issue a preliminary injunction, which would put the law on an indefinite hold until the court issues a final ruling on its constitutionality.
The lawsuit to overturn the new law was not unexpected. Anti-abortion activists and legislatures often push restrictive new legislation with the understanding that they will face legal challenges in the hopes of taking those cases to the Supreme Court, where they could have a chance at chipping away at national abortion policy.
Mississippi already bans abortion at 20 weeks and has long had some of the most restrictive anti-abortion laws in the country. The state has a "trigger law," which would immediately make abortion illegal in the state should the Supreme Court overturn Roe v. Wade.