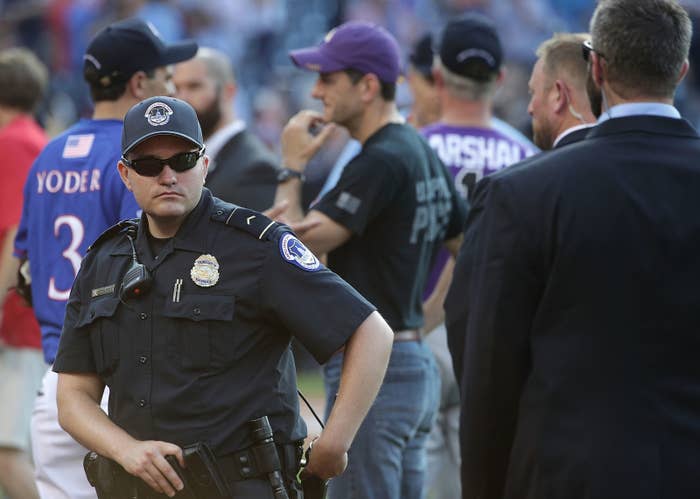 The US Capitol Police have investigated "approximately 950" threats against members of Congress since January, already more than the 902 reported in all of 2016, the House's top law enforcement officer wrote in a letter warning of "the new daily threat environment" on Capitol Hill.
In the letter to the Federal Election Commission dated June 21, just a week after Rep. Steve Scalise was shot at a baseball practice in Virginia, House Sergeant at Arms Paul Irving wrote that members of Congress "receive threatening communications on a daily basis via the internet, telephone and mail in Washington, D.C., at their Congressional district offices, and at their residences," including having their home addresses published online.
Irving called the rise of threats an "urgent matter," pointing specifically to Scalise's shooting on June 14 and arguing that the "anonymous nature of these postings makes it particularly challenging" for Capitol Police to track down credible threats.
To help protect members of Congress while they are at home in their districts (as they will be for the next 10 days, for the 4th of July recess), Irving asked FEC to release an official advisory opinion allowing all members of Congress to use campaign funds to pay for home security systems.
"It is my position that Members of the U.S. House of Representatives require a residential security system due to the threat environment," he wrote.
In the past, the FEC has allowed members of Congress to use campaign money for home security upgrades on a case-by-case basis in response to specific threats. "In these cases, the security upgrades were not considered personal use because the threats would not exist irrespective of the officeholders' candidacy or duties as an officeholder," the FEC wrote.
Now, Irving and many members of Congress are asking the FEC to make that a blanket ruling. In a follow-up letter dated June 29, Irving said he would formally submit the request at the FEC's July 13 meeting.
Even if the FEC complies, however, that won't be sufficient for some members who have been deeply shaken by the shooting earlier this month and the increase in threats. The day of the shooting, members of Congress met together to discuss the issue, with several House members raising threats they had received and concerns about their safety, as well as that of their staff.
While the FEC could allow them to install security systems at their homes, some members have raised concerns about physical security for members while at home in their districts, or even traveling around Washington. Only members of leadership — five each in the House and Senate — have Capitol Police protection.
In fact, House leadership had already been discussing how to better provide security for members long before the June incident. And some members have had a request into their leaders to get permission to use their House office accounts to pay for home security, ever since former Rep. Gabrielle Giffords was shot at a constituent event in Tuscon, Arizona, in 2011, one Democrat told BuzzFeed News.
House Speaker Paul Ryan and Minority Leader Nancy Pelosi met to discuss security resources for members prior to the shooting earlier this month. And a just a week prior, Ryan met with Louisiana Rep. Cedric Richmond, at the Democrat's request, about whether the FEC would allow members to use campaign funds for security purposes as well, Ryan's office confirmed to BuzzFeed News.
Adrian Carrasquillo contributed to this report.