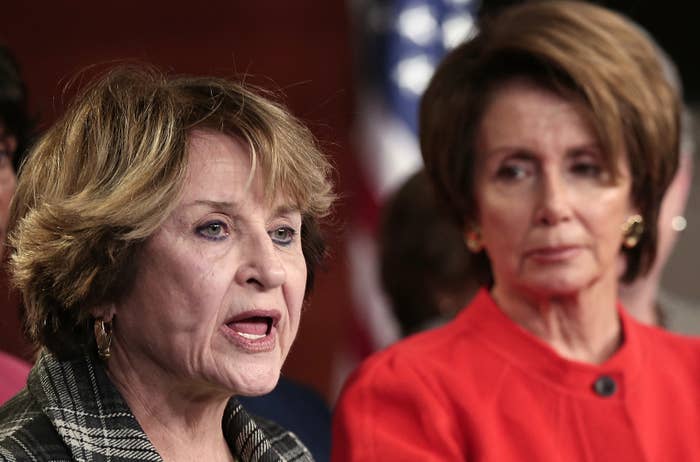 Rep. Louise Slaughter, the first woman ever to chair the powerful House Rules Committee, died Friday morning, her chief of staff announced in a statement.

Slaughter, 88, has served in Congress representing the Rochester, New York, area since 1987 and is among the long-serving members of the House. Prior to her death, she was the oldest member of the House. Roll Call reported Wednesday that Slaughter had fallen at home in Washington last week and suffered a concussion. She was still at George Washington University Hospital in DC as of Wednesday.
"To have met Louise Slaughter is to have known a force of nature. … As the first chairwoman of the House Rules Committee, Louise blazed a path that many women continue to follow," Slaughter's chief of staff Liam Fitzsimmons said in a statement Friday. "It is difficult to find a segment of society that Louise didn't help shape over the course of more than thirty years in Congress, from health care to genetic nondiscrimination to historic ethics reforms. The Slaughter family is incredibly grateful for all the support during this difficult time."
Slaughter was also a founding member of the Congressional Pro-Choice Caucus, a co-author of the Violence Against Women Act and one of just 67 members of the House to oppose the Defense of Marriage Act, which defined marriage under federal law as between "one man and one woman."
Fitzsimmons also noted in the statement that Slaughter was a "blues and jazz singer" prior to her career in Congress.
Colleagues on Capitol Hill mourned Slaughter's loss on Friday morning.
House Minority Leader Nancy Pelosi, who visited Slaughter in the hospital on Thursday, said in a statement she was "heartbroken" at the loss of a "trailblazer" in Congress.
"In her lifetime of public service and unwavering commitment to working families, Congresswoman Slaughter embodied the very best of the American spirit and ideals. With her passing, the Congressional community has lost a beloved leader and a cherished friend."
Noting her roots in Kentucky, Pelosi added: "She brought the grace and grit of her Southern background to her leadership in the Congress, building bridges and breaking down barriers all with her beautiful accent. Louise could be fiercely debating on the Floor in the morning, and singing in harmony with her colleagues across the aisle in the evening."
House Speaker Paul Ryan ordered the flags at the Capitol to be flown at half-staff, saying in a statement that Slaughter's death is "just jarring." Flags were also ordered to fly at half-staff in Monroe County, New York, in Slaughter's honor.
"Louise did not need a gavel to make a dent in history. She was unrelenting in fighting for her ideas and the people back home in Western New York. But really, the thing that I keep coming back to is how she was tough, but unfailingly gracious. She was simply great," Ryan said in the statement.
Republican Rep. Pete Sessions, who currently chairs the Rules Committee, released a statement Friday calling Slaughter "a force to be reckoned with who always brought her spunk, fire, and dynamic leadership to every meeting."
"Louise was a fearless leader, deeply committed to her constituents, and a dear friend. I have had the immense privilege of working side by side with her for the past 20 years. I will always cherish our friendship, [camaraderie], and of course her rhubarb pie," Sessions said. "Although we sat on different sides of the aisle, I have always considered her a partner and have the utmost respect for her."
Senate Minority Leader Chuck Schumer said in a statement that Slaughter was a "giant" in Congress. "The ferocity of her advocacy was matched only by the depth of her compassion and humanity. Her passing will leave a gaping hole in our hearts and our nation," he said.
Brendan Buck, an aide to House Speaker Paul Ryan, wrote on Twitter, "The loss of Louise Slaughter is so sad. She was a powerful voice for House Democrats and incredible advocate of their agenda."

Under New York state law, a special election could be held to replace Slaughter in Congress before the 2018 elections in November.