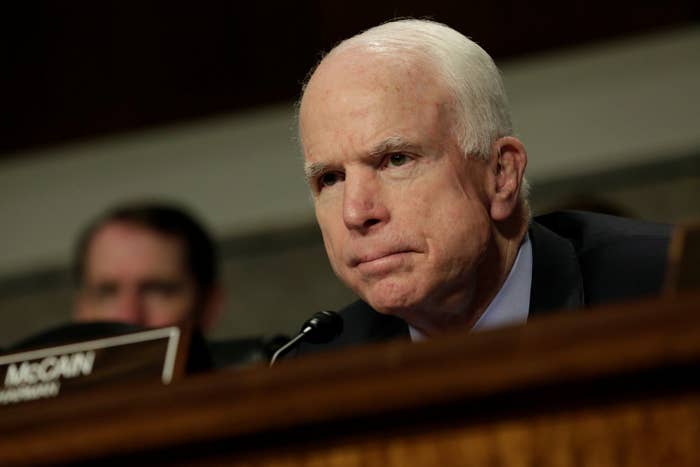 Sen. John McCain issued a blistering statement Monday criticizing President Donald Trump for suggesting that he believed Vladimir Putin's assurances that Russia did not interfere in the 2016 election over the conclusion of US intelligence agencies and congressional investigators.
"Today's press conference in Helsinki was one of the most disgraceful performances by an American president in memory," McCain said. "The damage inflicted by President Trump's naiveté, egotism, false equivalence, and sympathy for autocrats is difficult to calculate. But it is clear that the summit in Helsinki was a tragic mistake."

The Arizona senator, who has long had a contentious relationship with Trump, went on to say, "President Trump proved not only unable, but unwilling to stand up to Putin. He and Putin seemed to be speaking from the same script as the president made a conscious choice to defend a tyrant against the fair questions of a free press, and to grant Putin an uncontested platform to spew propaganda and lies to the world."
McCain warned against the impulse to blame Trump's press conference on his inexperience on the world stage, pointing to his tweets as those of "a novice politician."
Instead, McCain said that Trump's comments were "deliberate choices" designed to "realize his delusions of a warm relationship with Putin's regime without any regard for the true nature of his rule, his violent disregard for the sovereignty of his neighbors, his complicity in the slaughter of the Syrian people, his violation of international treaties, and his assault on democratic institutions throughout the world."

"No prior president has ever abased himself more abjectly before a tyrant," McCain concluded.
McCain was diagnosed with brain cancer one year ago and has spent the last several months at home in Arizona. But McCain hasn't let up on his criticism of Trump, even while away from Washington — and vice versa.
In May, a White House aide was quoted saying that McCain's opposition to Gina Haspel, Trump's pick to the lead CIA, didn't matter because "he's dying anyway." The aide, Kelly Sadler, later left the White House, but neither Trump nor his aides condemned the remark and said her departure was unrelated to the comment.
That month, McCain also released a memoir that was highly critical of Trump's style of politics. The senator has also frequently blasted Trump's actions toward Putin, particularly the president's decision to congratulate Putin on winning a "sham" election earlier this year.
Trump, meanwhile, has taken numerous shots at McCain, most notably saying during the 2016 election that McCain was "not a war hero" because he was captured in Vietnam.