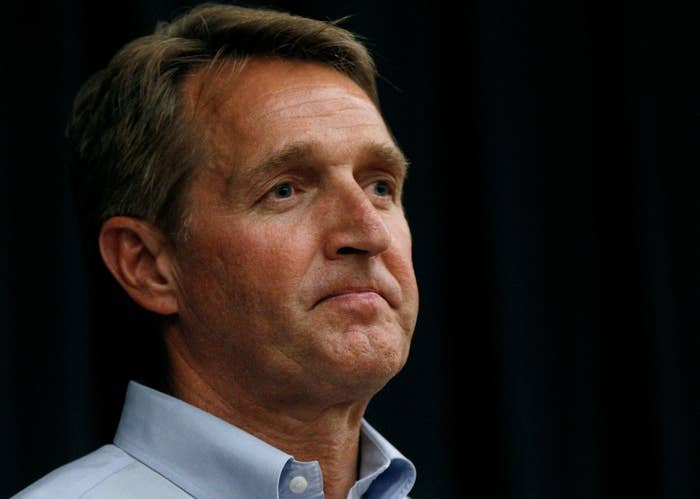 Arizona Sen. Jeff Flake announced Tuesday that he is dropping out of his reelection campaign, giving a lengthy speech on the Senate floor in which decried the "discord and dysfunction" in modern American politics.
Flake's announcement Tuesday came as a huge surprise to Republicans and Democrats in Washington. He had long since started building up a campaign staff for his reelection, in one of the tougher Senate races expected for Republicans in 2018 as they try to hold on to the Senate majority.
"None of this is normal. And what do we, as United States senators, have to say about it?" Flake said on the Senate floor, announcing that he would complete his term which ends in January 2019. "I have children and grandchildren to answer to and so ... I will not be complicit or silent."
Republican Kelli Ward and Democratic Rep. Kyrsten Sinema had already announced that they would challenge Flake for his seat next year.

Flake told the Arizona Republic before he made the announcement official Tuesday: "The path that I would have to travel to get the Republican nomination is a path I'm not willing to take, and that I can't in good conscience take."
"There may not be a place for a Republican like me in the current Republican climate or the current Republican Party," Flake told the paper.

Flake, a moderate Republican, has often found himself at odds with President Donald Trump — whom he said he did not vote for in 2016. In particular, Flake published a book this year that was highly critical of the president, in which the senator wrote of Trump's "seeming affection for strongmen and authoritarians" and said that Republicans were wrong to turn a blind eye to Trump's actions in exchange for legislative priorities, saying: "If this was our Faustian bargain, then it was not worth it."
After Flake published the book, Trump seemed to endorse one of his challengers.
Flake addressed his public criticism of Trump in his speech Tuesday, which came just after Senate Republicans had a lunch meeting with the president at the Capitol.

"If I have been critical, it is not because I relish criticizing the behavior of the president of the United States. If I have been critical, it is because I believe it is my obligation to do so, and as a matter and duty of conscience, the notion that one should stay silent as the norms and values that keep American strong are undermined and the alliance are routinely threatened by the level of thought that goes into 140 characters — the notion that we should say or do nothing ... is misguided," he said.
Senators applauded when Flake finished his speech, and many — Republicans and Democrats — lined up to shake his hand. Fellow Arizona Sen. John McCain went up to hug Flake as well.
Flake exited the chamber with his wife, Cheryl, who watched his speech from the Senate gallery. At one point he turned to her and said, "Isn't this fun?"

When asked about Flake's decision, White House press secretary Sarah Huckabee Sanders said she had not yet discussed it with Trump, but added: "I think that based on previous statements and certainly based on the lack of support that he has from the people of Arizona, it's probably a good move."
Later in her press conference Tuesday, Sanders added: "I didn't think a lot of Flake's language was befitting of the Senate floor."
Both Senate Majority Leader Mitch McConnell and McCain took to the Senate floor after Flake finished, praising his service in the Senate.
Tennessee Sen. Bob Corker, who is currently in the midst of a high-profile spat with Trump, said Tuesday that Flake is one of the "finest people that I've served with. There's no question."
Corker, who is retiring at the end of this term as well, said that Flake let him know of his own decision this afternoon, shortly before his speech.
"He's kind of quiet but he stands for all the things that have made our nation great and he's willing to continue to say that even though we have demagogues and others trying to take us in other directions," Corker said, but added in response to a follow-up that he wasn't using the term "demagogues" in reference to any one person.
Asked if he agreed with the sentiment of Flake's speech, Corker said: "I think that's pretty self-evident. I've gotta imagine there's a whole host of people who do."
Maine Sen. Susan Collins, another moderate Republican who announced earlier this month that she would stay in the Senate, said she is "extremely disappointed" that Flake is retiring. "I will really miss serving with him. I'm sad," she said.
Democratic Sen. Tim Kaine of Virginia called the news "a tragedy for the institution" Tuesday, telling reporters that he and a Republican colleague said, "This is very depressing."
When asked whether he worries that there won't be as many outspoken senators to stand up to Trump with the upcoming departures of Flake and Corker, McCain said: "No. I just don't."

Flake's announcement will also have reverberations in Arizona politics, where many more candidates are likely to enter the now-open-seat race on both sides.

Allies of former White House adviser Steve Bannon were already casting Flake's retirement as a victory. Andy Surabian, a senior adviser to the pro-Trump Great America PAC and a Bannon ally, said that Flake's decision not to run for reelection should be viewed as "a warning shot to the establishment that they're no longer running the show."
"The Republican Party is now defined by President Trump and his movement and not Jeff Flake or Mitch McConnell," Surabian added.

Great America PAC has already announced its support for Ward, who was running against Flake in the Republican primary. Bannon himself has also endorsed Ward.
"This is a very good thing for Republicans, both in the primary and the general," said one Arizona GOP consultant. "Now, in all likelihood, there'll be a stronger candidate without [anti-Trump] baggage in the race."
But, the same consultant warned, the news might not be as positive for Ward's candidacy as it would first appear. "Her entire candidacy, her entire campaign is premised on the idea that she was running against a liberal Republican or a less conservative Republican," the consultant said.
"Kelli Ward is never coming to the Senate," said one Republican strategist who believes Flake's exit will open the door to a more electable Republican candidate and that, even if she were to win the nomination, Ward would not be able to beat the Democratic nominee.
The strategist also cautioned against counting Flake's decision as a victory for Bannon. "Jeff Flake was in trouble because he attacked the president, not because of Steve Bannon."
Chris DeRose, an attorney who has worked in Arizona politics, suggested that another Republican would have one major advantage over Flake in the race. "With Flake, [the primary] would've been a fight over what it means to be a Republican in this day and age," he said.
Tarini Parti, Alexis Levinson, Henry Gomez, Emma Loop, and Paul McLeod contributed additional reporting to this story.