One of Washington's leading liberal institutions grappled with a divisive internal battle over sexual harassment during and in the aftermath of the 2016 election, according to documents obtained by BuzzFeed News and interviews with 19 current and former staffers.

The Center for American Progress, the politics and policy hub for the Democratic establishment, has put out four different policy proposal papers on handling sexual harassment in the workplace, as well as data on how pervasive the issue is "across all industries."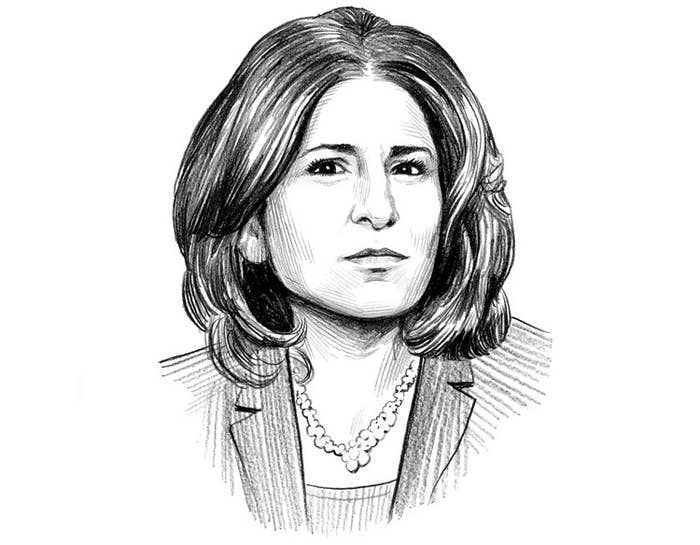 The organization's president, Neera Tanden, has vehemently criticized Republicans for their reaction to the accusations of sexual misconduct against President Donald Trump and wrote in a tweet still pinned to her profile, "I don't think the country has understood how psychologically wounding it was to so many women that Trump won after the Access Hollywood tape."
But only an hour after the Access Hollywood tape was made public, top officials at CAP received an exit memo from a young woman who'd just quit detailing the sexual harassment she experienced from Benton Strong, a manager on her team — harassment, she wrote, that management already knew about — and how she faced retaliation for reporting it.
"I surely expected better out of an organization that housed a national campaign on sexual assault."
In the email, the junior staffer, who asked that BuzzFeed News refer her to as Mary, which is part of the woman's formal name, wrote that "on several occasions, myself and others on the team felt as if reporting had been a mistake and that the retaliation, worsening of already tenuous team dynamics, and treatment by supervisors outweighed the seemingly positive act of reporting sexual harassment in the workplace." When contacted about this story, the woman confirmed the authenticity of the exit memo, but declined to comment further, except to respond on Saturday to a statement from CAP.
"CAP's culture obscures its mission," Mary wrote, toward the end of her memo. "All of this to say, I surely expected better out of an organization that housed a national campaign on sexual assault."
For young Democrats in particular, the Center for American Progress is a training ground, a place to work in progressive politics and policy for a few years under some of the most well-known and well-connected operatives in Washington. "These are important relationships," as one former staffer described it. "You go along and you get along and they help you get a new job later."
Documents obtained by BuzzFeed News and interviews with 19 current and former staffers describe a chaotic internal culture in which, according to a July 2016 memo written by CAP's employee union, there were "several incidents of sexual harassment against several members of our unit." The documents and interviews pull back the curtain on a culture in which young staffers felt there was a gap between the organization's mission and its everyday realities.
The memo — which union leaders never delivered to Tanden, but used as talking points in a meeting with her — laid out what members saw as CAP's failures, both broadly and in the specific case of Strong, who had recently left the organization:
"Management failed to promptly take sufficient tangible employment action against the said employee for sexual harassment, thereby allowing the said employee's behavior to escalate.

"Management has failed to present measures to correct the effects of the said employee's sexual harassment, thereby perpetuating a hostile work environment.

"Management has failed to create a safe space upon which members of our unit — including those subjected to the said employee's unlawful harassment — feel comfortable enough to report incidents of sexual harassment, among other forms of discrimination, without fear of retaliation or further harassment.

"Management has failed to take reasonable steps to prevent incidents of sexual harassment from occurring in the workplace.

"Management has failed to adequately inform employees of what constitutes unlawful harassment in the workplace, how to report such incidents, and what kind of recourse is available under such circumstances."
The union wrote in its memo that while CAP "eventually took appropriate course of action," management "failed to adequately address the situation." And interviews with staffers suggest that the process at the time was messy.
According to the document, one proposal the union offered was that CAP hold a sexual harassment response training "in the immediate future" as well as periodically going forward. The union also wanted CAP to outline to staff how to report issues of harassment.
The union wrote in its memo that while CAP "eventually took appropriate course of action," management "failed to adequately address the situation."
Tanden refused, one former union member with intimate knowledge of the discussion told BuzzFeed News. "Neera's approach was maybe we can start hosting brown bags with HR so people will feel more comfortable coming out and doing things. So they had almost a do-nothing approach. ... They said they would think about things that [the union brought up], and that was essentially it," the former union member said.
In a statement to BuzzFeed News, CAP said that it did not receive the memo at the time or since, and that "most of the allegations" laid out in the memo "were not stated" during the actual meeting.
"They raised the need for CAP to be a safe space; we specifically asked them if they had heard of any other case of harassment or improper conduct. Other than what had been reported to us, they could not provide any," CAP said in the statement, noting that Strong only had two reports made against him during his time with the organization, and that the union had not spoken with Mary. CAP said the union would have "no way of knowing that" Strong was disciplined after the first report.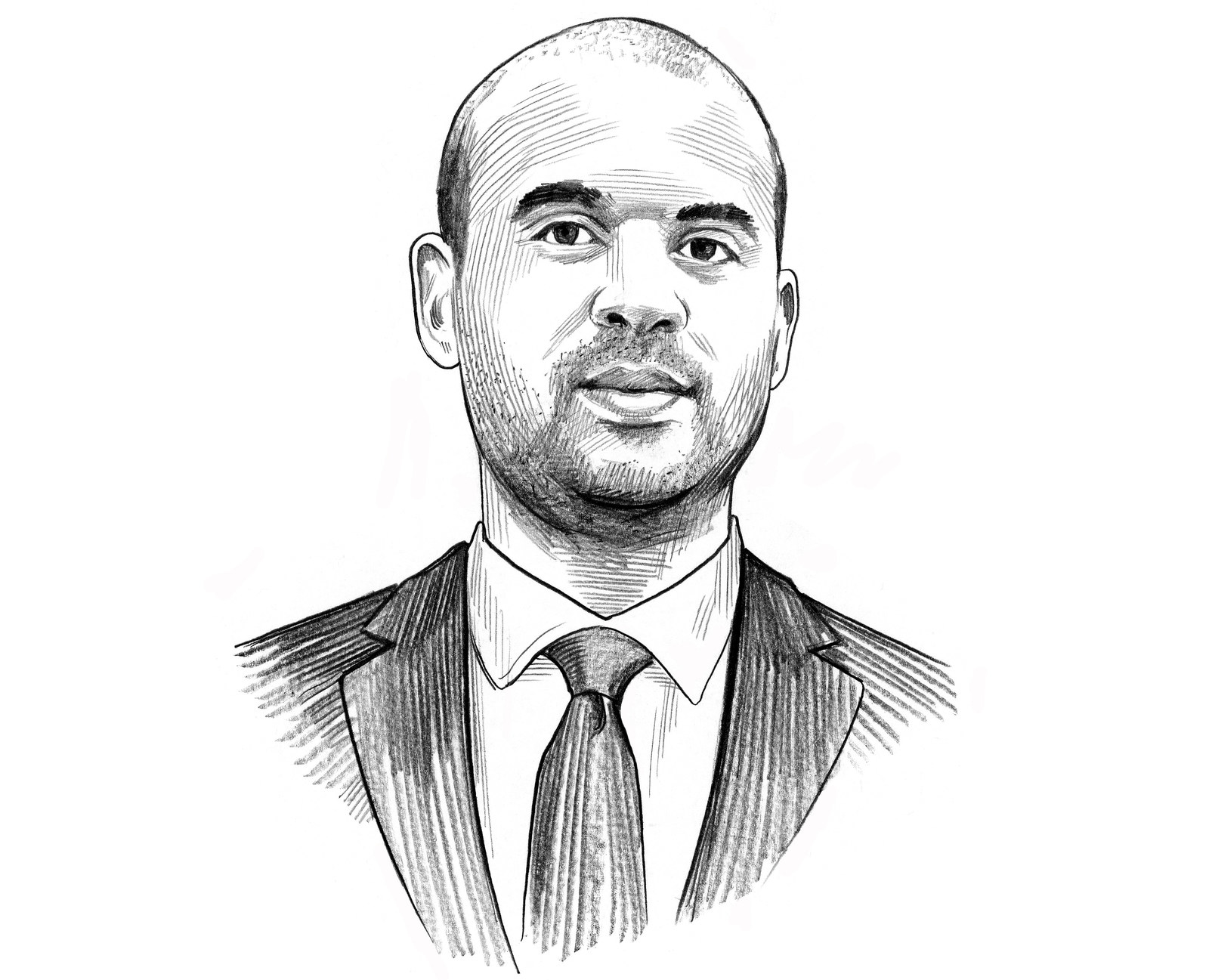 CAP said that Tanden never refused to hold sexual harassment trainings, and that she had asked for union recommendations on improving trainings, but confirmed that she suggested hosting brown bags with HR in the context of the "need to ensure work was a safe space for CAP employees." The organization pointed to a mandatory "inclusion" training it held in June 2016, which "included discussion of harassment," while acknowledging that CAP received complaints that the training "was not sophisticated enough for our audience."
Additionally, CAP said that it was "legally prohibited from making any unilateral changes to CAP policy" — including holding a new sexual harassment training or changing the organization's sexual harassment policy — because of ongoing contract negotiations with the union. Two former union members noted that CAP could have engaged in a memorandum of agreement with the union to make changes to its sexual harassment policy or to add trainings, as it did when altering CAP's overtime pay policy in January 2017.
CAP said in a statement that the union did not ask for a side agreement of that nature, so it did not pursue one. "If the union had asked us to negotiate a freestanding side agreement, as they did in the case of overtime policies, we would have done so," the organization said.
"Our goal was to take steps that would address any concerns from the union," CAP said, "but also respect the complainant's request that we respect her privacy and not let details of the complaint get out."
Not one of the 19 current and former employees interviewed for this story said they underwent workplace training about sexual harassment during their time at the organization. Five staffers mentioned the 2016 inclusion training, but said that it was focused on diversity and that discussion of sexual harassment was minimal.
CAP's handling of the allegations against Strong came as a profound disappointment to the young progressive women who joined the organization, many of whom saw their jobs as an entrée to what they expected would be the Clinton White House.
In the first months of 2018, nearly two years after CAP's employee union asked the organization to implement sexual harassment trainings, CAP released a new sexual harassment policy. Asked about this, CAP pointed to the collective bargaining process and said that CAP had asked the union to present "any proposed changes" to the policy. The union, which is under new management, said in a statement to BuzzFeed News that it "delivered a complete and entirely revamped sexual harassment policy following management's solicitation for input" in late 2017 and that the new policy included "many of the Union's recommendations."
"The Union believes that this new policy, combined with what the Union hopes to be a robust rollout that includes future compliance trainings and efforts to educate staff about their rights under the policy, has the potential for marked improvements," union leadership said in the statement. "However, if the Union does not feel that CAP is living up to its progressive values on this or other workplace issues, it has not and will not hesitate to make management aware and advocate for positive change."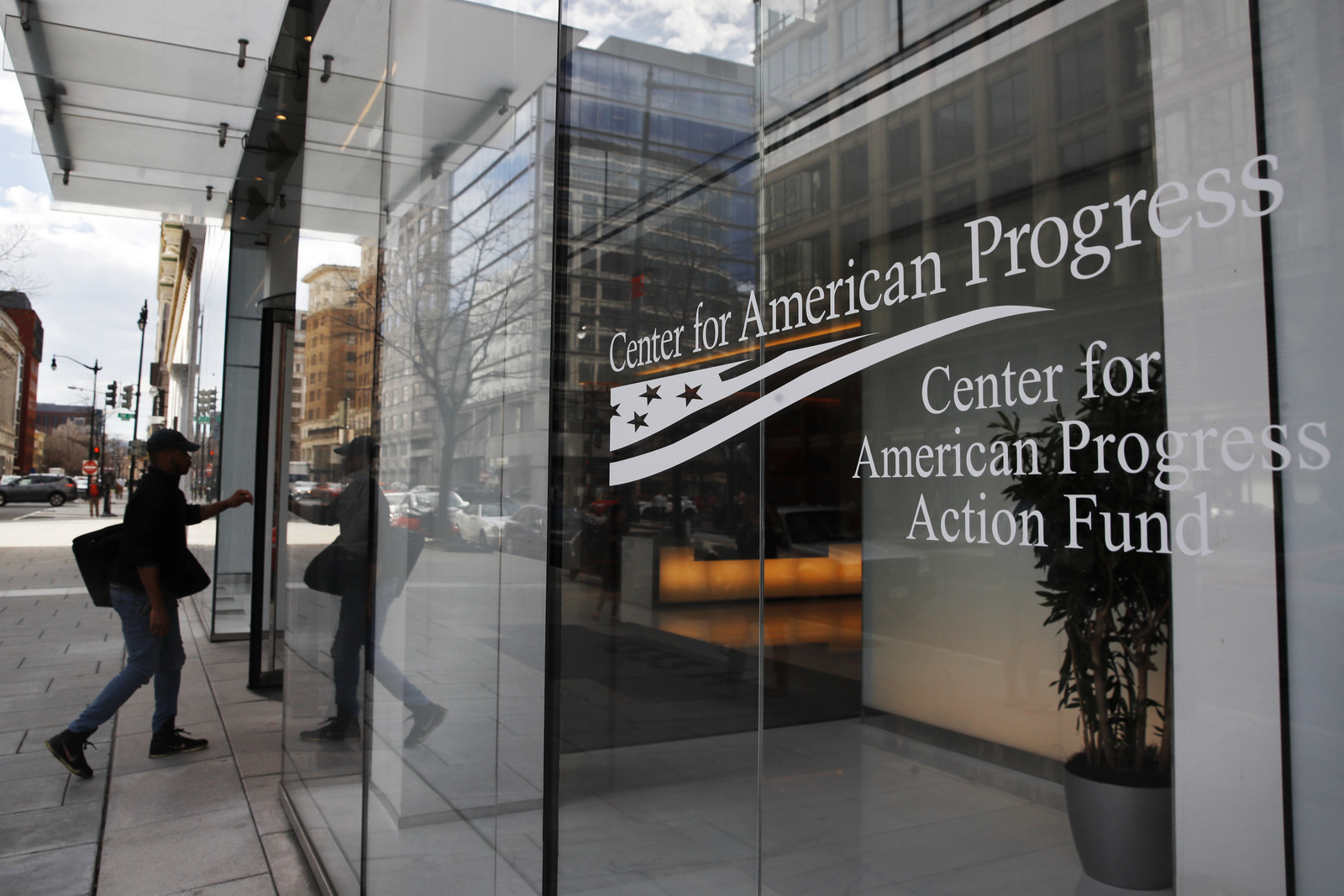 Founded by former Clinton campaign chair John Podesta in 2003, the Center for American Progress houses two groups, both of which work out of an office not far from the White House.
CAP, the main organization, focuses on policy; its campaign arm, the Center for American Progress Action Fund (CAP Action), works on advocacy. Tanden currently serves as the president and CEO of the sister organizations, which together employ more than 330 people. (CAP Action also controls ThinkProgress, an online progressive news organization fairly walled off from the main organization and maintains editorial independence.)
CAP Action hired Strong in May 2014 as an associate director for communications, in what they call the "War Room," a communications and advocacy shop that ultimately focused on the 2016 election during his time at the organization. Strong, a Seattle native, had run communications for the Washington State Democratic Party and the Climate Action Campaign, a grassroots group based in San Diego, before taking the job.
Two women filed complaints about Strong in 2016 — the first reported in May that Strong had asked several women on the team if they had been flashed or masturbated in front of and then mocked a woman in a team meeting for saying she had cried when it happened to her, and the second, Mary, reported that he had sent her a series of unwanted, sexually explicit text messages — according to interviews with current and former employees, as well as documents obtained by BuzzFeed News, including his personnel file.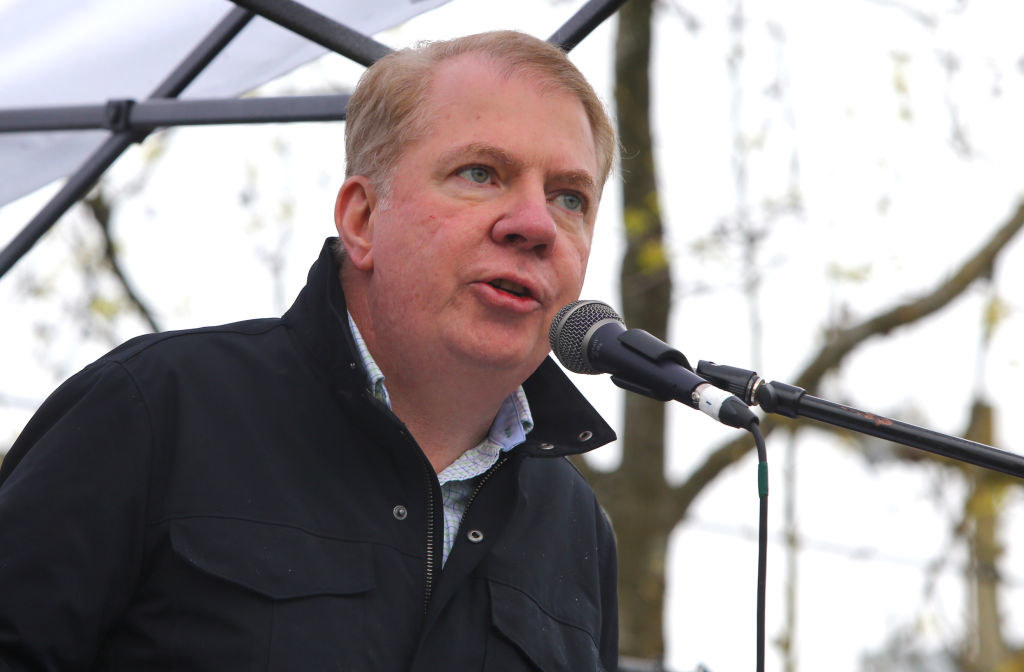 Shortly after the first woman — like Mary, a junior staffer in the War Room — reported Strong to HR in May 2016, Strong accepted a job with then–Seattle mayor Ed Murray, which was set to start on Aug. 1. In the weeks leading up to his departure from CAP, Strong also began sending sexual text messages to Mary, according to nine former staffers who viewed the messages or saw screenshots of them.
In her exit memo, Mary described receiving "lewd and inappropriate text messages" from Strong that caused her to feel "uncomfortable being in the workplace around him."
Five former staffers told BuzzFeed News that they saw screenshots of a text in which Strong, a manager on Mary's team (though not her direct supervisor), messaged Mary late at night saying that he wanted to perform oral sex on her. In other texts, Strong told Mary that he was discussing with several other male CAP staffers whether white women or black women were better at giving blow jobs; he repeatedly asked her to come over to his apartment or let him come over to hers for a drink; and he frequently made comments about her body. These messages were often interspersed with Strong asking Mary if he had crossed a "line" she had apparently drawn.
A friend of Mary's, another former CAP employee who viewed the texts, said, "It was, like, incessant. ... It was like strings and strings of texts and her just being like, 'no no no.'"
In July 2016, after a work meeting and happy hour were held in Strong's apartment building, Mary filed a complaint with CAP's HR department. CAP said in a statement that this meeting was not mandatory and was in a "public common room at his apartment complex," not Strong's apartment itself.
In its statement, CAP said that after the report of "inappropriate text messages," the HR department "immediately began an investigation of the incident, under the supervision of CAP's general counsel and in consultation with outside employment law counsel. On the basis of our preliminary investigation, conducted over the course of a few hours that same day we received the report, we found that Mr. Strong had acted inappropriately, and told him not to return to the office, and not to retaliate against, or even contact, the complainant. He was escorted from the building that afternoon and never returned."
She described retaliation she faced in the aftermath — including being asked whether she was "worth spending time or money on."
Initially, Mary wrote in her exit memo, she decided not to report Strong's behavior to HR, noting that he was set to leave for a job in Seattle in three weeks anyway. "However, when I began hearing that other women in the office were also being made to feel increasingly uncomfortable during his last few weeks ... I decided it would do more harm than good to keep silent," Mary wrote.
In the exit memo, Mary described her interaction with CAP's VP of human resources, Ashley Marvel, as positive. But, she added, "leadership seemed to be inconvenienced by having Benton reported." She described retaliation she faced in the aftermath — including being asked whether she was "worth spending time or money on."
CAP said in a statement that Mary's memo was the first time she reported facing retaliation from management and that it had investigated the allegations, including "interviewing supervisors and the complainant's peers, and could not find anyone who made such a statement or heard it being made. … We found no retaliation, no additional cases of harassment, and no further inappropriate conduct on the part of CAP employees," CAP said. "When the complainant gave notice in late September, an HR representative spoke with her and she described her reasons for leaving as concerns with team dynamics. She did not mention retaliation during that check in."
The first woman who reported Strong to HR also said she had faced retaliation and later moved to another team, according to documents obtained by BuzzFeed News. Several women in the War Room were told by managers not to associate with her anymore inside or outside of the office after she filed the complaint, six former staffers confirmed in interviews.
In an email to HR that was also sent to some union members on May 11, the woman reported that a close friend on her team (whom she did not name in the email, but whom CAP noted in response to BuzzFeed News was Mary) had been told by a supervisor "that they should be distancing themselves from me at work and should not sit next to me in meetings. I believe this happened Friday afternoon (5/6)," she wrote — three days after she reported Strong to HR.
Additionally, the woman wrote to HR, she had spent the day with Mary on May 7, 2016, and the two posted a picture together on her Snapchat Story. A supervisor took a screenshot of that Snapchat and "confronted" Mary about it, the woman wrote in the email. (The supervisor told BuzzFeed News in a statement that she was not aware of the woman's report to HR until after Strong left CAP in July.)
"It's the kind of behavior I just tried to dismiss or laugh off, but the longer I sit with it, it feels really isolating and intimidating," she wrote in the email to HR, adding that she was working at home that day because she felt "very anxious" and "intimidated" at work.
"I was feeling really nervous to report this to you, but it is definitely impacting my work environment — this staff person and I work closely on a number of things, and now whenever we are together at work I feel very self-conscious about it — like by being together I am getting her in trouble with her boss, or like I am being watched and evaluated in a negative way," she wrote.
In a statement, CAP said that "while the complainant referenced her feelings [in an email to HR and a subsequent meeting with Marvel] we investigated the events she described, and they were unrelated to Mr. Strong's inappropriate joke. They were of an interpersonal nature with other team members." CAP also noted that the woman did not use the word "retaliation" herself.
According to an email sent to Strong on July 13, which was obtained by BuzzFeed News, HR investigated Mary's allegations, interviewing Mary and Strong and viewing some of the texts he had sent her. (CAP says it did not see the text from Strong about wanting to perform oral sex on Mary.) According to the email, written by Marvel, Strong admitted to "acting inappropriately." CAP suspended him with pay for three days, through July 15, 2016, which was already his scheduled end date.
When contacted by BuzzFeed News, Strong did not deny Mary's allegations. "I made mistakes that I regret during my time living in Washington, D.C. My actions hurt someone, let down friends and colleagues, and created a difficult work environment. For that I apologize," Strong said in a statement. "Looking back, her brave step to report these actions represented a turning point in my own life, as I came to better understand how my actions were hurting people around me. What I learned from those mistakes has helped me to grow and change in these last two years and will continue doing so."
After the first woman reported Strong to HR, CAP says that officials conducted an investigation. According to his personnel file, an HR representative and his manager sat down with Strong about the report and told him not to make "inappropriate jokes" like that again. CAP also told BuzzFeed News that management told Strong he would face "further harsh disciplinary actions" if he engaged in similar conduct again, though that was not noted in his employee file.
CAP repeatedly described the first woman's report — about Strong's comments on female coworkers being flashed or masturbated in front of — as an "inappropriate joke" both in responses to questions from BuzzFeed News and in his employee file. CAP told BuzzFeed News that the behavior "was presented to us as joking that made the complainant 'uncomfortable.'"
CAP confirmed that the organization conducted a partial investigation of Strong's behavior after Mary reported him to HR; officials did not ask other employees about Strong's behavior. "We did not conduct a full investigation of Mr. Strong's actions because the complainant asked to ensure word didn't get out. ... Due to the repeated expressed wishes of the complainant to not have people know what happened or have her name leaked, we took the strongest actions available to us to protect the victim and protect our staff," the organization said in a statement.
Based on its discussion with Mary and with Strong the day she reported, CAP "told him not to return to the office, and not to retaliate against, or even contact, the complainant. He left the building that afternoon and never returned," it said.
Asked on Saturday about CAP's statement that it could not conduct a full investigation because of her own concerns about the story getting out, Mary provided BuzzFeed News with recordings from a meeting she had with a manager on her team on July 20, 2016. In the recordings, Mary tells the manager that she doesn't want "like, a big dramatic thing that comes out of this," but suggests that CAP hold a sexual harassment training and that management make clear that CAP employees can report harassment without "some sort of negative repercussion for reporting." Additionally, Mary asks the manager, "When, legally, can we have a really open conversation?"
Asked what her comfort level is in having that open discussion, Mary responds, "I'm totally comfortable with 100% people on our team. Yeah, that is — no, yeah, you don't have to take that into account."
CAP noted in a statement that Mary said she was comfortable discussing the situation "within the confines of the War Room, not all staff" and provided BuzzFeed News with a copy of a text message Mary sent to the same manager that day thanking her for discussing sexual harassment and Strong's behavior in a team meeting that day.
CAP initially did not inform the Seattle mayor's office about the two complaints.
During Strong's tenure in the Seattle mayor's office, at least two city employees reported to Seattle's HR department that they had heard about sexual harassment complaints against him at CAP, according to notes and emails obtained through a public records request. A spokesperson for the Seattle mayor's office told BuzzFeed News that a human resources officer requested Strong's employment information, as well as details about the complaints, from CAP, after hearing the first of those two reports.
The spokesperson said that CAP at first denied the request, but that CAP ultimately provided the records to Strong, who handed them over to the city in September or October of 2016.
CAP said that it did not deny the city's request for Strong's employee file, but that "we followed standard HR protocol, which is to not share employee files with other employers, especially given that we did not do a full investigation at the urging of the complainant." The organization said that the city of Seattle contacted it with Strong's personnel file already in hand in late September 2016.
"In our response to Seattle we told them we couldn't share the information because of its impact on the privacy of third parties; and of course, we consulted with our outside employment lawyers on this topic," CAP said.
CAP initially did not inform the Seattle mayor's office about the two complaints.
BuzzFeed News obtained that personnel file through a public documents request with the city of Seattle.
The personnel file includes two references to disciplinary actions CAP took against Strong in response to reports of harassment by CAP employees. The first notes that in response to an "incident involving Benton and others reportedly making inappropriate jokes," CAP management told Strong that "this type of joking was inappropriate" and that he should not "make such comments again." The second, a July 13 email to Strong from HR, refers to Mary's complaint only as a report of "inappropriate communication" from a "junior staff person."
After then-mayor Murray's administration received Strong's personnel file, they hired a management coach for him, a spokeswoman for the current Seattle mayor, Jenny Durkan, told BuzzFeed News. Strong served in the mayor's office through October 2017, before Durkan took office, and then worked in the city's Office of Sustainability and Energy. He resigned from that position earlier this month after BuzzFeed News contacted both him and the city for this story.
Strong's personnel file does not include a prior allegation of harassment and assault, made by a female roommate in college.
In 2007, the woman filed a protective order against Strong in Washington state, where they both went to school. Those documents — which include the woman's story, as well as the affidavits of two roommates and two friends — allege that Strong pushed the woman and physically prevented her from leaving rooms of the house they shared with other students. They also allege that Strong followed her around campus, sent her messages threatening her and threatening to harm himself, and called and texted her repeatedly after their breakup — sometimes as often as 14 times per night. Once, he left a handwritten letter under her door threatening suicide, a copy of which is included in the case file. Written on the letter, alongside an arrow pointing to a dark spot, is the note: "This was a stain of his BLOOD on the letter."
The Center for American Progress does perform criminal background checks on prospective employees who have been given an offer of employment (in compliance with DC's "ban the box" laws), but told BuzzFeed News that at the time of Strong's hiring it conducted them solely to confirm education history.
CAP said it had no knowledge of the 2007 protection order taken out against Strong.
An official for Backgrounds Online, the company CAP used to conduct background checks at the time of Strong's hire, told BuzzFeed News that the company couldn't say if the protective order taken out against Strong would have shown up in a criminal background check. The protective order also did not come up on a background check the Seattle mayor's office requested on Strong, according to documents obtained by BuzzFeed News in a public records request.
Speaking generally, a spokesman for Backgrounds Online said that most employers are looking for criminal charges like misdemeanors and felonies. That means that many background checks miss even serious civil orders.
Strong, in a statement to BuzzFeed News, acknowledged that he was "deeply depressed and often very angry" during his first years at college and that he "took that anger out" on the woman as well as "the roommates in our group house and the friends around us."
"I do remember some of the events of the time differently, but my lack of access to legal representation gave me little opportunity to defend myself," he continued. "However, on the whole, my behavior was unacceptable and caused pain and fear. I have long been remorseful and regretful about this time in my life, and can only hope that those who know me today would not recognize the person this order describes."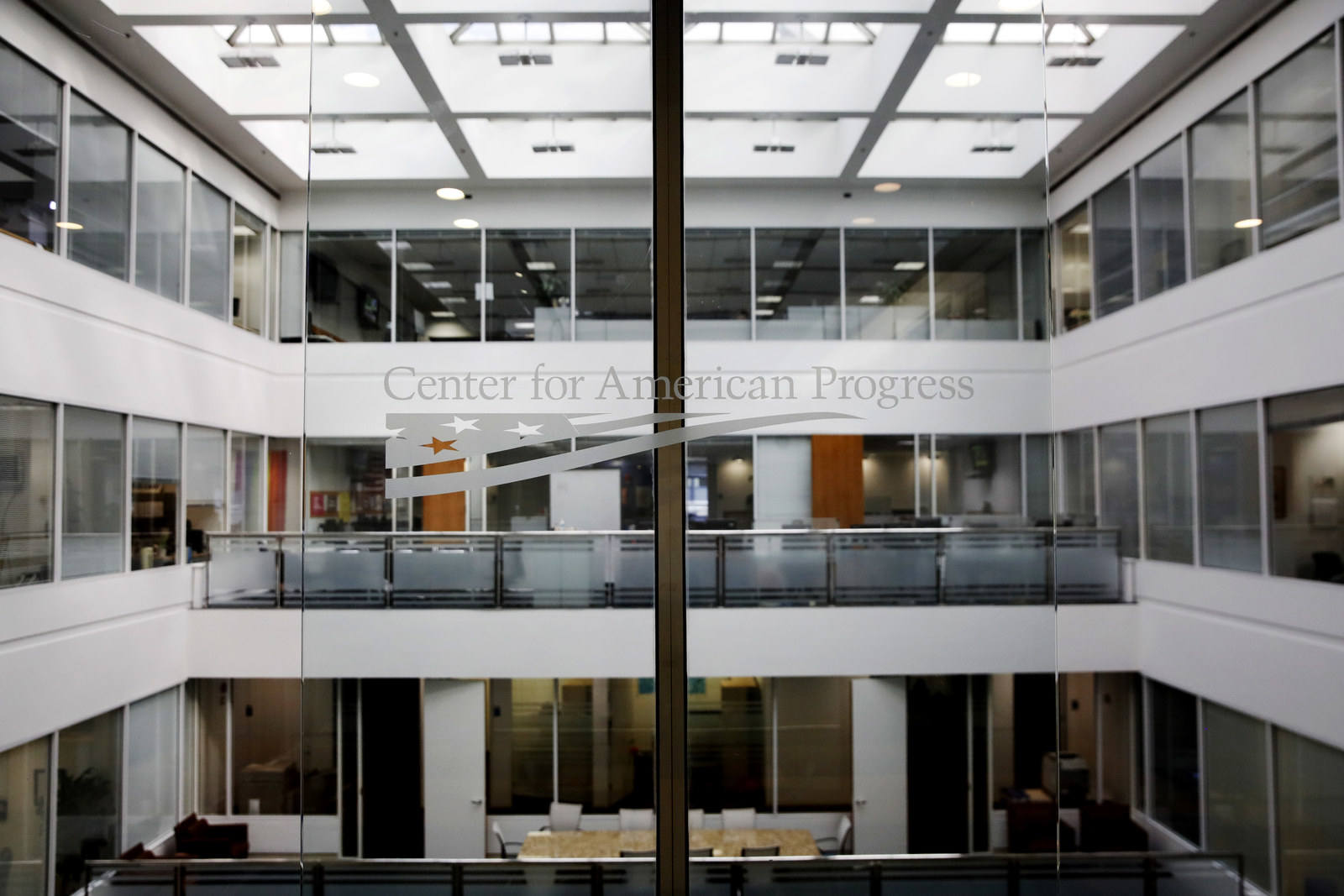 Since Strong's departure, CAP says that HR has been "actively monitoring" the team he left behind and "guarding against retaliation."
"CAP takes reports of sexual harassment or other inappropriate employee conduct incredibly seriously. ... In the weeks and months after the event, we held regular check ins with the staff of the affected teams, as well as all-staffs and meetings on harassment; as we entered into negotiations with the union we encouraged them to share ideas to improve our policy; we checked in on junior staff 18 times in the affected department to make sure no retaliation or other misconduct occurred in the aftermath of the event, and none was reported during those check ins," the organization said. "In short, we took the strongest possible action at the time and have worked to ensure that we have the safest possible environment since."
CAP said that it is currently working with the employee union to plan another sexual harassment training. The organization noted that Tanden addressed the issue twice in all-staff meetings in 2017, telling staff in March that sexual harassment "was intolerable at CAP." In October, after the Harvey Weinstein story broke, CAP said that Tanden "used an all staff meeting to address CAP's sexual harassment policies at length and stated that we have a zero-tolerance policy for sexual harassment." Tanden also recommended that staff take any harassment issues to management or HR and "emphasized that any such reports would be treated seriously and should be lodged without fear of retaliation," the organization said.
Just months after reporting Strong, Mary left CAP. She wrote in her exit memo that Strong's harassment and management's response "clouded my overall views of CAP and, feeling as though there was nowhere left to turn within CAP, I felt it necessary to find a job elsewhere."
All of the sources who spoke to BuzzFeed News for this story said they believed strongly in CAP's mission and were inspired to speak out because of how far they felt the organization has fallen from fulfilling it.
"[You take] garbage money to work at something you believe and then you can't get into what you really believe in, because you can't believe in the organization once you see it. ... You read all their things on the #MeToo thing and you're like, 'Oh, OK, great. Where were you?'" one former staffer said. "I want CAP to be everything everyone thinks it is." ●
CORRECTION
CAP's sister organization CAP Action controls the online news site ThinkProgress. A previous version said CAP controlled it.
UPDATE
This story was updated to note that ThinkProgress is editorially independent from CAP Action.
If you have information or tips, you can contact this reporter at sarah.mimms@buzzfeed.com or send us an encrypted message over Signal at (646) 379-1975. You can learn more about how to reach us here: contact.buzzfeed.com