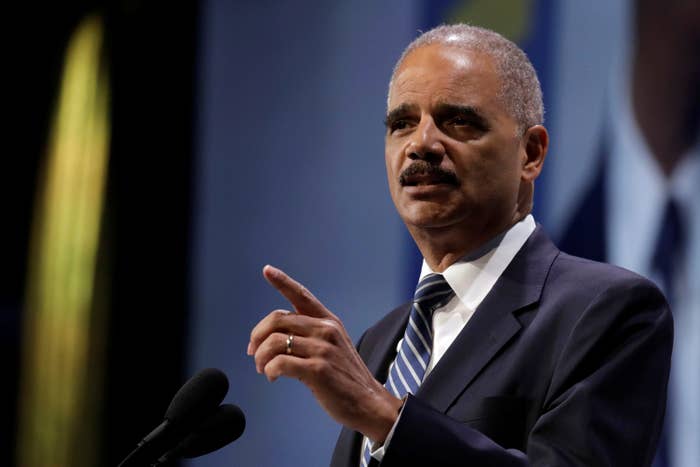 Former attorney general Eric Holder said Friday that James Comey's infamous July 2016 press conference, in which the then–FBI director went public with the conclusions of an investigation into Hillary Clinton's email use, would not have happened had he still been in office.
"That would not have happened if I was attorney general of the United States," Holder said on BuzzFeed News' AM to DM Friday morning. "I would have told Jim Comey, 'You can go up there as the FBI director and try to hold this press conference, but you will leave that podium as the ex-FBI director.'"
Holder called the press conference — in which Comey recommended no charges be brought against Clinton, but still severely criticized her actions — "hard to watch."
"I wish I'd been there maybe an hour before the press conference had started," he said.
A Justice Department inspector general's report made public this summer about the decision to clear Clinton found that Comey had decided not to loop in Holder's successor, Loretta Lynch, about the press conference until the day it was happening. But the same report faulted Lynch, saying she "should have instructed Comey to tell her what she intended to say beforehand, and should have discussed it with Comey."
In a wide-ranging interview Friday, Holder also addressed speculation that he could run for president in 2020.
Holder is currently the chair of the National Democratic Redistricting Committee, a group that he says is trying to fight gerrymandering broadly — not just elect more Democrats to the House. Asked Friday if the NDRC should worry he'll soon abandon them to run a campaign for the White House, Holder answered, "Nope, I am fully committed to staying with the NDRC."
But pressed on whether he was ruling out a presidential campaign, Holder was more circumspect. "I'm going to decide that next year," he said.
As he weighs a presidential bid, some on the left have criticized Holder's decision not to prosecute senior executives of major banks in the wake of the 2008 financial crisis. Holder also returned to Covington & Burling, a law firm that represents some of those banks, after leaving the White House.
Asked Friday about the sense of betrayal some on the left feel about the choices, Holder responded, "That pisses me off."
"It's an easy thing to criticize from the sidelines, it's an easy thing to write an article about what you should have done," he continued. "It's a whole different thing to get in front of a jury of 12 people with a standard of beyond a reasonable doubt and hold people accountable in that way."
Holder said that he determined the Justice Department couldn't meet that standard and get convictions, but added that since leaving the department he has pushed for new standards "so the next attorney general could be more successful than we were."
Holder also weighed in on the ongoing fight between President Donald Trump and current Attorney General Jeff Sessions.
Holder acknowledged that he has "a certain institutional respect" for Sessions and the way he has handled repeated attacks from Trump, although he emphasized that he and Sessions are "totally opposite" on policy. "I've never seen a president give an attorney general orders [like this]," Holder said.
Holder was also asked about the Justice Department's use of a memo he wrote in 2010 to suggest that the FBI cannot investigate Christine Blasey Ford's sexual assault allegations against Kavanaugh. While he said he did not remember the memo specifically, he noted that in the past the FBI "routinely" reopened background investigations and interviewed witnesses, adding that the bureau should interview potential witnesses in Ford's case as well.