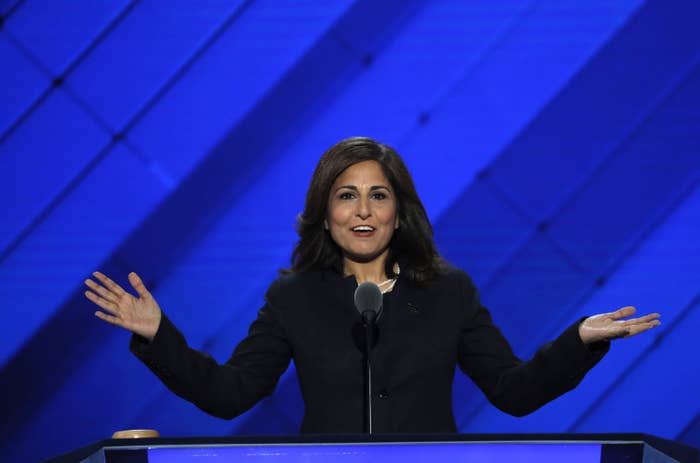 Center for American Progress president and CEO Neera Tanden told staff in an email Tuesday evening that she is sorry, following a BuzzFeed News report late Monday on sexual harassment issues at the liberal think tank.

Tanden emailed all staff at CAP as well as its sister organization CAP Action, which is focused on politics and elections, twice on Tuesday. In the first email, Tanden claimed "inaccuracies" in the BuzzFeed News report, while declining to name them and stating that CAP had acted "quickly and decisively" in response to sexual harassment allegations at the organization.
By Tuesday evening, Tanden emailed staff to say that she had spoken to "members of our community" and "wanted to share some additional thoughts." Tanden noted that CAP will hold an all-staff meeting Wednesday to discuss the issue in an "open and frank" way and also invited employees to share their thoughts on an anonymous Google Doc, noting "it's sometimes hard for some to raise issues at All Staff."
"I am deeply sorry that anyone has felt unsupported after having the courage to come forward," Tanden wrote in an email to staff just before 8 p.m. ET. "When any staffer doesn't feel comfortable or feels like they are being badly treated, that's a problem for us. It is our commitment to continue to learn and work harder to ensure we have a workplace where every single staffer feels comfortable. At the end of the day the most important thing is that our staff feel safe, supported, and listened to. That that didn't happen is something that is on me to rectify for the future."
Tanden added that CAP is working with the employee union to set up sexual harassment training at the company, after 19 current and former staffers told BuzzFeed News that they had not undergone such a training during their time at the organization. "We also recognize the need for ongoing discussion of issues related to harassment," she wrote.
In closing her email, Tanden said that she would be available to talk with staff one-to-one and said, "CAP has been a proud leader in policy fights to create safe work environments, and we will be just as vigilant to ensure that we do that within our own walls."

Tanden's comments come after BuzzFeed News reported late Monday about issues of sexual harassment at CAP, a major progressive organization in Washington, DC, as well as allegations of retaliation by the women who reported the harassment.
Those reports of harassment centered on Benton Strong, a former communications employee with CAP, who was suspended with pay for three days — through his end date at the organization — after he was reported to the human resources department for sending sexually explicit text messages to a junior staffer. Strong had also been reported to HR two months earlier for asking female staff if they had been flashed or masturbated in front of by a stranger and mocking one woman who said she cried as a result of that happening to her.
A spokesperson for CAP declined to comment on the emails Tuesday.