The OpenSea accounts seemingly belonging to Heather Morgan and Ilya Lichtenstein, the husband and wife arrested by the Department of Justice on Tuesday for attempting to launder $4.5 billion in stolen cryptocurrency, have suddenly disappeared, BuzzFeed News discovered on Wednesday.
OpenSea is a marketplace used to buy, sell, and trade NFTs, or non-fungible tokens. A DOJ complaint stated that between 2016 and the present, Morgan and Lichtenstein "engaged in a diverse array of virtual currency transactions, including transacting in numerous altcoins, liquidating BTC through a BTC ATM, and purchasing non-fungible tokens (NFTs)." The document implies the couple may have attempted to launder crypto stolen during a 2016 hack of Bitfinex, a cryptocurrency exchange, through NFTs.
Morgan's online footprint was easily discoverable due to her influencer alias "Razzlekhan," a persona under which she ran a YouTube channel, Facebook page, and apparently an OpenSea account where she both sold and bought NFTs. Permissions on most of the videos posted to Morgan's YouTube account have also been changed to "private" since yesterday, BuzzFeed News found. Lichtenstein's alias, "Dutch," similarly led to an OpenSea account. Both profiles were linked to the pair's Twitter and Instagram accounts.
But it appears that between their arrest and today, those pages have disappeared, eliciting a 404 error message.

A spokesperson for OpenSea did not respond to three emails from BuzzFeed News requesting comment on the accounts and Wednesday's takedowns. Morgan and Lichtenstein did not respond to a request for comment via Twitter DM.
When attempting to view NFTs minted by Morgan, a popup states: "The item you tried to visit is no longer available on OpenSea. It will not be visible or accessible to anyone browsing the marketplace." The message cites the platform's help center, which explains that an NFT is delisted when the company determines it to "infringe on protected intellectual property, promote suicide or self-harm, incite hate or violence against others, degrade or dox another individual, [or] otherwise violate our terms of service."
OpenSea's terms of service also state that people may not "use the Service to buy, sell, or transfer stolen items, fraudulently obtained items, items taken without authorization, and/or any other illegally obtained items."
While Lichtenstein was not especially active on OpenSea, Morgan minted and sold NFTs of her own album covers. (Twitter users noticed that prices for her NFTs, originally listed for several hundred dollars, were hitting six figures yesterday.) Some information could also be gleaned from their transaction logs prior to their removal. It's clear that Morgan, through her Ether wallet, was moving money into Gemini, USDT, and Wrapped Ether. One NFT that Morgan purchased was even transferred to her account mere hours after her arrest.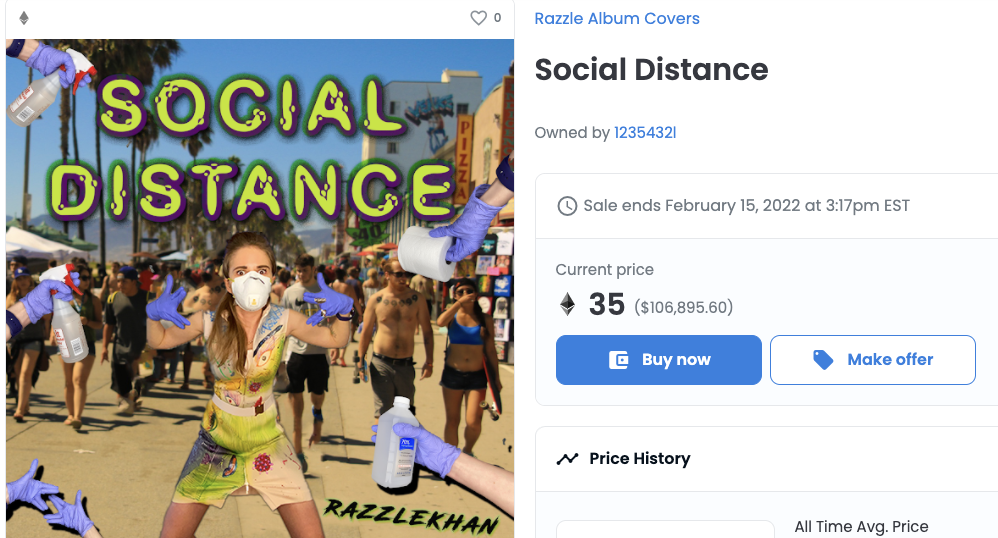 NFTs created by Morgan are no longer viewable on OpenSea, and it's unclear what happened to them. Ironically, Lichtenstein posed the same question on Twitter last year, asking another user: "But the NFTs are still on chain, right? @opensea can only remove the visual representation of them in their interface."
A Twitter user claiming to have purchased two NFTs minted by Morgan tweeted on Tuesday evening that OpenSea removed the image and its associated metadata (for example, its name and description), "essentially making the NFT a worthless token id." The individual asked OpenSea if the company intends to refund the Ether and fees used to buy the items. OpenSea does not appear to have responded to them.
Court documents do not specify which NFTs the couple purchased or where those transactions occurred. OpenSea is not the only NFT marketplace, but BuzzFeed News was unable to identify accounts belonging to Morgan and Lichtenstein on other platforms.
It's unclear whether the company has been contacted by the DOJ in connection to the criminal investigation.
When contacted by BuzzFeed News, a DOJ spokesperson declined to comment.
Katie Notopoulos and John Templon contributed reporting to this story.
UPDATE
This story has been updated to reflect that the Department of Justice declined to comment.