Syrians Fleeing The Growing Offensive In Aleppo Are Living Through Hell
With the Turkish border closed, and Syrian and allied Russian forces pummeling Aleppo, tens of thousands of Syrians are braving harsh winter nights unprotected while seeking safety.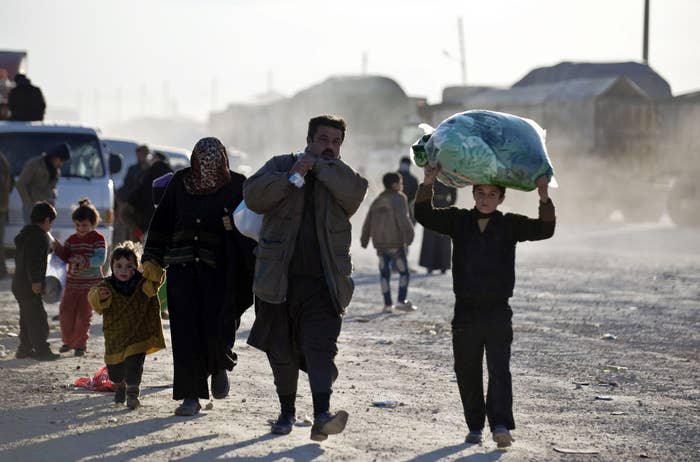 ISTANBUL — Mustafa had managed to hold out for years inside Syria. The 21-year-old butcher from al-Bab, a city in northern Aleppo province, watched as his city changed hands from the regime to the Free Syrian Army to ISIS. But he headed to the Turkish border three days ago, struggling to make his way to Turkey in the wake of a major regime offensive and Russian air campaign.
"I stayed in al Bab with the hope that things will calm down, that stability will come back to this country," he said, in a phone conversation with BuzzFeed News from the Syrian side of the Turkish border. "I'm sleeping in a mosque here. And I'm very weak. There's very little food. We're standing at the Turkish gate. But they're not letting us in."
When the Russian air strikes started, Mustafa left for the town Azaz, taking absolutely nothing with him. He was smuggled out of the ISIS controlled area, from which no one is allowed to leave, and therefore could not pack anything to take with him.
"Everyone is scared here and everyone is running away from those planes," Mustafa says. "I want to go to Turkey. It's a lot safer than staying here."
A steep escalation of the Russian air strikes on the city of Aleppo and its surrounding areas, along with advances by government troops and intense fighting over the last few days, have been the final straw for tens of thousands of Syrians, who have left everything behind and made their way to Turkey's border.
The center of Aleppo, Syria's largest city and commercial capital, has been under the control of rebel forces since 2012. Backed by Russian air strikes and pro-Iranian ground forces, the Syrian regime in recent weeks has advanced on the city, just about strangling crucial supply lines to central Aleppo in a major loss for the coalition of rebel groups controlling the city.
The Syrian regime offensive has also raised fresh concerns about another potential humanitarian disaster as well as fears of even more refugees making their way to the West.
Turkey has yet to reopen its borders to the tens of thousands fleeing the war, despite EU requests. The AFP news agency reported that the Oncupinar border crossing, facing Bab al Salama in Syria, remains closed for the third day — the border is only open for emergencies.
"Seven injured were taken to Turkey on Friday and one on Saturday for treatment at Turkish hospitals," a Turkish official told the AFP.
Abdul Salam al Shareef, an official at Humanitarian Relief Foundation (IHH), a Turkish aid group, estimated the number of displaced to be at least 35,000.
"The mud is covering their clothes, their boots," he said. "Kids are just standing in the cold, shivering, their faces pale, their lips chapped from thirst and hunger. The first night was truly tragic; it was indescribable."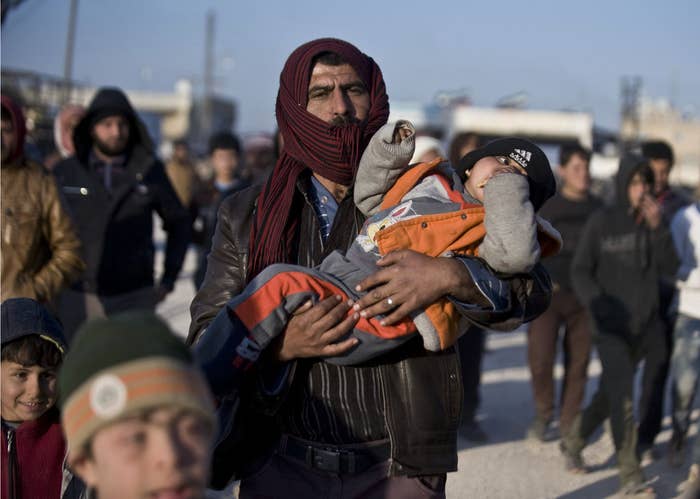 Those on the move are mainly lower-income families, who withstood the escalating violence over the past few years but can't countenance a major offensive on areas that have been under rebel control for years.
IHH reopened a kitchen for fleeing Syrians three days ago, and has been daily providing 100,000 loaves of bread and 50,000 hot meals for families, as well as setting up tents.
"Some spent the first couple nights entirely on the road," al Shareef said.
Charities are also expanding existing camps on the Syrian side of the Turkish border, and started building tents and settling people in.
But no aid groups have gotten the okay to start preparing yet for new refugees inside Turkey.
"We hope that Syrian people can stay inside, with no need to become refugees anywhere," said Abdul Aziz, an Aleppo surgeon, who asked that his real name not be published. "They just need to live in safe haven anywhere. This is the issue. It's not an issue of opening the border or keeping the border closed."
Seven hospitals still operate in Aleppo, despite incessant air strikes and missiles. Already they are operating mostly underground, with sandbags stacked against the windows and changing the color of ambulances. Hospitals are stocked for maybe one or two more months, the doctor said, without crucial resupply routes regime is attempting to cut off..
Walking up to 20 miles in the cold to get to relative safety, some families managed to fill a few bags with essentials before escaping, while others wrapped some of their possessions in large pieces of cloth or blankets and carried them on their backs or heads. The lucky ones drove, bringing a few more bags and saving themselves the long, cold walk.
Abdul Aziz said he expects about 100,000 civilians to flee Aleppo within the week.
"This humanitarian crisis is a disaster," he said calmly. "This is a disaster."