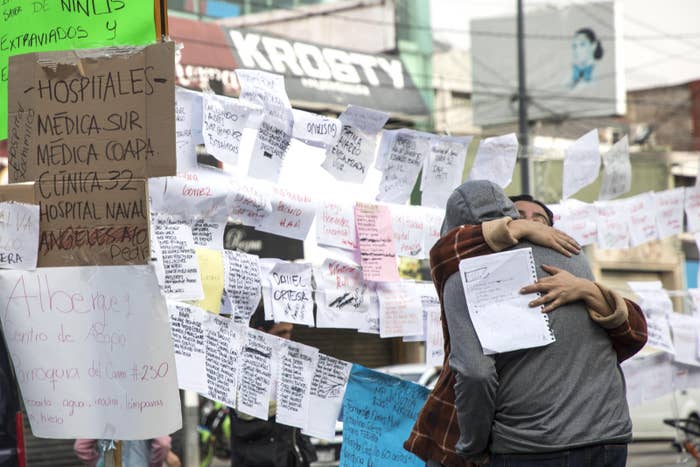 MEXICO CITY — Hospitals were strained to their limits in Mexico City after hundreds of people were killed and thousands more injured after Tuesday's 7.1 magnitude earthquake toppled buildings and crumbled infrastructure throughout the region.
Previously scheduled surgeries and other procedures remained on hold Wednesday as medical staff turned their attention to the immediate needs of people suffering fractures, lacerations, and head trauma. Admissions were based on a color-coded triage system as rescuers continued to pull injured survivors from the rubble, revealing new patients with serious medical needs.
At the General Naval Hospital in the neighborhood of Coyoacán, staff treated 104 people for injuries sustained during the quake, many from being crushed by falling debris. Of those treated, only about 10% were in serious condition and needed surgery for internal injuries, the hospital's cardiovascular surgeon Adrián Yebra López told BuzzFeed News. The hospital has not released information on how many, if any, have died after arrival.
Three of the seriously injured patients were children, aged 7, 14, and 17, who had been pulled from the wreckage of Colegio Enrique Rebsamen, a school that collapsed Tuesday with more than 200 students inside. The three students were expected to survive, according to Silvestre Macedo Barrio, the hospital's orthopedic surgeon.
They arrived in an ambulance between five and six hours after the building collapsed and had spent some time trapped before being rescued — resulting in ischemia, or a lack of blood flow.
"There were complications when they were extracted from the rubble, which made the ischemia on their extremities worse," Yebra said.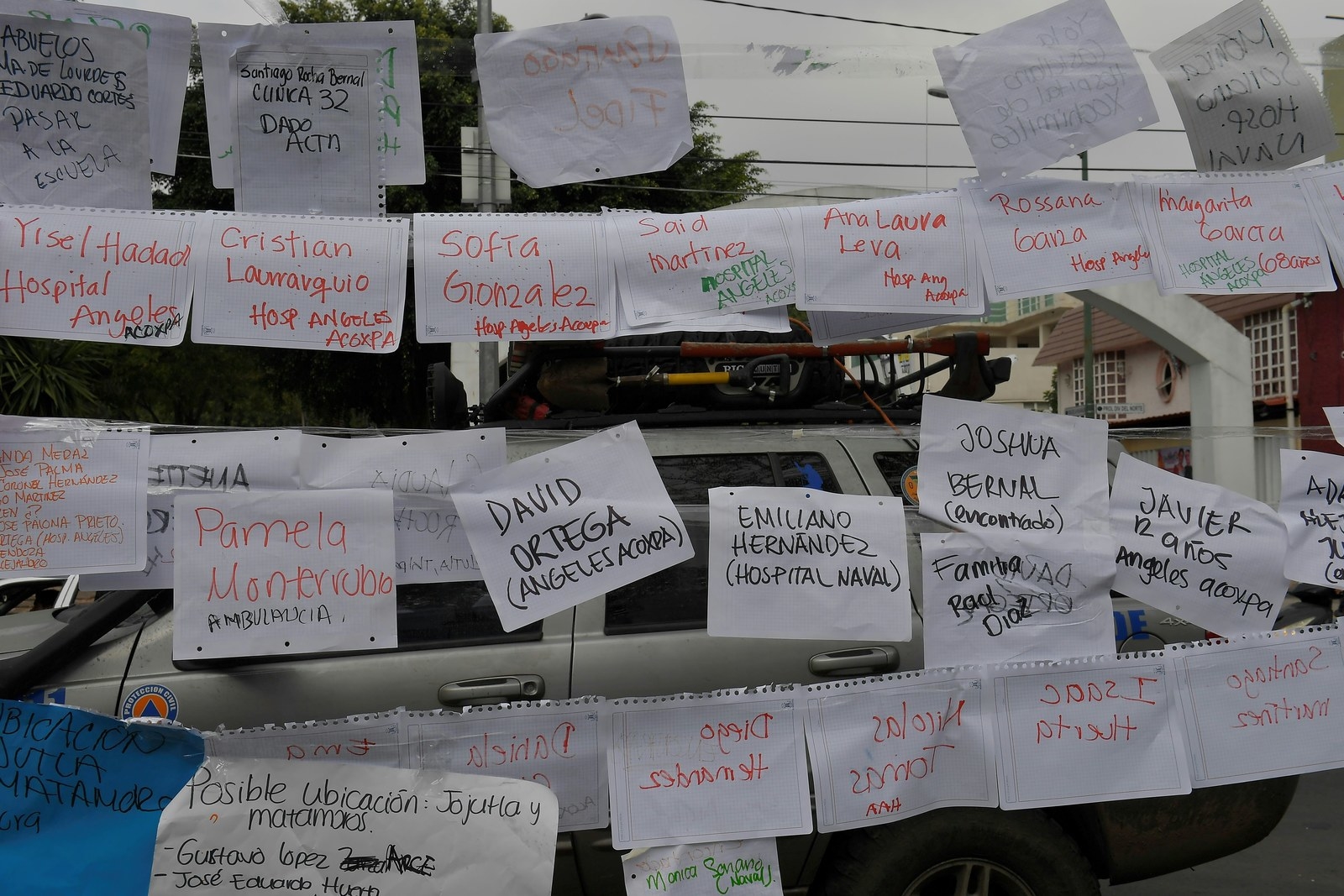 Dozens of other children rescued from the school were being treated in various hospitals around the city. Near the rubble of the collapsed school, handwritten notes detailed who had been found and where they had been taken.
Across the city, hospitals were attempting to connect victims with their families. Hospital Angeles Acoxpa placed a whiteboard in the lobby of the emergency room listing all of the earthquake victims being treated there. Posts on social media shared which individuals were at which hospitals. Rescue efforts are expected to last several more days.
Faced with the flow of injured citizens, General Naval Hospital personnel continued to use a color-coded triage for admittance on Wednesday. As ambulances arrived to the hospital's parking lot, doctors and nurses screened the incoming patients and assigned them a color — green, yellow, or red — based on the severity of their injuries.
Even when the hospital was at its busiest Tuesday evening, those coming in as red were attended immediately. The others were told to wait, but the size of the crowd meant that hundreds of chairs had to be brought out to the hospital's grounds to create a make-shift, outdoor waiting room.
Macedo estimated that about 30 to 40% of those injured in the earthquake have yet to make it to his hospital. Care was being provided for free, and Mexico's Health Secretary José Narro Robles emphasized that anyone affected by the earthquake would receive free care at public health institutions without considering their ability to pay.
On Wednesday morning, about a dozen people waited around the hospital's entrance. Some were waiting to see family and friends who had been injured in the earthquake. One woman arrived asking for her 3-year-old granddaughter, who had been attending pre-kindergarten at Enrique Rebsamen.
Others came from across the country for previously scheduled appointments and in some cases, surgeries. Andrea Luz Castillanos Conquillos was waiting outside for her mother, who had been scheduled to have a serious back surgery Wednesday.
"Because of what happened yesterday, there is no service or anything, they only gave her an injection for her pain and we have to come back in November," Castillanos told BuzzFeed News.
In general, all appointments and non-emergency consults were being turned away until further notice.
All of the patients, other than those in critical condition, were evacuated briefly after the initial earthquake until the building could be secured. The hospital was partially evacuated twice more on Wednesday due to fears of aftershocks, though none were felt within the buildings themselves.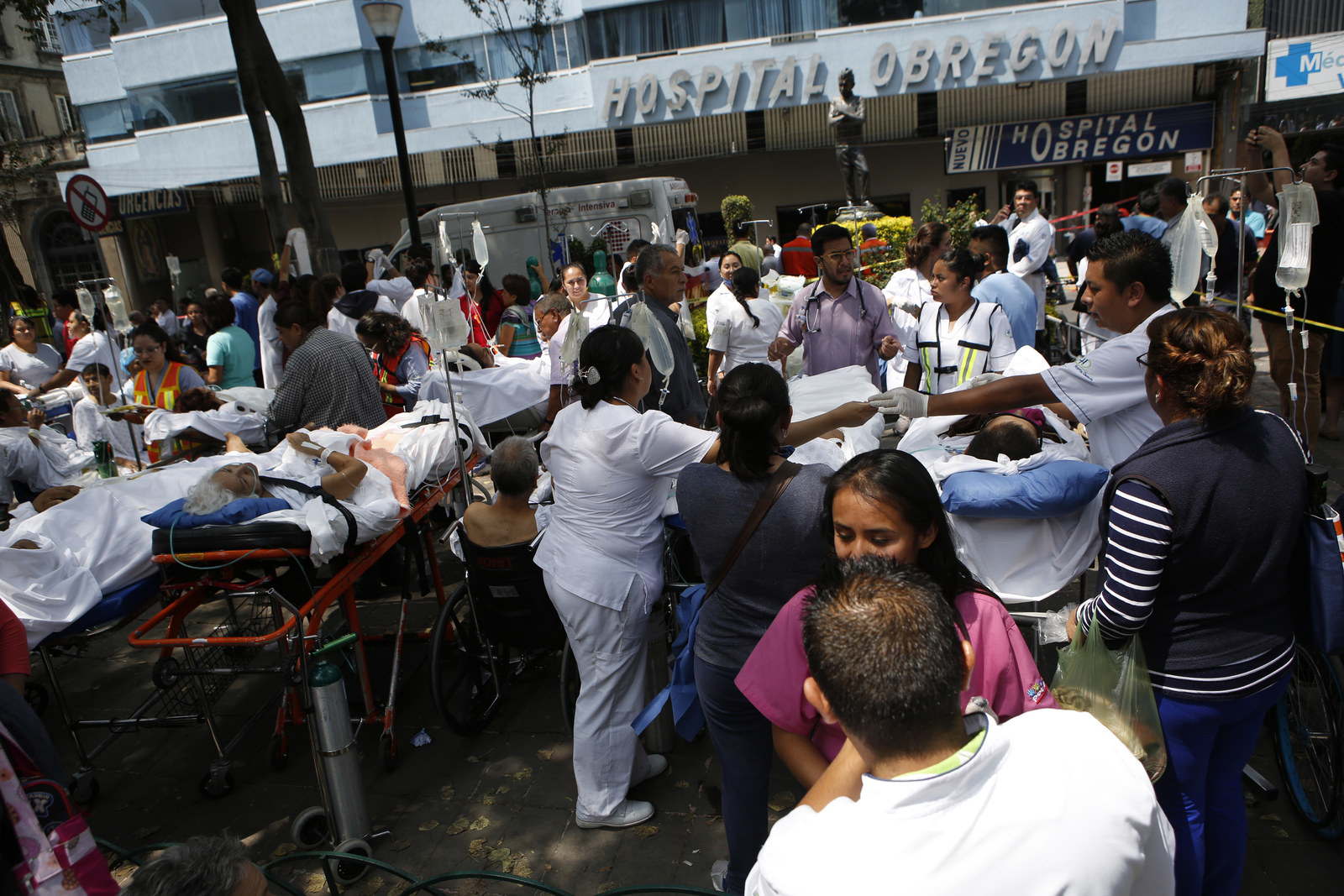 In many parts of the Naval Hospital, there were holes in the walls and ceiling where the drywall had cracked and fallen. While the structure sustained damage from the quake, Macedo said the hospital was fully operational.
"This is a safe hospital that withstood the earthquake, and we are now working at 100% capacity," he said.