Winklevoss-Backed Retail App Hukkster Scores $1.5 Million In New Venture Capital
Hukkster, the maker of a browser tool that alerts shoppers when items they want go on sale, just raised a fresh round of capital, BuzzFeed has learned. It's helping retailers find their way into inboxes.
Hukkster, the maker of a browser tool and app that alerts people when specific items they want go on sale, just closed a fresh round of financing for $1.5 million.
Rather than the usual venture capital firms, investors include Rowland Moriarty, a Staples board member who chairs consultant CR Associates; Martin Trust, a former Staples board director and founder of wholesale apparel company Mast Global; Archie Gottesman, co-owner and chief branding officer of Manhattan Mini Storage; and Kris and Tushara Canekeratne, co-founders of global IT firm Virtusa. Hukkster's most prominent investors are Cameron and Tyler Winklevoss, who didn't participate in this round, as well as the CEO of Tumi and head of Henri Bendel. The startup, which launched in April 2012, has raised $4.5 million to date.
Even though Hukkster alerts customers to discounts, it's become a favorite among retailers like Nordstrom, J. Crew, and Bloomingdale's because of how much more likely users are to buy a product after getting one of the startup's emails. Half of the nearly 250,000 people who have signed up for Hukkster are actively tracking a handful of products, from sweaters to blenders, at any given time, according to co-founders Erica Bell and Katie Finnegan. Around 80% of users are women between 25 and 45 years old.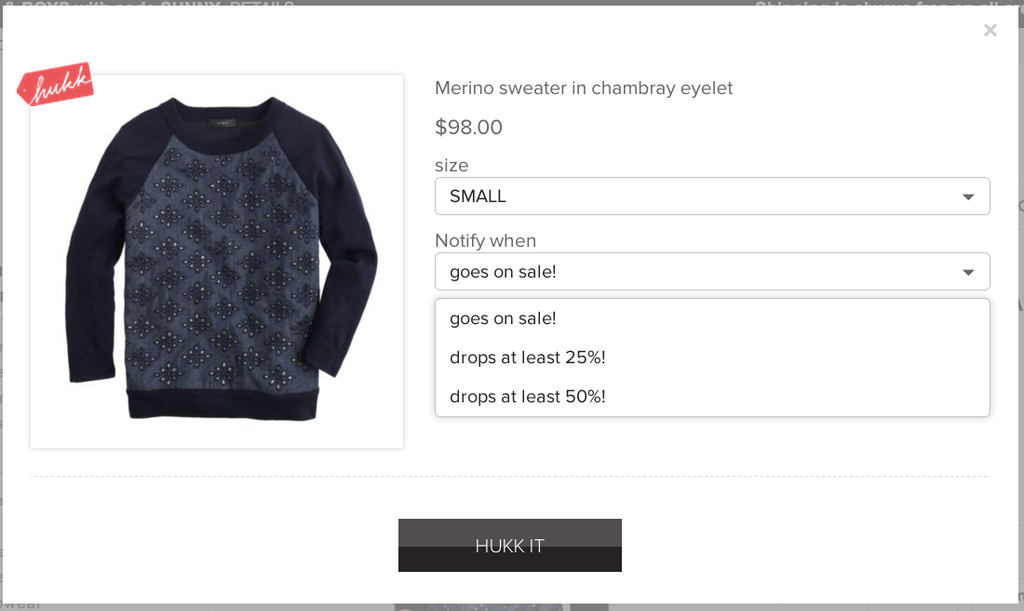 The way it works: shoppers install the Hukkster button onto their browsers, then click it when they see an item they like on a retailer's website. Those "Hukks" are bookmarked and Hukkster sends shoppers their preference of an email, text, or push notification when the items either go on sale or a coupon code becomes available to get it for cheaper, usually 10 to 14 days later.
Of note, the alerts are specific to size, color, and how big a discount users want (usually they pick 20% to 30%), which has helped Hukkster get a 75% open rate for its emails, Finnegan and Bell say. That's huge considering most major retailers face open rates of just 30% on an ever-soaring number of messages. Adding to that, the industry is still working hard to compete online. Hukkster is now getting approached by retailers to include additional deals or advertisements in their emails, another avenue for revenue in addition to the 8–10% commission it earns on "Hukked" merchandise.
"Let's say a department store wants to promote new arrivals or a product category — we're starting to work with retailers to leverage that email space to help influence that purchase, which is really exciting to them because they're having a much harder time breaking through noise in the inbox," Bell said in an interview.
Most of the $1.5 million Hukkster just raised will go toward digital marketing and advertising. Bringing on Gottesman of Manhattan Mini Storage as an investor was particularly strategic given that company's provocative and entertaining ads that poke fun at everyone from George W. Bush to the Mets, the two said, though they don't know if billboards are in their future. Finnegan, 30, and Bell, 29, met as merchandisers at J.Crew and later worked at retail consulting company A.T. Kearney.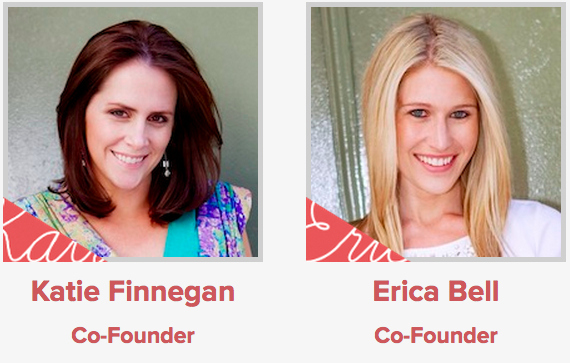 "What this is going to do is the fun, flashy user-facing things," Finnegan said, noting the 14-person startup hasn't devoted much money to marketing or customer acquisition up to this point.
She said one of their mentors, J. Crew CEO Mickey Drexler, has always been of the mind that "retail is detail," so most of its capital thus far has gone toward building the product. Hukkster also has an iPhone and iPad app for tracking items, which shoppers can use from stores, saving the barcodes of specific products for alerts later on.
So far, Hukkster has "seen a ton of success" advertising on Facebook given the startup's core user is a 25- to 45-year-old woman, and will be figuring out other ways to get the word out in coming months, from banner ads on emails to websites.