Why Uniqlo's Goal Of $10 Billion In U.S. Sales By 2020 Isn't Going To Happen
Japan's Fast Retailing talks a big game, but Uniqlo has been struggling to make a splash in America since 2005, and time is running out to get to its big goal.
Uniqlo has grabbed headlines this month amid reports the Japanese clothing company's owner, Fast Retailing, might buy J.Crew — talks that ultimately fell apart. Nearly every story has included comments from CEO Tadashi Yanai proclaiming, as he has for years and years, that his company will one day be the biggest clothier in the U.S. and the world.
But almost a decade after Yanai started his foray into the U.S., Uniqlo appears as if it's going to fall short of its lofty ambitions.
Yanai, Japan's richest man, started talking in 2012 about how Uniqlo, not just Fast Retailing, plans to reach $10 billion in U.S. annual sales by 2020. The market is integral to his hope for $50 billion in global sales at that point, a leap from Fast Retailing's current $11 billion. While Uniqlo has since earned devoted fans from New York to San Francisco for its colorful, well-made, affordable basics, it's challenging to see how a chain that currently operates just 17 American stores and a website will get to that number in less than six years.
Let's take a look at that goal in context. The Gap and Old Navy chains posted about $9.5 billion in U.S. sales for the year through Feb. 1, across nearly 2,000 full-price and outlet stores and its websites. H&M, also pursuing a rapid expansion in the U.S., reported just over $2 billion in sales last year through 305 stores in America and an online operation that launched in August. (Uniqlo declined to comment for this story through an external spokesperson, though said it stands by Yanai's 2020 ambitions.)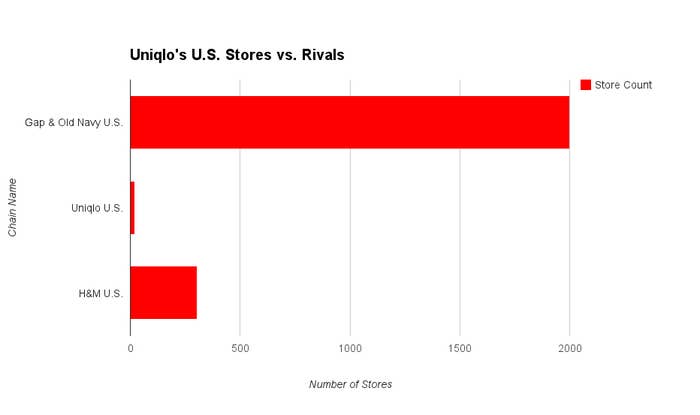 Fast Retailing, which doesn't break out Uniqlo's American sales, forecasts all of its Uniqlo stores outside of Japan — including more than 400 stores from Europe to China to Southeast Asia — will post the equivalent of $3.4 billion in revenue this year through August. Uniqlo USA should have roughly 30 locations by then, the biggest of which is an 89,000-square-foot behemoth on New York's Fifth Avenue, followed by a 43,000-square-foot store in Paramus, N.J.
Since those locations represent extremes, let's say the average store comes to 40,000 square feet (though it's probably smaller than that), giving Uniqlo 1.2 million of U.S. square footage at the end of August. Assuming Uniqlo is as productive as much pricier shopping option J.Crew — which just said it makes $671 in sales per square foot — those stores would bring in $805 million in revenue for the year, plus whatever incremental sales come from the internet.
So maybe it would make $1 billion in sales in a supremely optimistic scenario — and that's supposed to multiply by 10 over the next few years. Using the above math, it would require 370 enormous locations running at J.Crew's productivity to get to $10 billion in sales by 2020, excluding online operations. And that's not even possible — Uniqlo plans to operate 200 U.S. stores by 2020.
Retail experts, while noting Uniqlo's appeal in urban areas, agree it's a farfetched goal, especially given the apparel industry as a whole isn't growing that quickly.
It might make more sense if Fast Retailing, overall, thinks it can get to $10 billion in sales across a portfolio of brands through acquiring companies such as J.Crew, said Hana Ben-Shabat, a partner in the retail practice at management consultant A.T. Kearney. After all, it already owns Theory and Helmut Lang.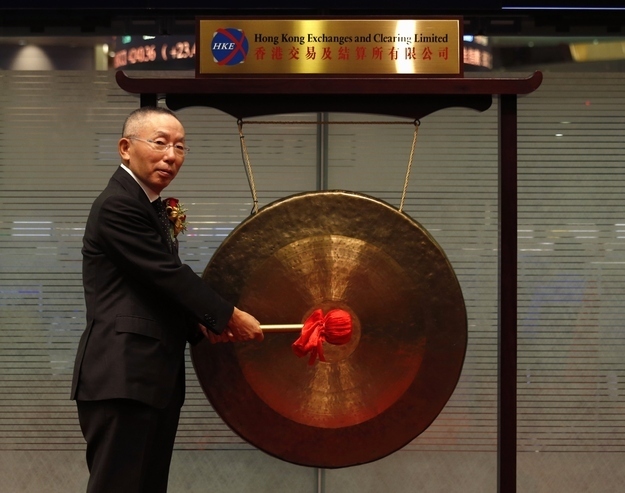 "This is a very ambitious target for sure, and I think it will be very challenging to get there within that time frame," Ben-Shabat told BuzzFeed. Even if sales could somehow reach that number, it would cost so much in aggressive expansion and marketing that it's hard to see the business being profitable, she said. (Uniqlo USA reported a second annual operating loss in August.)
"To get to $10 billion, you need a substantial footprint and you need incredible brand recognition," she said.
To that end, Uniqlo has stepped up its marketing in the U.S., airing compelling commercials set to piano music that highlight the simplicity and comfort of the brand's clothes, and has hired Pharrell Williams as a spokesman. It's also launching a line of items designed by influential artists and a collaboration with the Museum of Modern Art under "SPRZ NY," which stands for "Surprise New York."
Uniqlo does seem to be gaining popularity with Americans in the few cities it's hit so far. But it's talking a huge game, and it'll be one hell of a feat if it can actually reach $10 billion in sales by 2020.