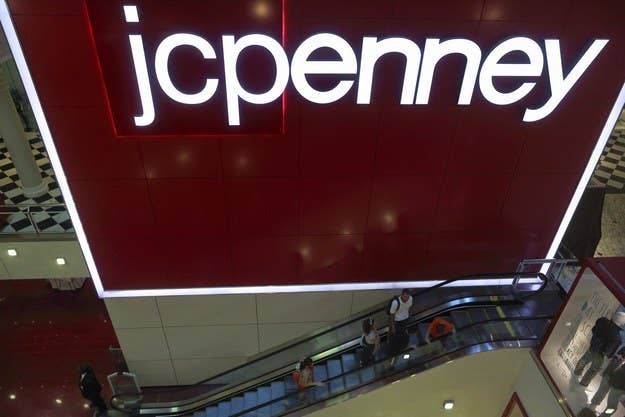 Department-store chain J.C. Penney, which has been showing signs of improvement after a botched turnaround effort, announced plans to shutter 39 underperforming stores, as the company continues to find its way out of America's worst malls.
The company will close the locations on or around April 4, affecting 2,250 jobs, Joey Thomas, a spokesman, said in an e-mail. J.C. Penney closed 33 underperforming stores last year, cutting 2,000 jobs, also after a January announcement.
J.C. Penney's decision underscores the growing gap between America's best and worst performing malls, which itself is a sign of the growing divide in the consumer economy. While high-end shopping centers featuring luxury brands -- the Bloomingdale's and Apple stores of the world -- are thriving, those on the lower end of the economic spectrum are struggling, and many are in terminal decline. J.C. Penney and Sears, in particular, are anchor tenants in many of these malls, taking up large amounts of space and serving as a drawcard that helps the smaller retailers surrounding them. Both department store chains are in the process of closing many stores that simply aren't bringing in enough sales. (Sears recently announced plans to close 235 locations.)
J.C. Penney and Sears have a high number of stores in America's worst, "C"-rated malls.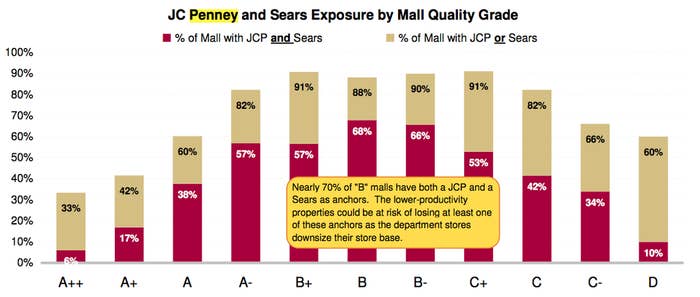 The industry ranks malls into groups like A++ and A — those high-end malls — then B malls, which are stable and considered either the "best mall in a small market" or the "third-best mall in a five-mall town." Next comes the C bucket, the troubled malls, where sales aren't so hot, some chains are leaving, and traffic is low.
While industry watchers like to point to the rise of e-commerce for why chains like J.C. Penney, Sears and even Macy's are shutting down certain locations, it really has more to do with income inequality, given the divide between the As and the Cs in recent years, as The New York Times pointed out this past week.
The A malls are located near the wealthiest, most educated Americans, who have benefited the most from the economic recovery. As you continue down the spectrum, the population of such spenders in the area drops precipitously, and that's a problem for the worst malls. Suddenly, they're battling for dollars from the majority of Americans whose income has either stagnated or declined since the financial crisis.
J.C. Penney, for example, said it will be closing a store in the Gwinnett Place Mall in Duluth, Georgia. According to Green Street Advisors data, that's a C- mall. The occupancy rate is grim, at only 57%, and the sales per square foot are $200. A glance at the website shows some major chains, but a few that don't immediately ring a bell — Shoe Show, Glitter's Fine Jewelry, Xclusiv. Compare that to the "A++" mall in the Atlanta market, Lenox Square. That mall brings in $1,030 in sales per square foot, and its occupancy rate is 92%. It's in "the heart" of the affluent Buckhead area, and hosts tenants including Cartier, Prada, Mont Blanc and Neiman Marcus.
J.C. Penney hasn't said how many of the stores being closed are in A, B or C malls — and the difference between B and C malls is marked — but it stands to reason it would focus its closures on the worst-performing places.
J.C. Penney is offering almost three months of notice to employees in affected stores and a career-training class to those who will lose their jobs. It serves in stark contrast to specialty chain Wet Seal's decision earlier this month to fire more than 3,500 employees and shutter 300-plus stores with a single day's notice in many instances.
"We continually evaluate our store portfolio to determine whether there's a need to close or relocate underperforming stores," Thomas said in an e-mail, noting that's 4% of the company's stores. "Eligible associates who do not remain with the company will receive separation benefits, and, if possible, we will assist associates in identifying other job opportunities at nearby J.C. Penney stores. Additionally, we're offering all associates an on-site career training class. The class will assist associates in writing resumes, filling out applications, answering interview questions and more."
Full list of J.C. Penney stores closing on or around April 4: