Is Nothing Sacred Anymore? Now Walmart Is Starting Cyber Monday On A Sunday
Which is in line with how Black Friday is now on Thursday. What is a day if not a rule to be broken?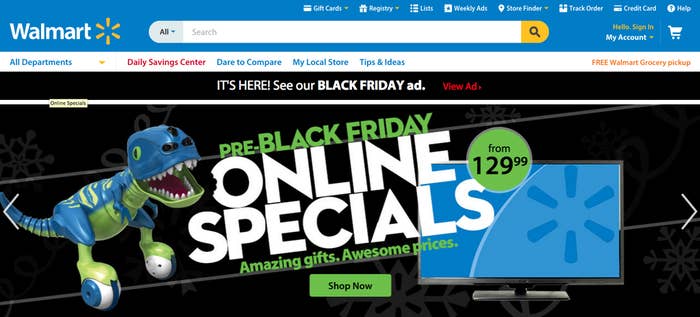 Just as most Black Friday sales now begin on Thanksgiving Thursday, Walmart is moving "Cyber Monday" to Sunday.
"The change is aimed at providing a simpler and more convenient experience for customers who are searching the Web on Sunday night and often waiting up past midnight to do their shopping," the world's biggest retailer said in a statement today, emailed shortly after midnight. It will start its deals at 8 p.m. ET on Sunday and continue on into Monday.
In 2012, most of the nation's biggest retailers started opening on Thanksgiving Day for Black Friday sales, a trend that started with controversial midnight openings in 2011 and has persisted into this year. So it makes sense that Cyber Monday is the next to go — though in both instances, it's unclear as to why retailers can't just refer to major sales by naming the proper day of the week.
Cyber Monday was introduced in 2005 by an arm of the National Retail Federation, an industry trade group, according to the New York Times. It came very close to turning 10 years old this year as a true Monday holiday.
The savings seem constant. Right now, Walmart is offering "pre-Black Friday online specials" on its website. It said earlier this month that it will offer the majority of its Black Friday deals on its website starting at 3:01 a.m. ET on Thanksgiving Day, then offer up a "week of savings" afterwards. Broadly, the company said it is all part of "eight weeks of deep savings and holiday retailtainment."
"It can be exhausting for working parents and millenials to stay up past midnight to shop online, only to wake up early the next day to get ready for work," Fernando Madeira, CEO of Walmart.com, said in the statement.