Wall Street's Battle To Replace Abercrombie CEO Mike Jeffries Begins
Activist firm Engaged Capital fired off an open letter to Abercrombie's board today saying that Jeffries, whose latest employment contract expires on Feb. 1, needs to be replaced.
Abercrombie shares in the past year vs. other S&P retailers and the broader S&P index: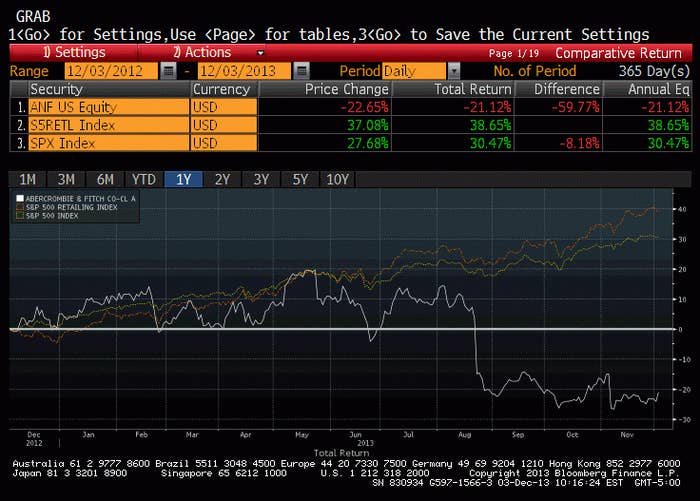 Abercrombie Chief Executive Officer Mike Jeffries has had a messy year. The retailer's stock price and store sales have been plummeting, he has received tremendous backlash over comments he made in 2006 that painted Abercrombie as "anti-fat," and his excessively hands-on management style has come under fire.
While 69-year-old Jeffries all but told analysts last month that his latest employment contract, set to expire on Feb. 1, would be renewed, activist firm Engaged Capital stepped in today, saying that its adamantly opposed to that.
Engaged Capital, which says it owns 400,000 shares or 0.5% of Abercrombie, outlined a detailed case for replacing Jeffries in a nine-page open letter to the retailer's board today. The 1.5-year-old firm is run by Glenn Welling, who previously worked at Relational Investors —an activist firm that also pressured Abercrombie for changes last fall, though it has since sold its stake.
Welling, who said Engaged has held the shares for more than a year, said Abercrombie's underperformance against other apparel companies and the S&P is the fault of its poor leadership, slamming the retailer's costly international flagship openings, the failure of the Ruehl and Gilly Hicks brands, and its inability to keep up with today's faster pace of fashion. He said Jeffries has been a hurdle in attracting and retaining management talent, with "no credible successor" among current executives, and that his very presence has repelled private equity firms that might otherwise want to take the company private. He also slammed Jeffries' compensation, which has regularly received extraordinarily low shareholder support in recent years.
"The renewal of Mr. Jeffries' employment contract would be a direct contradiction to what shareholders want and the company needs," he wrote, saying Abercrombie is "deeply undervalued." "ANF's future success will be dependent on the company's ability to adapt to a fast changing retail environment, carefully manage expenses, and efficiently allocate capital. Unfortunately, these are not areas where Mr. Jeffries has demonstrated expertise or competency, as evidenced by the company's persistently negative comps, elevated expense structure, and declining return on-capital."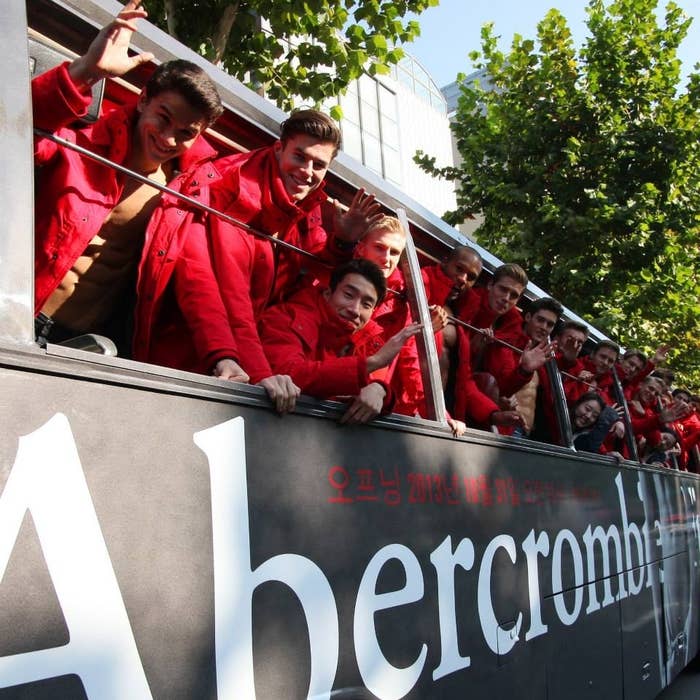 He referenced "unnecessary controversy" tied to Jeffries' "past public statements" — presumably, the anti-fat comments — as well as "the apparent intrusion of his private life into company business." BuzzFeed wrote in May that Matthew Smith, Jeffries' life partner, wields as much power and influence as any executive at the company, despite the fact that he isn't employed by and has no official role at Abercrombie, raising obvious corporate governance concerns.
"The board has a significant opportunity with the upcoming expiration of
Mr. Jeffries' employment contract to set a new direction for the company under new leadership," he wrote. "Given the company's history of operational missteps, taken together with Mr. Jeffries' age and his increasingly controversial reputation, the board must not let this opportunity pass. We urge the board to immediately commence a CEO search for candidates with relevant retail apparel and turnaround experience. Our initial research indicates that numerous qualified executives would be interested in the opportunity. While losing Mr. Jeffries' leadership may have been negatively perceived in the past, it should now be abundantly clear that a transition in leadership is not just needed, but absolutely required, to restore investor confidence in the company's future."
Abercrombie's board and management team are "committed to creating value, and we welcome input from all shareholders," the retailer said in an emailed statement to BuzzFeed. "The company has had extensive discussions with many of its shareholders, including Engaged Capital, over the past several months. We look forward to continuing our dialogue with shareholders as we execute on our long-term plan."
Welling noted that the topic is a sensitive one given Jeffries' history with Abercrombie, and he's right. Jeffries, Abercrombie's CEO and chairman, is described in regulatory filings as its modern-day founder and "the brand visionary and chief creative talent for the company." He's led the company since 1992, turning both Abercrombie and Hollister into the global powerhouse brands they are today.
But in recent years, Jeffries has been criticized for being a micromanager and holding Abercrombie back in some ways, as well as running the retailer with scant oversight, from corporate jet shenanigans to the dubious involvement of his partner in the business.
Engaged Capital's criticism is the most public and potentially meaningful cry for a leadership change at the retailer, given its depressed share price and brutal same-store sales, and the upcoming expiration of Jeffries' contract.
Abercrombie shares rose 6.5% today to $36.25 after the letter was published, indicating other shareholders approve of Welling's message. The retailer's stock was down 29% this year through yesterday.
"Every business reaches a point where a transition from one type of leader to
another is required to keep the company thriving, and that time has arrived for ANF," Welling wrote. "Installing a new leader at this critical juncture in the company's history would demonstrate the board's commitment to act in the best interests of shareholders. We urge you, our fiduciaries, not to wait any longer but to make the difficult decision required of this board and finally put our Company back on a course towards creating value for shareholders."