U.S. Retail Industry Group Says Shutdown Threatening $600 Billion Holiday Season
The government shutdown is crushing consumer confidence and making it harder for retailers to plan their businesses. The National Retail Federation says more than 10% of Americans work in retail and related fields.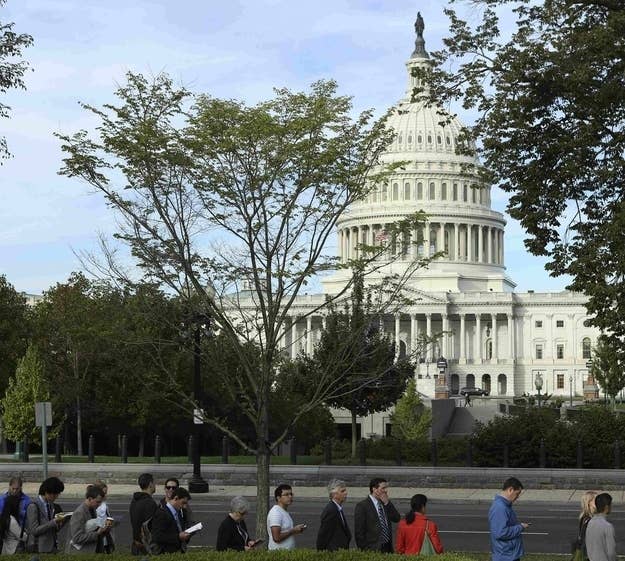 The government shutdown is keeping retailers from Wal-Mart to Macy's from seeing key economic data that helps them plan their businesses and may ultimately threaten the all-important holiday shopping season, according to the industry trade group National Retail Federation.
The group, which says 42 million Americans work in retail and related fields, wrote a letter calling on lawmakers to immediately end the shutdown, saying only the collapse of Lehman Brothers in September 2008 "has done more damage to consumer confidence in such a short period of time."
The shutdown ultimately risks imperiling the potential $600 billion in holiday sales this year, which accounts for about one-fifth of retailers' annual revenue, the group wrote. The eVerify system used to determine immigration and citizenship status of new hires is down because of the shutdown at a time when retailers are hiring more than 700,000 seasonal workers. Retailers already have more than 4 million cargo containers of merchandise on their way to stores for the holidays, but it's unclear if they will be processed correctly because a number of government agencies that participate in clearing cargo have furloughed staff members.
"Even if Customs and other agencies can get that merchandise off the docks without a hitch, shutdown-fueled consumer worries over the economy could leave that merchandise sitting on shelves well past Christmas," the group's president, Matthew Shay, wrote in the letter. "That would be a severe hit not just for retailers but in every industry whose jobs depend on consumer spending."
The industry also probably isn't going to be able to see monthly retail sales numbers on Oct. 11.
"The long-term success of our nation's economy requires long-term solutions that will take more than a few days to find," the group wrote. "But in the short-term, Congress needs to reverse the economic crisis it has created through the shutdown while it is still a short-term crisis and not the beginning of another recession."
Dear Majority Leader Reid:On behalf of the nation's retail industry and the 42 million Americans who work in retailing and related careers, I am writing to urge the House and Senate to negotiate an immediate end of the shutdown. We strongly support passage of both a continuing resolution to provide for funding of the federal government into the next fiscal year and a measure to raise the nation's debt ceiling.There are warning signs that an extended shutdown will have serious repercussions for the U.S. economy. Gallup's Economic Confidence Index fell 12 points last week, making it the second largest weekly drop ever. Only the collapse of Lehman Brothers in September 2008 has done more damage to consumer confidence in such a short period of time. For retailers – who represent the sector of the American economy most closely tied to consumer attitudes – these numbers are deeply disturbing. Moreover, since the very modest growth the U.S. economy has experienced following the 2008 recession has been attributed to the willingness of the American consumer to keep shopping, a lasting decline in consumer confidence is likely to translate into increased unemployment and slower growth in coming months. In view of the fact that the current recovery has been the weakest of the post–World War II era, we hope that Congress and the Administration will want to move quickly to avert lasting damage to the economy.Beyond the consumer confidence numbers, the shutdown is also having a material impact on retail operations. For example:• Monthly employment numbers that provide a vital measurement of the health of our economy that were scheduled to be reported on October 4 were not available.• Monthly retail sales numbers, another important barometer of America's economic strength, scheduled to be reported on October 11 will not be available.• With retailers in the midst of hiring more than 700,000 seasonal workers for the holiday shopping season, the eVerify system for determining the immigration/citizenship status of new hires is unavailable.• While U.S. Customs and Border Protection inspectors remain at work on the docks processing holiday merchandise being imported into the country, many of the 40 government agencies with a roll in clearing cargo have furloughed vital staff, making retailers' ability to import merchandise during the crucial holiday season uncertain.• With new FCC restrictions on the use of auto-dialing and pre-recorded calls to consumers – a vital part of marketing and customer service – set to go into effect October 16, no one at the FCC is available to offer guidance on how to comply with these rules.These and other problems come at the worst possible time for the retail industry. Retailers are about to kick off the annual holiday season, which is forecast by NRF to hit $602.1 billion in sales. That amounts to 20 percent of the industry's annual sales, as much as 40 percent for some individual companies.Retailers already have more than 4 million cargo containers of merchandise on their way to store shelves for the holidays. Even if Customs and other agencies can get that merchandise off the docks without a hitch, shutdown-fueled consumer worries over the economy could leave that merchandise sitting on shelves well past Christmas. That would be a severe hit not just for retailers but in every industry whose jobs depend on consumer spending.Washington cannot keep governing from crisis to crisis and quarter to quarter. Kicking the can down the road may be the norm these days in Washington, but it is an irresponsible approach to the problems confronting our nation.Rather than more posturing and brinksmanship, we need leadership from both ends of Pennsylvania Avenue on the key issues facing our country, particularly policies that put the economy on a firm footing for long-term growth. For example, we need a comprehensive, revenue-neutral overhaul of the tax code. We need immigration reform. We need trade rules that encourage U.S. exports without taxing imports. We need a sustained focus on jobs and growth, not shutdowns and more uncertainty. Finally, we need a solution to the crushing burden that unchecked entitlement spending will create in future years.The long-term success of our nation's economy requires long-term solutions that will take more than a few days to find. But in the short-term, Congress needs to reverse the economic crisis it has created through the shutdown while it is still a short-term crisis and not the beginning of another recession. It is time for Congress to get our government back to work – and time for Congress itself to get back to work on building a strong, stable national economy that will restore the United States to its rightful place as the leader of the global economy.Sincerely,Matthew R. Shay President & CEO National Retail Federation