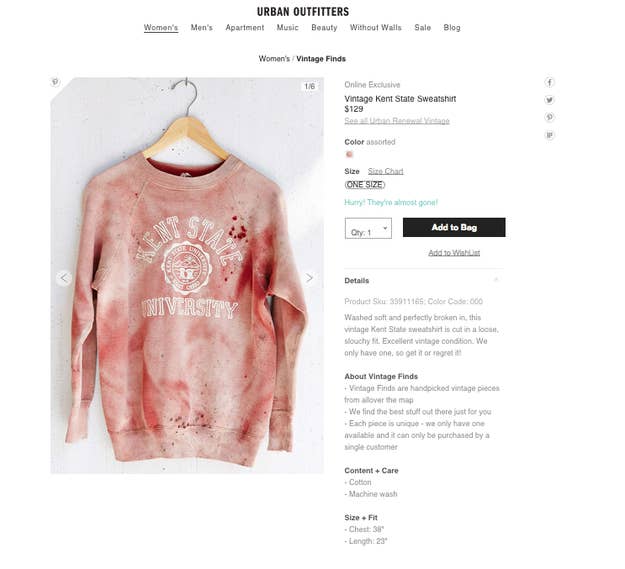 Urban Outfitters swiftly apologized this morning for selling a Kent State sweatshirt that appeared to be decorated with horrific bloodstains. But amid the disgust, one question lingered: why does this keep happening?
Urban has actively tried to spice up its image after appointing former executive Ted Marlow as chief executive officer of the brand in February 2012 amid concerns that it had become "too vanilla." Urban chief financial officer Frank Conforti said after Marlow's hiring that the new CEO felt the brand "has lost a little bit of its edginess."
"It's very important for our brand and where we sit in the industry and in that space to be differentiated, to be a little edgy," Conforti said. "And I'm talking not just from a merchandise perspective, but as well as from a creative execution perspective. That's something that's very critical to us and I think that's something that Ted makes sure that he brings back into the business and it's from a top down perspective."
That mentality might explain the major gaffes Urban has committed over the last 18 months.
In January, for instance, Urban yanked a crop top patterned with the word "depression," which dredged up the memory of an "eat less" shirt it carried in 2010. A few months later, Urban pulled a duvet cover decorated with Lord Ganesh after Hindus protested it as insensitive and inappropriate. Other offenses: giving away pens shaped like hypodermic needles, selling pill bottle-shaped shot glasses and pint glasses, and carrying a shirt of Jesus holding a beer that said "Jesus, I'm Drunk."
While using controversy to fuel sales is nothing new — see: the history of American Apparel and Abercrombie & Fitch — Urban Outfitters' most recent attempts at edginess have actually coincided with a decline in its business.
The company last month reported a 3.7% sales decline at the Urban brand for the six months through July 31, while revenue at sister stores Anthropologie and Free People soared. That comes after a brutal holiday season where Urban's sales fell 4.2% in the three months through Jan. 31. The stumble was sharper without the benefit of new stores: Urban's comparable retail segment net sales fell 9% in last year's fourth quarter, 12% in this year's first quarter and 10% in the second quarter. The declines add up to real trouble for the company, given that Urban accounted for 44% of its $3.09 billion in sales last year.
Urban is also worried that it's gotten too young. Richard Hayne, CEO of the parent company, said in March that the brand is trying to win back its core demographic of 18- to 28-year-olds after drawing in too many 14- and 15-year-old customers.
It's conceivable that part of Urban's issues might be that they're spending a lot of time offending some of the 18- to 28-year-olds they're trying to appeal to.
As Kent State said today: "We take great offense to a company using our pain for their publicity and profit. This item is beyond poor taste and trivializes a loss of life that still hurts the Kent State community today." Urban, for its part, claimed that "it was never our intention to allude to the tragic events that took place at Kent State in 1970," adding that "the red stains are discoloration from the original shade of the shirt and the holes are from natural wear and fray."
The chain recently appointed Hayne's wife, Meg Hayne, as chief creative officer of Urban Outfitters to help rehabilitate the brand — she is also head of Free People and a board member — and said earlier this month that it's seeing signs of a turnaround online now that it has a more cohesive fashion assortment and higher-priced products.
"One of the things that we were very focused on for back to school was making sure that the brand stood for something again," Conforti said earlier this month. "That you could come to a store, you could go to the website, and you could see the trends that we were going after. You could see the look that we're going after, that it didn't feel disjointed, that it was pulled together in a complete assortment."
Whether this controversy will affect the turnaround at all remains to be seen.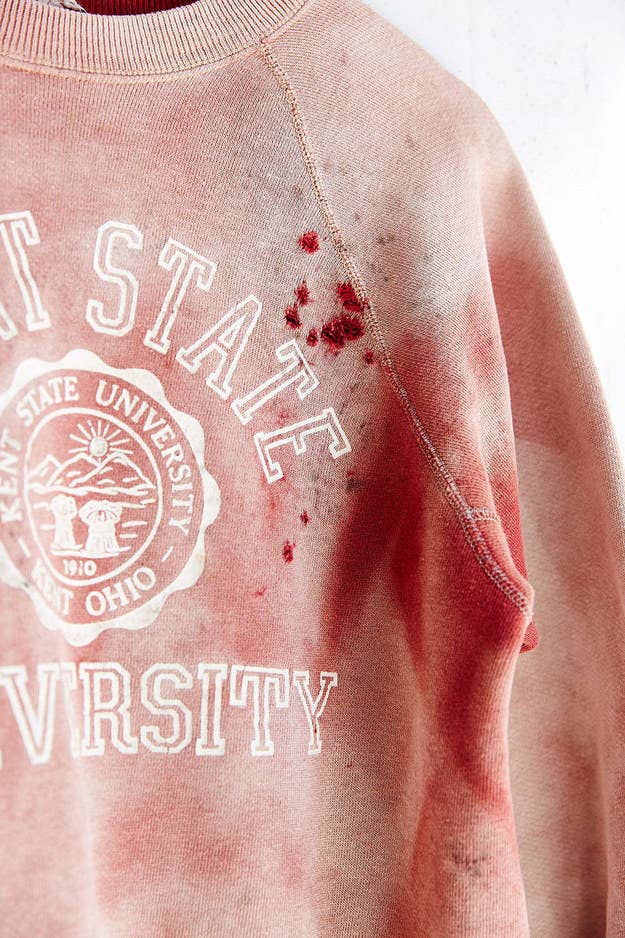 Contact the reporter on this story at sapna.maheshwari@buzzfeed.com.