The Wanelo button on Abercrombie & Fitch's website
Can you guess what social network Urban Outfitters has the most followers on? It's not Facebook, Pinterest, or Twitter — it's something called Wanelo.
Wanelo, a portmanteau of "want, need, love," is a relatively under-the-radar online shopping platform that retailers have just started to take note of, owing to its growth from 1 million to 10 million users in the past year. It's generating enough buzz that the Wanelo "save" icon is popping up as a sharing option alongside buttons for Facebook, Pinterest, and Twitter at Urban Outfitters, Abercrombie & Fitch, and the mobile site for Rag & Bone, among others.
"The main value that we offer to all of our users is that all the content is purchasable," said Deena Varshavskaya, Wanelo's founder and CEO. Shoppers are often "frustrated on other platforms like Tumblr, Instagram or Pinterest, where they see things they like, but there's no way to find the source of the product. Wanelo solves that problem."
Wanelo got 1.5 million unique U.S. visitors in September, a fraction of the 44.2 million that went to Pinterest that month, according to comScore data that blends desktop and mobile traffic. (Wanelo says the figures are higher than that.) Still, even if it's smaller, the main reason people use Wanelo is to shop — not to keep up with friends or to trade inspiration — and on average, they're spending 50 minutes a day there, the startup says.
Wanelo users can follow other people, stores, or browse by categories such as "Bohemian" and "Novelty," saving items to their profiles along the way. They're also able to see items trending within stores, like say, rainbow tumblers at the MoMA design store. Retailers such as Nordstrom and Urban have "claimed" their stores on Wanelo (though MoMA has yet to), which enables them to customize their page and post product stories. But the site doesn't rely on a retailer's participation — it's only to their benefit if they do choose to engage.
Urban Outfitters has 2.2 million followers just on Wanelo.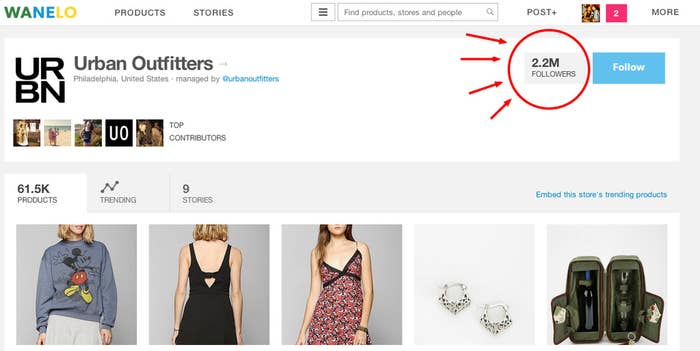 The startup is hoping for another big boost in users and purchases this holiday season. Online sales, while accounting for less than 10% of all retail purchases last year, are growing faster than the overall industry, a pace that's been forecast to continue for the next five years. With that in mind, every major retailer has been trying to figure out how to best use social media to drive purchases, whether it's partnering with blogs, engaging with customers on Facebook or running "Pin it to Win it" campaigns on Pinterest. (Even Wal-Mart recently said it launched an Instagram account in August to target millennials, though it hasn't garnered much traction.) Now, brands are looking to the conversion offered by Wanelo.
About 80% of Wanelo's traffic comes from mobile devices, according to the company. Its app, launched in August 2012, was "game-changing," and fueled that surge in users in the past year, Varshavskaya said. (That was also around the time Pinterest introduced apps for the iPad and Android, though it already had an iPhone app.)
Half of Wanelo's users are college-age women and 90% of total users are women. The young age is reflected in the follower counts of some of the brands. While Wanelo beats Pinterest in followers for Urban, Anthropologie, and Madewell, Pinterest has more for retailers like Nordstrom and Banana Republic.
The San Francisco-based startup has raised $14 million in funding to date, with investors including First Round Capital, Floodgate, and Forerunner Ventures.
Wanelo, which just introduced a section called "Wanelo Holidays," says that more than 10 million gift registries have been created on the website, which will probably catch retailers' interest in this competitive holiday shopping season.
"We're creating a beautiful social experience around something fully monetizable, unlike something like Twitter and Instagram, where it's just text and pictures," Varshavskaya said.
Urban Outfitters and the mobile site for Rag & Bone don't feature Google+ buttons, but do have Wanelo buttons.
Urban Outfitters on the left and Rag & Bone on the right.