Right before Under Armour Chief Executive Officer Kevin Plank took the stage today at a splashy launch event for the company's women's business, the brand played a video.
Footage of Under Armour-clad athletes was interspersed with clips from Anchorman and The Wolf of Wall Street, including Matthew McConaughey's iconic chest-thumping scene. Mashed in were portions of Plank TV interviews defending the company after its Sochi speedskating suits came under fire this winter. "There's no greater story than a comeback," a voice proclaims. In one scene, a CNBC anchor exclaims, "Under Armour changed my life." ESPN's Sage Steele then introduced Plank, clad in jeans and a blazer, to a roar from the crowd, not unlike a sporting event.
It was the bro-iest that a company known for its macho image got during the day as Under Armour worked hard to share the message that it's very much a brand for women too. The company unveiled a powerful new TV ad starring Misty Copeland, the first African-American soloist for the American Ballet Theatre in 20 years, which is already starting to go viral. It's the first part of Under Armour's new $15 million marketing campaign — the most the company has spent to date on an ad push for the women's side of its business.
"There is a new way Under Armour is going to speak to female athletes and create a voice for athletic females," Plank said at today's event in Manhattan. "So today we are starting that conversation and positioning our women's business to equal or surpass our men's business in the future ... that is the march we are on today."
It's a major move for a brand that has been on fire for the past few years. Plank noted that Under Armour just reported its 17th straight quarter of 20%-or-higher growth, an accomplishment earned by just four S&P 500 companies. But while Under Armour brought in $2.3 billion in sales last year, only $500 million of that came from its women's business.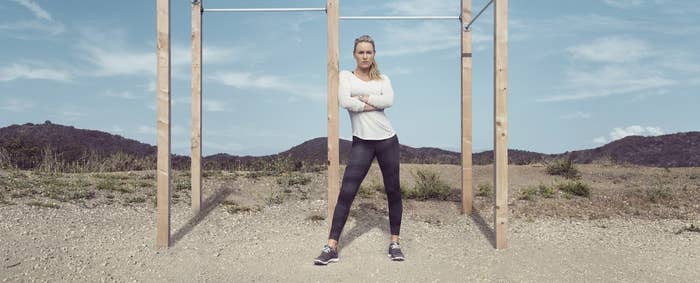 Under Armour is trying to reach active women who are into spin, kickboxing, barre, and other studio classes, making Lululemon its most obvious competitor, given Nike's focus on athletes. Under Armour even talked about a "Womanifesto" today that's guiding its marketing — bringing to mind "the Lululemon manifesto."
The company's female push comes at perhaps the lowest point in Lululemon's history, with last year's sheer-pants fiasco resulting in the loss of its CEO and some credibility. This year, sales growth is muted and rumors have swirled that controversial founder Chip Wilson may attempt to buy out the company.
Still, it's been a tough slog for Under Armour, which was founded by a former University of Maryland football player, to figure out what women want, as Matt Townsend of Bloomberg News pointed out early last year.
In the past decade, Under Armour ads have typically conveyed the decidedly tough-guy image the brand was built on, beginning in 1996. They feature gritty athletes in dark industrial yards or dimly lit concrete gyms, running and lifting weights to a marching drumbeat, sweat pouring down their brows. Some form of the brand's "Protect This House" tagline makes an appearance: "Will you protect this house?" someone, usually a man, growls. (Its global motto is chanted in response: "I will. I will.")
But the company has been making strides toward a more female-friendly Under Armour thanks to Leanne Fremar, the executive creative director for the women's business who was brought on from Theory in November 2012. Since then, she's added other women to Under Armour's executive roster: Monica Mirro, vice president of sales, from SPANX; Heidi Sandreuter, VP of women's marketing, from PepsiCo; and Susie McCabe, senior VP of global retail, from Ralph Lauren.
That's a big change for Under Armour, which is still heavily run by males. All eight people on Under Armour's executive team, as listed on its website, are men. The nine people on its board of directors are also all men.
Along with Copeland, Under Armour's new campaign includes skier and longtime Under Armour spokeswoman Lindsey Vonn, professional soccer player Kelley O'Hara, and tennis player Sloane Stephens.
Under Armour "saw a sea of sameness in the competition," with pat-on-the-back, or "you go, girl" messages, Sandreuter told BuzzFeed today. By modifying the "I Will" motto to "I Will What I Want," Under Armour is attempting to recognize women for living as they choose, she said.
"We want to show we're not just for the boyfriends, or sons, or husbands, that we get what makes them tick and it's this determination and dedication to live life on their own terms and to tune out the voices that surround them," Sandreuter said at today's event. "It's different for men, because the way they live their lives isn't a daily topic of conversation like it is for women."