Toys 'R' Us has had a tough go of it in recent years, battling against Wal-Mart, Target and Amazon for toy sales. Its other challenge? The drop in U.S. birth rates once the recession hit in 2008.
"We all know the birth rate hit a pretty big air pocket here several years ago, and the kids who weren't born in 2008 and 2009 are not buying 4th and 5th birthday toys and Christmas presents this year, so there is some overall pressure on (the toy) industry," Clay Creasey, the chain's chief financial officer, said on a Dec. 20 call discussing third-quarter earnings. "That mouse is entering the toy-buying part of the snake, if you will."
The U.S. birth rate declined in both 2008 and 2009 after hitting a record high in 2007, potentially driven by the nation's economic woes. U.S. Census data shows the number of 4- and 5-year-olds fell to 8.11 million this year from 8.25 million in 2012, though that's still higher than in 2008, when 8.07 million were counted. Because Toys 'R' Us gets such a significant portion of its business from purchases for newborns and children up to four years old, it says that's affected sales. It's also caused vendors to cut the chain less slack on items it's forced to sell at a discount.
"It's kind of like kids at the dinner table," Creasey said of the company's cut in what's known as vendor allowances. "When there's enough to eat, everybody eats, and when there's not quite enough to eat, then the big people get to eat and the little people don't. So we're currently finding out who's the big person and who's the little person at the dinner table... the final analysis is eveybody's going to fall a little short of what they wish they could get, and vis-a-vis vendors that often manifests itself in changes in allowance."
That adds extra pressure on Toys 'R' Us to knock it out of the park in the fourth quarter, which is incredibly important for its business —43% of its annual sales occur in the period. The chain is small relative to its discount competitors, with about $13.5 billion in annual revenue last year, though it says it's still the world's biggest standalone seller of toys. Less than 10% of its sales come from the internet, according to the latest call.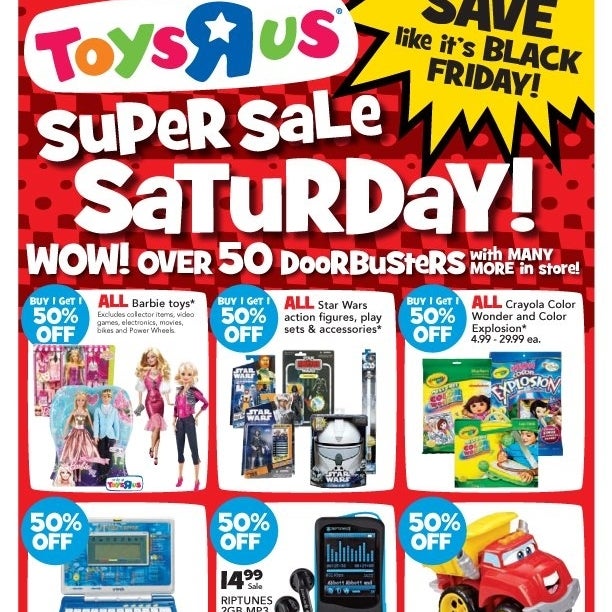 The toy seller's same-store sales have been declining since 2005, when private equity firms Bain, KKR and Vornado took it private. Outside of the competition from Amazon, Target and Wal-Mart, Creasey said non-traditional toy retailers, like bookstores, have started giving some space to toys since 2009. Toys 'R'Us has also suffered from a steady decline in video game sales in the past five years.
Standard & Poor's cut its credit rating on Toys 'R' Us bonds on Dec. 19 based on the third-quarter results, saying it anticipates the chain's revenue to decline by as much as 4% for the year while gross margin will narrow on higher markdowns. Overall, the retail industry is facing a tough holiday season with six fewer shopping days than last year and tepid consumer confidence, forcing extreme discounting across the sector.
Toys 'R' Us had plans to go public this year, but withdrew them in March after chief executive officer Gerald Storch stepped down following a lackluster holiday season. The toy-seller named a new CEO and president in October, though the two didn't speak on the conference call.
The call got tense after an analyst asked whether CEO Antonio Urcelay or president Hank Mullany, who spent four years at Wal-Mart, had a plan for numbers that weren't reported in the latest results, like revenue improvement, inventory targets and capital expenditures, given the S&P downgrade and bonds trading at levels suggesting investor concern over the retailer's future.
Creasey bristled at the idea Toys 'R' Us isn't paying attention to its credit ratings and bond yields, saying it "would be a strange day in May indeed" if its private-equity owners and new executives weren't considering such metrics. The Dec. 20 call wasn't intended to discuss future plans, Creasey said, adding, "You will find out as fast as anybody does and at the right time."
"We're not playing with anybody here, because Hank did make a significant personal investment in this company when he joined it literally seven weeks ago or whatever," Creasey said. "That guy would have to be mental to have done that if he didn't think this place had an opportunity, and I've met him and he's not mental, so I'll let that fact speak for me."
The analyst responded, "Well, I would respectfully say that I think when your bonds yield 15%, the time to be transparent and clear about your plans is now."
After a separate analyst asked when the newly-named executives would offer their "master plan" for the toy retailer's direction, Creasey responded: "Sure. I'll be happy to give you precise timing — it's going to be in the future."
Update - Dec. 26, 10:06 p.m., ET: Adds Census data on 4- and 5-year-olds — h/t @sumnums.