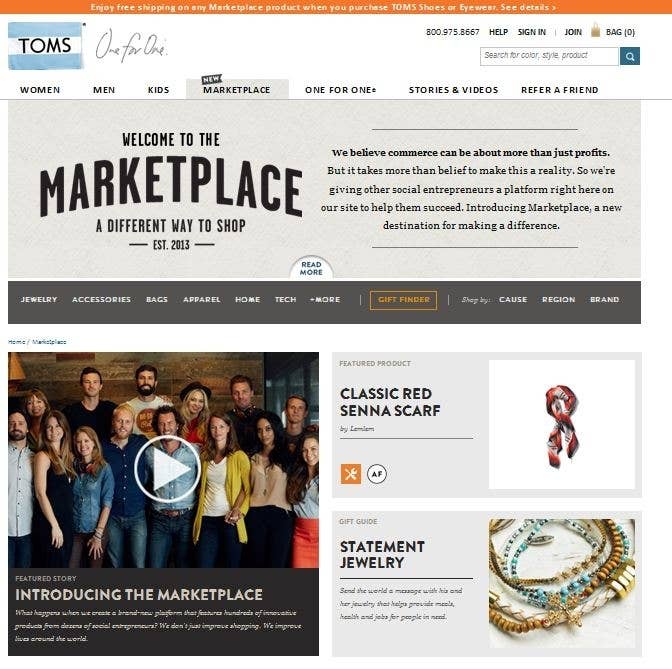 Toms, the company that donates one pair of shoes for each one it sells, is introducing an online marketplace today to sell other socially conscious wares, from handbags to jewelry to journals.
The privately held brand, founded in 2006, spent the past year figuring out the website, ultimately choosing 30 companies to work with. Toms isn't charging the brands a fee but will buy the items itself, so it can handle storage and shipment, then charge customers a standard retail markup, said Blake Mycoskie, the company's founder and leader. The website, which accounts for about one-third of Toms' sales, launches in time for the holiday shopping season.
"I thought this was a great way I can promote and introduce these amazing companies that have a giving-back component to our community, and at the same time, build a really nice addition to our e-comm business," Mycoskie said in an interview with BuzzFeed, noting a number of the brands were inspired by Toms. "Toms can be a clearinghouse, and we can use the brand equity we have to authenticate that these products do in fact give back the way they say they do."
Toms has been a sensation since it was founded in 2006. While it doesn't disclose sales because it's private, Mycoskie said the company has sold 10 million pairs of shoes since it was founded and has given away another 10 million. If those sold for $50 each, that would mean Toms has brought in somewhere around $500 million in total revenue — and Mycoskie is projecting Toms will sell another 10 million pairs in the next 12 to 18 months.
As the brand has grown, though, critics have been quick to point out that Toms' "One for One" philosophy isn't actually creating jobs for the people it donates shoes to and, in some cases, is perhaps undermining shoe sellers in local communities. To that end, Mycoskie said Toms now has a factory in Kenya, it's starting a factory in Ethiopia, and in January will open the only footwear factory in Haiti. The marketplace, too, presumably will be another way to emphasize Toms' social mission.
Creating the website also makes sense looking at the brand's growth projections — after all, how many pairs of Toms could a person need? Toms has added styles like ballet flats and brogues for customers who want something other than its classic slippers, but recognizes that especially during the holidays, there's an opportunity to tap into demand for other products, Mycoskie said.
Notably, customers will be able to shop by "cause" on the website, from children to education. It will feature about 200 items that cost anywhere from $5 to $500.
"There were so many people that really helped me when I was getting started," Mycoskie said, citing Ralph Lauren and Theory CEO Andrew Rosen. "There's a lot of these companies, so to be able to give them an order that might take them to the next level, that might allow them to help more people."