A Game Called "Pie Face" Is This Holiday Season's Runaway Hit
It's like Russian roulette but with whipped cream, and Hasbro can't make it fast enough to satisfy raging demand.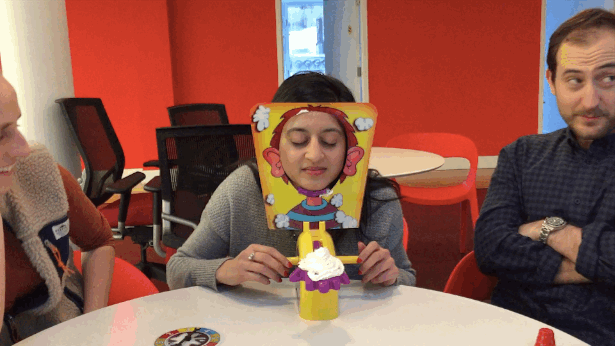 A game that revolves around the eternal human desire to fling piles of whipped cream into the faces of friends and enemies is flying off shelves this holiday season.
Such is the strange draw of Pie Face, a popular 1960s kids toy that's become a surprise hit this holiday season thanks to a viral video from earlier this year.
Pie Face is best described as Russian roulette, but with whipped cream. Players use a spinner to determine how many times they must turn the toy's handles. Eventually, one turn will trigger a plastic hand, flinging "pie" into the player's face. That's basically it! The entire game.
If you're vegan, or no fun, or both, the game makers say you can also use a wet sponge instead of whipped cream. They even include a sponge.
As simple and absurd as it sounds, Pie Face has become wildly popular. Alongside Star Wars and Frozen toys and talking Barbies, the $20 Pie Face game is "selling well and is just about sold out everywhere," BMO Capital Markets analysts wrote in a Dec. 1 note. It was No. 5 on a list of eBay's bestselling toys and games on Nov. 29 and named a "fastest-trending" product on Black Friday by IBM.
As of Wednesday, Pie Face was out of stock at ToysRus.com but available from third-party sellers on Amazon, where it's No. 1 in the board games category, and No. 3 for all toys and games after Cards Against Humanity and "Exploding Kittens".
"Nothing is quite as satisfying as watching your children get pied in the face over and over again ... I have laughed until my stomach hurt," one reviewer wrote on Amazon. Another described Pie Face as "the purest form of dumb fun there is."
Jonathan Berkowitz, Hasbro's senior vice president of marketing for gaming, told BuzzFeed News that Pie Face is a "top item" for the company this year. "We're doing our best to keep up with consumer demand," he said.
Pie Face emerged on the world stage this year after a video of a Scottish barber shop owner and his 6-year-old grandson playing the game went viral. The deeply charming clip, in which the two nervously turn the game handles while giggling wildly, has amassed more than 170 million views on Facebook and millions more on YouTube.
"A customer came into my shop and showed me a video of himself and his granddaughter playing the Pie Face game earlier this year," Martin O'Brien, the 51-year-old grandfather, said in an email to BuzzFeed News. "I thought it was the most hilarious game I had ever seen, possibly due to my sense of humor. I was determined to get it for Jayden, my grandson."
His wife posted a video of the two playing the game on Facebook one night before going to sleep. The pair, who live in Wishaw, Scotland, woke up to see it spreading globally, receiving messages "from virtually every country in the world," O'Brien said.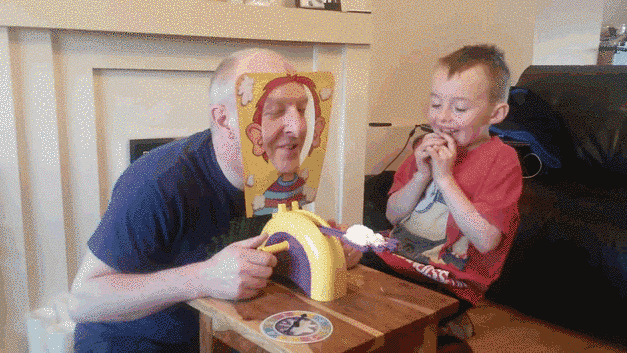 It was quickly noticed by Jukin Media, which cuts deals with viral video owners and licenses their clips. O'Brien was approached by three agents, which he thought "was a wind up, as I am notorious for winding everyone up all the time." Eventually they signed with Jukin after his son checked out the company's background, meaning the family now earns some money off the video.
A spokesperson for Jukin declined to specify figures, saying the revenue is "not like winning the lottery but it's also more substantial than just a little bit of grocery money."
Hasbro, which originally made Pie Face in the 1960s, jumped back on the game after seeing the clip, which it featured in a TV ad this year. It said in June it bought the manufacturing and distribution rights to the game, previously held by UK-based Esdevium Games. (After Esdevium's supply sold out, it posted to its website urging customers to wait a few weeks after seeing "some frankly crazy amounts being bid for the game on auction sites.")
Oddly, Hasbro couldn't explain why it had to acquire the rights to make and distribute the game, given it was making Pie Face in the 1960s. The company is selling it under license from a UK company called Rocket Games.
In 2014, Hasbro brought in about $1.3 billion of its $4.3 billion in sales from games that are typically more complex than Pie Face, such as Monopoly and Magic: The Gathering.
A December 1968 ad for Pie Face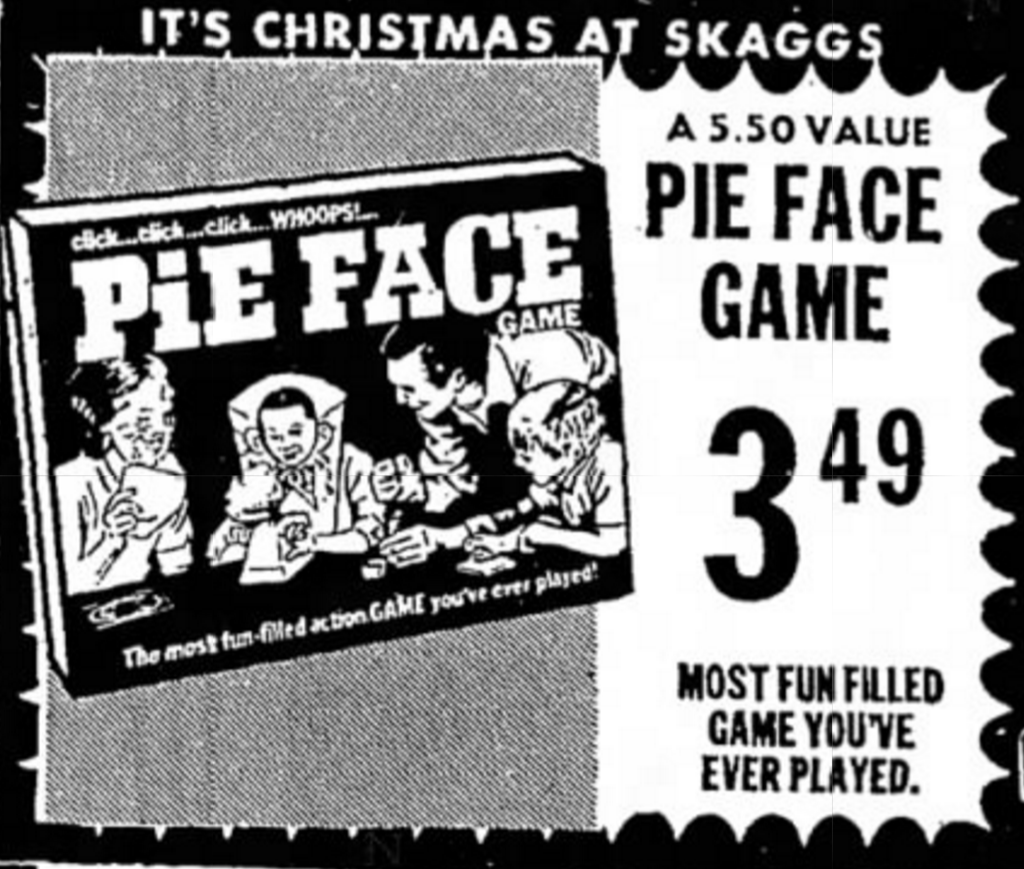 Pie Face's popularity is somewhat baffling, especially considering how much toys have changed since the 1960s.
"What's really unique about the game is it's what we call friction-free," Hasbro's Berkowitz explained. "It doesn't require you to learn rules, you don't have to repeat instructions, it's very simple... when you see it, it's an easy get."
It was a first for Hasbro to use a viral video as a tipoff for acquiring a game, and it faced a time crunch to get it ready for the holidays. Typically, the company spends 12 to 18 months developing big holiday products while this was crammed into six months.
"It was a new area for us to play in but anyone who saw the video for the first time, you're laughing hysterically and you just love the guy's laugh in the video and the reaction of the child," he said. "We knew right from the get-go that if it was that shareable and powerful, it was a good game."
O'Brien, who is amazed at how positive comments on the videos have been, said strangers have heaped praise on him for his laugh. "Someone wanted my laugh as their ringtone," he wrote. "I am said to have the most contagious laugh in the world."
"We still sit and play the game and we still go into fits of laughter every single time," O'Brien said. "What makes it so much fun to me is how fast it slaps you on the face and Jayden's reaction, and build-up of tension when he really knows it's going to be him. (I'm actually sitting here laughing thinking about his face when writing this.)"
In a trial run of the game, BuzzFeed News found Pie Face does indeed hold a unique appeal. It's nerve-wracking to turn the handles and hilarious to watch a friend get pied. It's sanctioned mischief — like trying to land a favorite teacher in a dunk tank or dropping a piece of ice down a friend's shirt. Given we are in our 20s and 30s, it's probably even funnier for the kids who are its target audience.
But it doesn't quite nail the question: why Pie Face, why now?
In trying to explain its popularity, Berkowitz noted that Jenga also has similar qualities. "It's very simple, has a lot of tension and it's got that moment of suspense." So does the game Operation, he added.
"What's very unique here is the level of humor," he said. "It's just a different aspect."