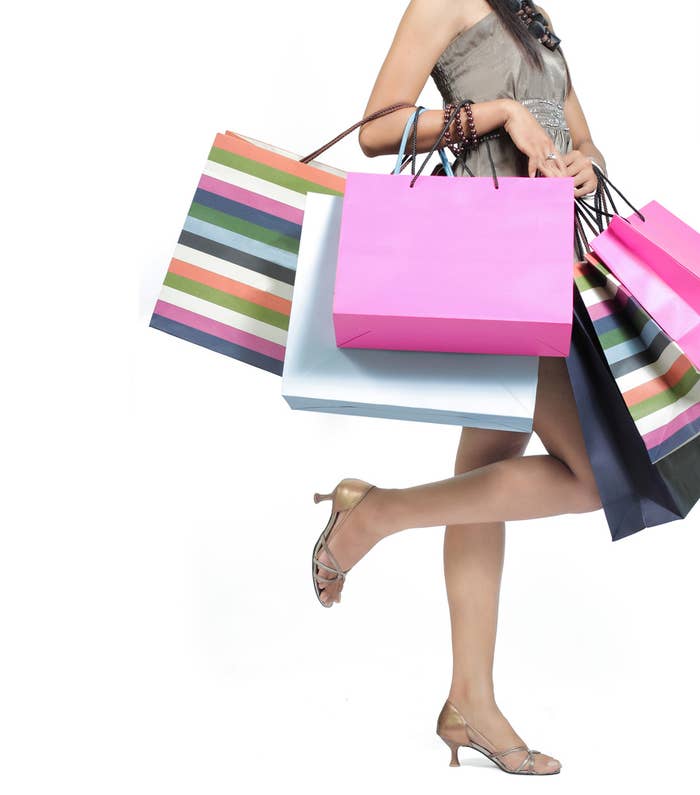 With Halloween in the rearview mirror, consumers and families can now turn their full attention to holiday shopping, the most important time of the year for retailers.
The industry — rattled by lackluster sales and shaky consumer confidence in the past few months — will get an extra punch from this year's holiday calendar, which has six fewer shopping days between Thanksgiving and Christmas. And that's great news for customers.
Because Thanksgiving falls later than usual this year and the craziness of holiday shopping traditionally kicks off with Black Friday, that leaves 26 shopping days between then and Christmas — the shortest possible number of days between the two (it hasn't happened since 2002). Family Dollar Stores, Wolverine Worldwide, Five Below, Stage Stores, and Signet Jewelers have all mentioned on recent conference calls that they're taking the six days into account with their holiday marketing and sales forecasts. It's a huge deal because for many major retailers, especially apparel companies, the fourth quarter accounts for anywhere between 30% to 50% of a year's revenue, and every pre-Christmas day is tremendous, making this a super competitive season.
"If you just do the math and you look at what you did last year, just in order to hit that same number, you got to virtually go up almost double digits," Michael Glazer, the chief executive officer of Stage Stores, said last month, adding that the department-store chain was planning a "very aggressive" marketing campaign. "I certainly would tell you those six days do matter."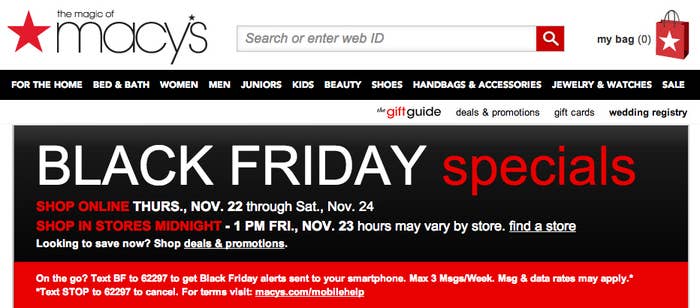 Indeed, UPS said it anticipated daily shipment volume to rise by 8% because of the compressed holiday. CEOs of companies such as Shutterfly and Tanger Outlets have said they're not sure how the shorter holiday will impact consumers' mindsets, but they're not taking any chances.
"Retailers will be very nervous about not getting a lot of business early on if they don't promote," said Marshal Cohen, chief industry analyst at NPD Group. "So, they are going to promote, and because they're promoting early, the consumer will buy early, then go into a deep lull, which will make retailers nervous, so they'll promote again."
Cohen said he's calling this year's Black Friday "Forever Friday," because the deals and discounts are beginning days before the actual date. Already, Kohl's, J.C. Penney, and Macy's are among retailers that said they'll open on Thanksgiving Day, aiming to snap up as many sales as possible.
December revenue is likely to fall by 2% on average for big retailers, such as the Gap and Macy's, perhaps erasing $1 billion in revenue for the month when you consider major chains like Target and Wal-Mart, said Jennifer Davis, an analyst at Lazard Capital Markets. She and NPD's Cohen both said that while people will, of course, still purchase gifts for friends and relatives, fewer days will cut down on "self-gifting" and impulse buys.
The return of sales lost in 2012 because of Sandy might offset that slightly, but not by much, Davis said.
Broadly, ShopperTrak still estimates holiday sales will rise 2.4%, and the National Retail Federation says sales in November and December, combined, will increase 3.9% to $602.1 billion.
"It's going to be a win for the consumer," NPD's Cohen said. "It's gonna be free shipping, multiple sales, the more you buy the more you save. It's really going to be about highlighting key items at very attractive prices."