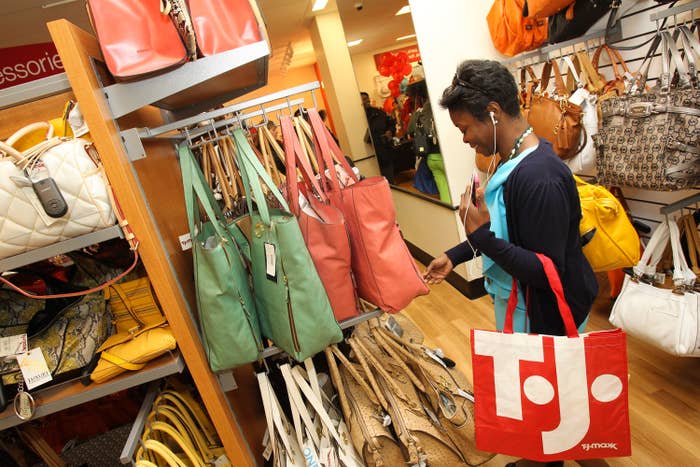 The owner of T.J. Maxx, Marshalls and Home Goods has officially taken the throne from Macy's.
TJX, which first passed Macy's in revenue last year, just reported annual sales of almost $31 billion, compared with $27 billion at the department-store company. The gap has widened significantly from last year, when Macy's, which has higher profit margins, posted $28.1 billion in sales while TJX brought in $29 billion.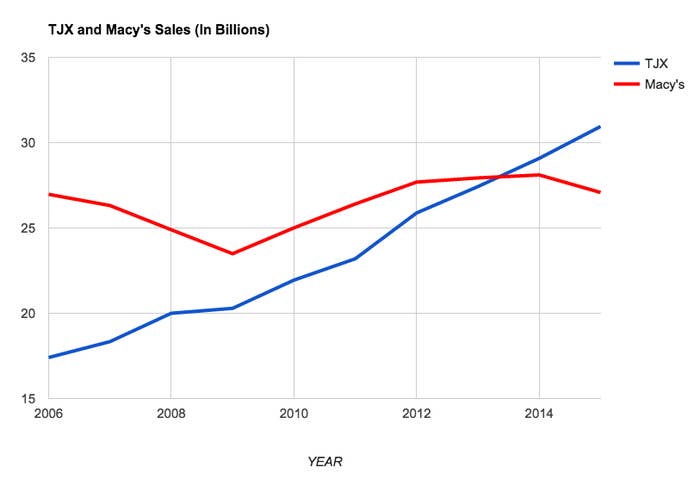 The diverging fortunes illustrate America's ongoing love affair with off-price retailers, which comes at the expense of traditional retailers. Off-pricers like T.J. Maxx and Ross, usually located away from the mall, supply their stores with a constantly updated array of excess merchandise and specially-made goods from brands and factories. They're more akin to outlets, selling everything from shoes to shirts to picture frames at major discounts from department store prices.
Their popularity has grown rapidly, especially since the recession, spurring the rise of competitors like Nordstrom Rack and Saks Off 5th. Macy's has been closing regular stores while expanding its own new off-price chain called Macy's Backstage, mostly placing them within existing Macy's locations. The company also opened several Bloomingdale's outlet stores last year.
Macy's, which operates 870 mostly U.S.-based namesake and Bloomingdale's stores, is trying to drum up foot traffic with Backstage and in-store experiences like makeovers, executives said on an earnings call this week.
The weak traffic and the company's expenses tied to its digital initiatives "gives us cause for concern," Richard Jaffe, an analyst at Stifel, said in a Feb. 23 note. Meanwhile, TJX will keep thriving as its flexible business model allows it to "respond to the state of the economy in real time" and consumers keep seeking value even in good economic times, he said in a separate note.
TJX operates roughly 3,600 stores in the U.S., Europe and Canada, using names like T.K. Maxx and HomeSense internationally.