The Nearly $1 Billion American Murse Industry Is So Hot Right Now
Sales of men's handbags and totes, along with more classic backpacks, are on the rise in America, according to new data from market research firm NPD Group.
Why put it in your pockets when you can put it in a bag?
That's the question more and more American men seem to be asking as the man bag — or "murse" — industry booms.
Sales of men's handbags and totes rose 3% to $957 million in the 12 months through June, while briefcases, duffel, laptop, and messenger bags declined, according to NPD Group, a market research firm. Backpacks also experienced a surge, growing 24% to $684 million in revenue during the period.
"Men have been silently learning just how important it is to have a bag to carry their 'stuff,'" such as electronics, chargers, headphones, and books, Marshal Cohen, NPD's chief industry analyst, wrote in a post on the firm's blog today. "And just think about the practical side of this. Men's clothing has gotten tighter again. Now where do men put those keys or phone? With this change in fashion and lifestyle, men now do need to carry a bag."
Popular male bag brands include Coach, Jack Spade (a part of Fifth & Pacific's Kate Spade), Hugo Boss, Ben Sherman, Fred Perry, Mulberry, and Filson.
Fifth & Pacific executives said in March that Jack Spade, founded in 1996, is "poised for the limelight," describing the typical customer for the brand having "a sense of individuality, passion for long-lasting products, and he's not afraid to wear a little humor and color in his wardrobe."
Coach has said that its men's business is poised to grow to $600 million in sales this year, with bags and accessories for guys boosting productivity in North America locations.
On average, men spent $56.40 for handbags and totes and $36.66 for backpacks in the year through June, according to NPD. Overall, including duffels, laptop bags, and even fanny packs, the men's bag industry made about $2.9 billion for the period.
That might make Herschel classic backpacks, at $40 each, a more likely purchase for the American man over, say, a $125 Jack Spade tote or $428 Coach commuter bag.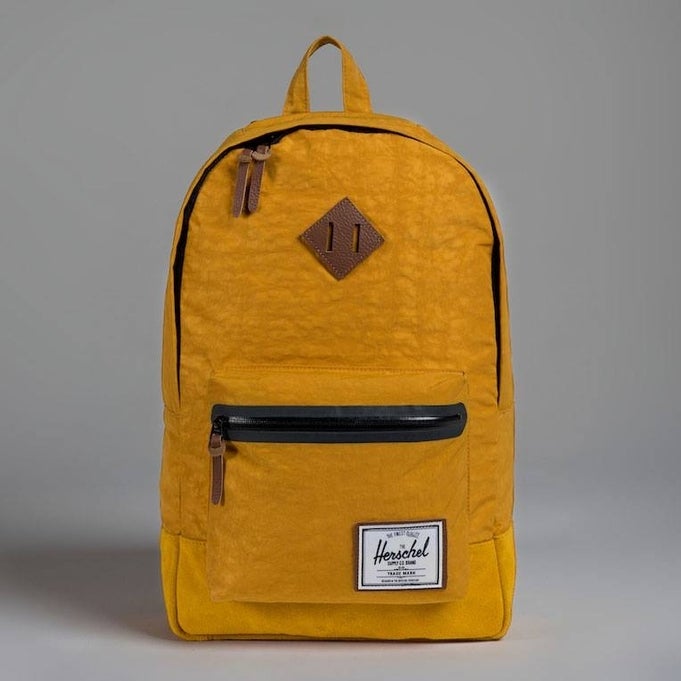 Herschel Supply backpacks.
According to NPD's Cohen, the trend is only going to garner strength.
"With more and more devices and tools to lug around in order keep up their image, men are taking a page out of the women's play book and gravitating to the bag," he wrote in his blog post today. "The real question is going to be just what type of bag will he carry."