The Family Ties That Bind Urban Outfitters
Turns out being a relative or associate of an Urban Outfitters executive or board director is pretty lucrative.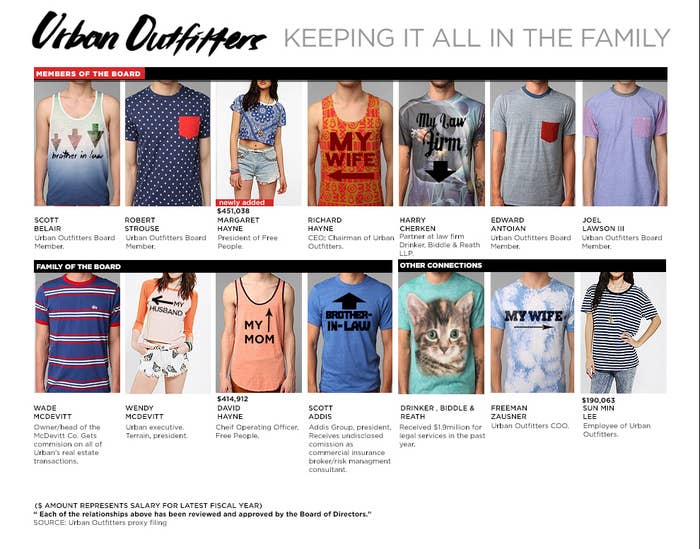 The fact that the first female ever to be named to the board of Urban Outfitters was chief executive Richard Hayne's wife should not be shocking at all. The free-spirited hipster clothing company has been quietly run like a family commune for years.
According to regulatory filings, Urban Outfitters, which is publicly traded and therefore technically owned by shareholders, actually has an unusually high number of people working with it that have blood or business ties to Hayne or company co-founder Scott Belair.
As the president of sister store Free People, Hayne's wife Margaret made $451,038 last year. She has been working at the company since the 1980s and was elected to Urban Outfitters' now seven-member board at an annual shareholder meeting last week.
Their son, David Hayne, is also on the payroll as the chief operating officer at Free People, making a little less than mom at $414,912.
A branch down on the family tree sits Scott Addis, Richard Hayne's brother-in-law, who serves as president of the Addis Group, the company's commercial insurance broker and risk management consultant. While Urban Outfitters doesn't pay Addis directly, regulatory filings show he "has received commissions from other parties to such transactions."
Co-founder and board member Belair's brother-in-law, Wade McDevitt brokers "substantially all" of Urban Outiftters' new real estate transactions through his namesake McDevitt Co. That means that pretty much every time Urban Outfitters or its sister brands open a new store, McDevitt gets a commission. Moreover, McDevitt's wife, Wendy, is the president of the company's nascent gardening brand, Terrain, and used to lead Anthropologie.
Sitting outside the founders' bloodlines, but on the board of directors, is Harry Cherken Jr., a partner at law firm Drinker Biddle & Reath LLP, which collected just under $2 million in legal fees from Urban Outfitters over the past year.
Urban Outfitters' head of investor relations didn't return a voicemail and email seeking comment. According to the company's annual filing, however, the board must approve business transactions between Urban Outfitters and associated family members.
A group of investors has been pushing Urban Outfitters to nominate at least one female or minority director and to "publicly commit itself to a policy of board inclusiveness," citing research that shows companies with diverse boards tend to outperform those with none, as Gretchen Morgenson of The New York Times pointed out in a May 25 column.
"There's a problem with independence at this company on the board of directors," said Christine De Groot, an associate sustainability analyst with Calvert Investments, one of the shareholders backing the proposal. "We do not believe that Margaret Hayne is really the best choice for Urban Outfitters here. She's not an independent director and while she does satisfy the criteria for gender diversity on the board, she does not bring in the outside ways of thinking and new perspectives that are a critical aspect of board diversity."
The proposal was voted down last week.
Outside of the boardroom, Freeman Zausner, the company's chief operating officer, is also married to an employee named Sun Min Lee, who earned $190,063 last year. It's unclear what she does at Urban Outfitters.
While the board setup and business relationships at Urban Outfitters might rankle some shareholders, the retailer has been on a roll. Its stock is up 57% in the past year and it just posted record first-quarter sales of $648 million.
Urban Outfitters on Business Transactions with Family Members
Under the Code of Conduct and Ethics, a conflict of interest can arise whenever a person's private interests interfere in any way with the interests of the Company, including when a director, officer or employee takes actions or has interests that make it difficult for such person to perform his or her work objectively and effectively, or when a member of such person's family receives improper personal benefits. Each of the relationships described above has been reviewed and approved by the Board of Directors.