Vertical axis represents sales in USD billions.
If you want to get a sense of how Americans shop, take a look at the meteoric rise of TJX.
The company, which owns T.J. Maxx, Marshalls and Home Goods, has quietly grown to be larger than almost every department-store and specialty-retail chain in the U.S., including J.C. Penney, Sears, Kmart, Nordstrom and Gap. TJX's $27.4 billion in annual sales is just shy of the $27.9 billion collected last year by Macy's, despite the fact that Macy's has almost 40% more square footage.
TJX has benefited perhaps more than any other retailer since the recession as consumers have become more value-conscious and aggressive about finding unique products amid the rise of fast-fashion. (Ross, which operates a similar model to TJX, is much smaller, with $10.2 billion in annual sales.) T.J. Maxx and Marshalls, which number more than 2,000 stores in the U.S. with hundreds more in Europe and Canada, foster a "treasure-hunting" environment by carrying a wide assortment of discounted designer goods and private-label products. In fact, T.J. Maxx and Marshalls stores might be more like the traditional definition of outlets than today's outlet malls, in that their merchandise includes "order cancellations, manufacturer overruns, closeouts and special production direct from brands and factories." Today, most outlets are selling just that last bit — the made-for-factory merchandise.
Their team of more than 900 buyers swoop in when other retailers cancel orders, or when manufacturers make too much of a product, which also helps TJX buy closer to when consumers are looking for items and reduces the chance of fashion misses.
"We see huge potential to gain additional U.S. and international customers," TJX Chief Executive Carol Meyrowitz said in an earnings call Tuesday, adding that she anticipates eventually expanding to 3,000 Marshalls and T.J. Maxx stores in the U.S. "We believe our customer penetration levels in the U.S. remain below those of most department stores and the opportunity to expand our international reach is vast."
The company plans to spend more on marketing this year in an attempt to capitalize on the fact that it's now cool to look good for less. On social media, T.J. Maxx encourages customers to share their finds with the hashtag #Maxxinista, while Marshalls uses the hashtag #FabFound. Ads have been running depicting women finding the same great blouse at a variety of retailers and sadly deeming it too expensive — except for the one who sees it at Marshalls. That's followed by the tagline: "Never pay full price for fabulous." T.J. Maxx ads on YouTube tell viewers they can get 50% off department-store prices at its stores and that fashion doesn't need to come at a high price. The retailer also just launched its website last year.
While TJX's stock fell today after the company trimmed its annual profit forecast, the shares have more than quadrupled since 2008 to $58.56 last week. By comparison, Macy's and Gap shares have more than doubled over the same time period, while the S&P 500 has rallied 33%.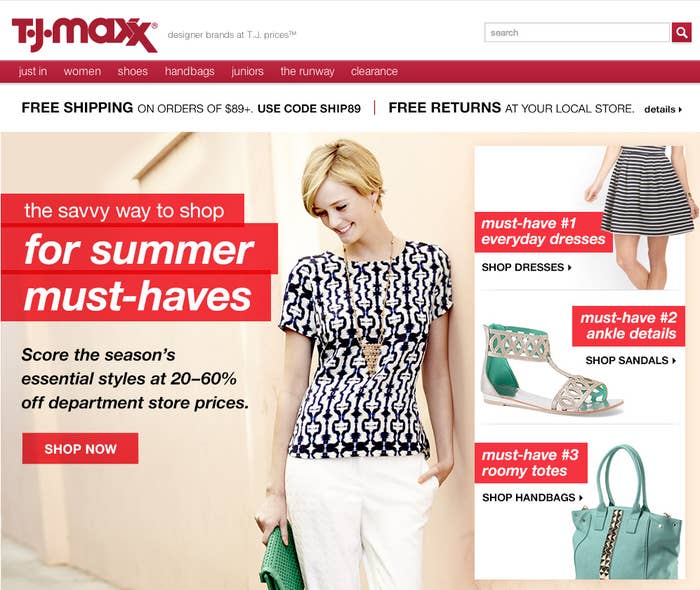 TJX's stock has soared since 2008