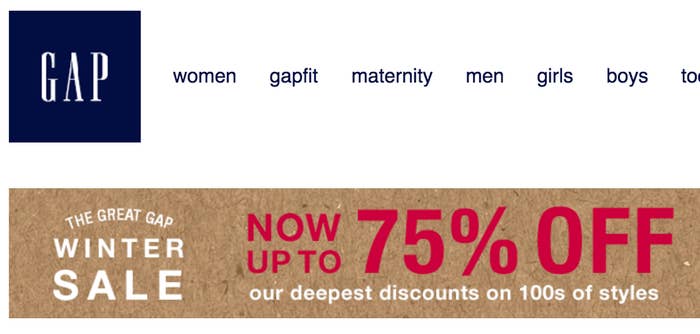 It's becoming extremely clear that the middle is a bad place to be for clothing stores.
On the back of lackluster holiday sales reports from Macy's, Finish Line, and Urban Outfitters, the Gap brand just reported that its comparable sales fell 2% in December, for a 20th straight month of flat or falling sales. Banana Republic posted a 9% dip, and even Old Navy, its cheapest and best-performing chain, fell 7%.
The past year has seen a steady pounding of mid-priced apparel — the stuff that lives between fast-fashion and "value" clothing on one end and luxury, name-brand goods at the other. Gap and Banana Republic, prime examples of this group, performed dismally in 2015, along with J.Crew, Anthropologie, and Macy's.
The erosion of the middle becomes clearer when you look at where these chains are investing. While Gap closes 26% of its North American namesake stores, it's leaving its 300 outlet locations untouched. Macy's, which just announced thousands of job cuts and plans to close 36 stores in coming months, will open 50 Macy's Backstage stores in the next two years. (Macy's Backstage is its off-price answer to Nordstrom Rack and T.J.Maxx.) And J.Crew is expanding J.Crew Factory to regular malls and shopping centers under the name J.Crew Mercantile.
Between the plethora of outlets, off-pricers like Marshalls and Nordstrom Rack, and fast-fashion chains like H&M and Forever 21, it's gotten hard to make the case for a $60 Gap sweater or an $85 J.Crew cardigan. And the frequent discounts at these chains, as advertised in constant emails promising 40% off for one day only, aren't helping matters.
"We noted some of the deepest and longest-running 'box-off' storewide promotions in the sector at the three Gap divisions," Adrienne Yih Tennant, a senior retail analyst at Wolfe Research, wrote in a Jan. 4 note. "While these deep promotions appeared to us to be 'on plan' and driving sales and traffic, we posit that this widespread discounting is training customers to only buy at these margin-eroding price points."
Gap has been sending frequent emails touting discounts.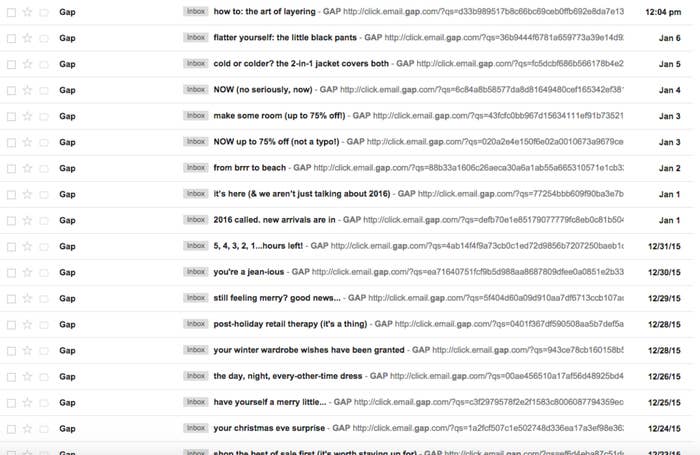 The fear in the industry is that this is the new normal for spending on clothes and accessories. After all, the unemployment rate and consumer confidence aren't terrible, gas prices are low, and while it was definitely a bizarrely warm winter, it wasn't the kind of year where it snowed so much that people could barely leave the house.
Richard Jaffe, an analyst at Stifel, believes apparel consumption is generally trending downward, driven by millennials, who he says are now the biggest segment of the U.S. population, with an average age of 26.
"Unlike previous generations, millennials don't need nor want three wardrobes: wear to work, recreation and going out," Jaffe wrote in a Jan. 4 note. "The casualization of the workplace has ostensibly shrunk their closet and their apparel spending when compared to the prior generation. The millennials dress more individualistically and are less likely to conform and buy into a current trend, making it tougher for apparel retailers to offer product that appeals to them."
Further, "the priorities of the millennial consumer are much more focused on technology (the smart phone!) and experiences (travel and dining out), further heightening the shift in spending away from apparel," he wrote.
It makes for an environment where a different kind of retailer ascends to dominance than the ones that ruled in the '90s. L Brands, the owner of Victoria's Secret and Bath & Body Works, is a darling of Wall Street and one of the best-performing retailers in America — not only is it a dominant player in lingerie and fragrance, but it decided to get rid of its clothing business in 2014.
The other top performer is TJX, the owner of off-price chains like Home Goods, Marshalls, and T.J.Maxx. Last year, the company reported annual sales that surpassed Macy's for the first time ever. Department stores from Lord & Taylor to Nordstrom have all jumped into the off-price game in a big way.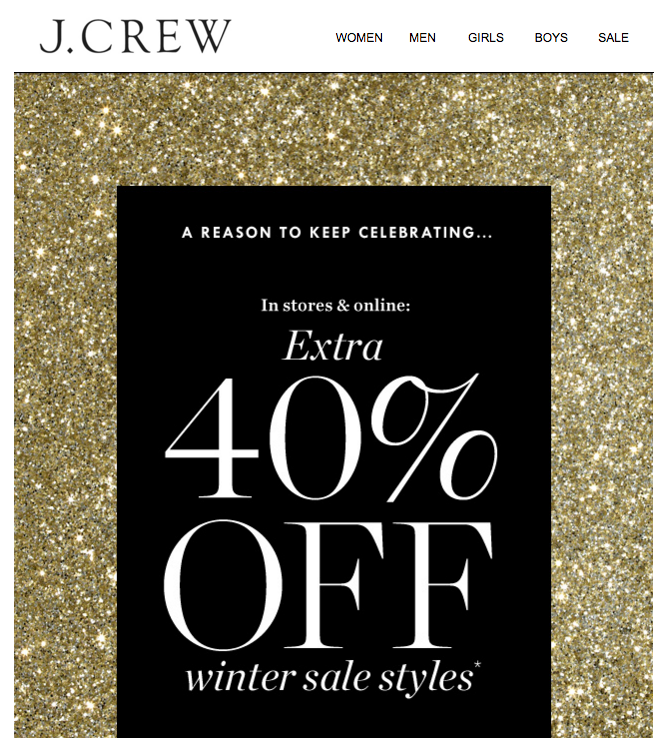 The leaders at companies like Urban Outfitters, Gap, and J.Crew contend that their struggles come down to product — that the right trend or item will command better sales, and full-price ones at that.
Gap CEO Art Peck called out Banana Republic's dismal performance on a November call, but blamed its problems on fit and design, saying he's been reading customer reviews for insights as the brand works to right itself. Mickey Drexler, the J.Crew CEO, said last year that its sales suffered from poorly fitting tops and an excessive emphasis on its high-priced "Collections" business over everyday items.
When asked about sluggishness at Anthropologie at a conference last month, Frank Conforti, Urban's CFO, said the company hasn't seen any big change in its customers during the past year. It is, however, contending with a lack of strong fashion trends and inspiration, he said.
"There is a little bit of a lack of newness that's driving her from kind of going out and buying in a big way," said Conforti. "A lot of what's out there and what's within the stores is very similar to what she has in her closet already."
"We just feel like, right now, there is a lack of newness in women's apparel that is affecting a little bit of the brands as well as I think the sector overall," he said.