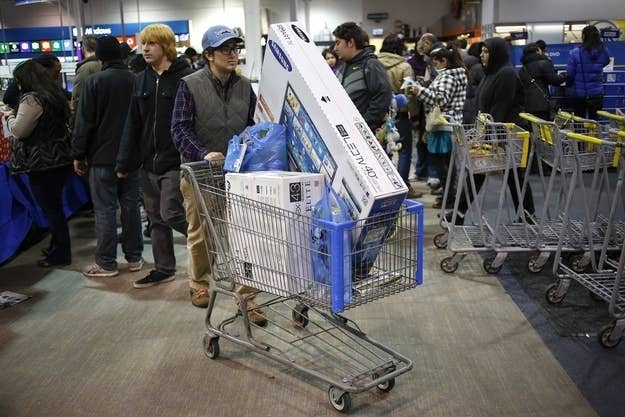 While Americans may tell pollsters that retailers should stay closed on Thanksgiving so that employees can spend time with their families, that didn't stop them from going out in droves yesterday and into the wee hours of the morning to snap up big discounts.
Wal-Mart said more than 22 million people showed up to its stores yesterday and today, with 10 million register transactions between 6 p.m. and 10 p.m. on Thanksgiving Day. Target said it saw lines stretch for several blocks before its 8 p.m. openings. And Toys 'R' Us saw crowds gathering at 4:30 p.m. for items like the Disney Infinity and Skylanders video games and a hugging Elmo, before its 5 p.m. opening, according to Lisa Harnisch, general merchandising manager for toys at the retailer.
"Every year, we take a look at what time we should be opening, what other retailers are doing, and carefully review the competitive market and how consumers are changing their shopping habits," Harnisch said in a telephone interview with BuzzFeed on Friday morning. It was worth opening yesterday at 5 p.m. and may in fact help spread out the crowds throughout this holiday weekend, she said.
Retailers made headlines this year for opening on Thanksgiving Day in greater numbers than ever before. While it's something Wal-Mart has done in the past, Macy's, J.C. Penney and Kohl's didn't partake last year. Target wasn't new to the schedule this year either, but opened an hour earlier than in 2012. Mall stores such as Old Navy and Abercrombie & Fitch also opened Thursday night.
"We saw crowds lining up at a lot of our properties, one, two, three, hours beforehand," Mikael Thygesen, Simon Property Group's chief marketing officer, told BuzzFeed. "We had some people waiting to get into specific stores as early as 11 a.m., when the store was opening at 8 p.m. So, really enthusiastic crowds, big crowds, from the opening, and then continuing through the evening and early morning hours of today."
For those who didn't make it to stores in person, online sales just on Thanksgiving Day were also robust, with Adobe saying online purchasing surpassed $1 billion for the first time. IBM Digital Analytics Benchmark said Thanksgiving web sales rose 20% from 2012, with an average order value of $127.59.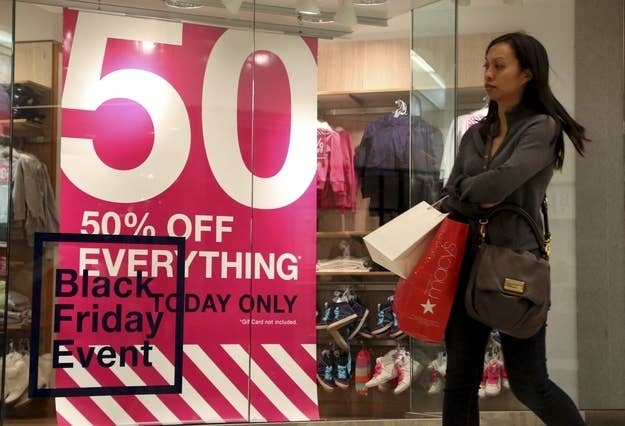 The industry is gunning for sales with abandon this year, up against six fewer shopping days between Thanksgiving and Christmas and tepid consumer confidence. Oliver Chen, a retail analyst at Citigroup, noted that at stores last night, 50% off discounts were the norm, compared with 40% off in the past.
And the discounts didn't just start yesterday. Banana Republic, which was closed on Thanksgiving though other Gap Inc.-owned stores were open, actually started its "8 Days of Giving" holiday promotion on Nov. 23 — a contrast from a major promotion it ran last year between Thanksgiving and Christmas.
"Bringing it into the week prior to Thanksgiving was even more compelling and more useful, and much more relevant from a timeframe perspective," Catherine Sadler, Banana Republic's chief marketing officer, told BuzzFeed. Thanksgiving and Black Friday are "filled with pressure," something its giveaways of OPI nail polishes and Ghirardelli chocolates were meant to alleviate.
The concern among industry watchers, as noted by NPD Group, is that with sales taking place on Thanksgiving, Black Friday itself will draw sparser crowds — thus, negating the point of pulling sales forward in the first place. (IBISWorld projected Friday, Saturday, and Sunday sales of $38.7 billion this year, a 1.7% increase from last year.) The matching of discounts online also run the risk of "stealing a bit of the bricks-and-mortar drama," Citigroup's Chen said in a note.
"We saw a little bit of a lull in the very early morning hours, say, 3 a.m. to 4 a.m. because a lot of the folks were already out," Simon's Thygesen admitted. But, anecdotally, crowds did surge again at 8 a.m. this morning based on initial reports from Simon malls across the country, he said.
Harnisch of Toys 'R' Us is also not concerned, saying the toy retailer has "very aggressive" promotions planned for the rest of the season.
"This Sunday, in two days, is Dec. 1, so this season has snuck up on many consumers," she said. "The vast majority of the season is still ahead of us. From now until Christmas is so important, so we'll take it day by day."