Teen Girls Are Embracing Yoga Pants And Abandoning Denim
A new survey by Piper Jaffray shows teen girls prefer "fashion athletic" brands over denim-based brands, underscoring a broader shift in how women are dressing.
The trend of wearing workout clothes on the regular is stronger than ever among teen girls, who are increasingly trading denim in for "athleisure" clothing, according to a new survey by Piper Jaffray.
Almost 16% of teen girls from upper-income households said their preferred brand was a "fashion athletic" label, up from 1.5% in 2009, the firm said in a report issued Tuesday. Only 9.1% of respondents picked a denim-based brand, down from a peak of 20.2% in 2010.
The figures are worth noting as they underscore a broader shift in women's apparel towards workout gear. Women, more than ever, are wearing stretchy pants and colorful running tops casually as well as for actual exercise — the phrase "athleisure," a mashup of athletic and leisure, is meant to capture that phenomenon. "Fashion athletic" and "performance lifestyle" are industry synonyms for the same thing. And retailers are all up on the trend, which began truly taking off in the last five to six years.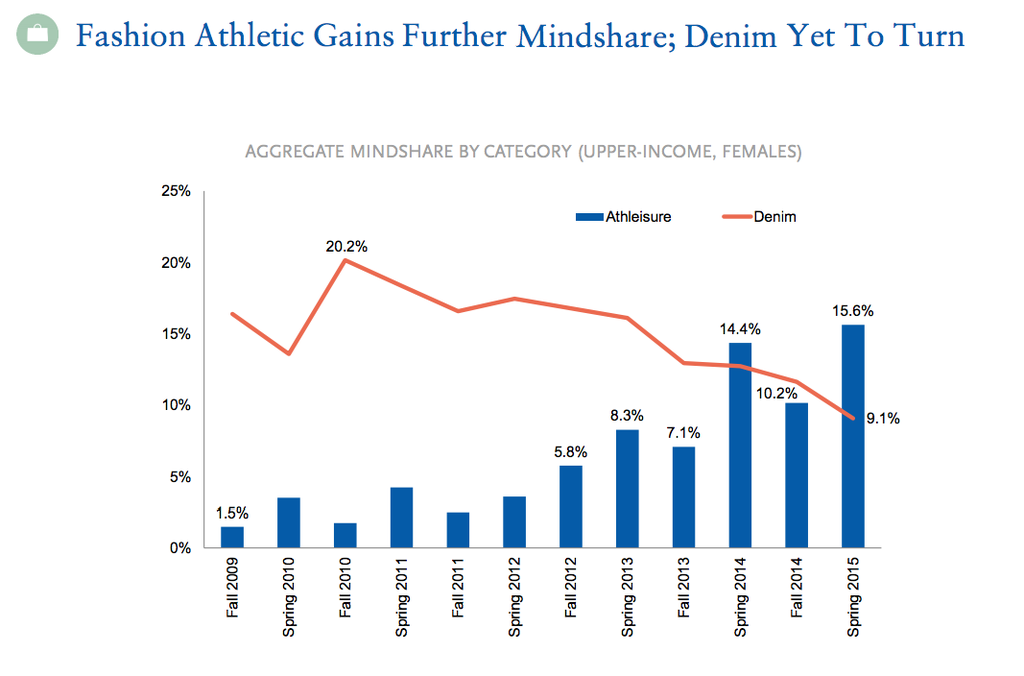 As Fashionista noted last month, mass chains, startups and luxury labels have been racing into the women's activewear market during the past two years, looking to get in on the booming business that more established players like Lululemon, Gap's Athleta and Nike are enjoying. Last year, for example, Urban Outfitters introduced Without Walls, its new outdoors and fitness brand, while Under Armour launched its biggest ad push for the women's side of its business.
What the Piper Jaffray research shows is the trend extends to teenage girls, which bodes well for the future of activewear brands and could spell trouble for chains that rely on sales of jeans. Upper-income teen girls listed Aeropostale, Abercrombie, Gap, dELiA*s and Miss Me Jeans among brands they no longer wear.
Some middle and high schools have been grappling with the "appropriateness" of yoga pants and leggings in the classroom, deeming them too revealing or too sloppy, to student and parent backlash. Those clashes may increase if current trends continue.
Piper Jaffray issues Wall Street's most closely-watched teen research report, known as the "Taking Stock With Teens Survey," twice a year. Executives regularly reference its findings on teen spending and brand preferences in conference calls, while investors use them to help make stock picks. The group surveyed 6,200 teens in March for the report, which was the firm's 29th such publication.