Taxi App Hailo's Emails Are Getting More And More Desperate
Promos for rides that are almost free and even a guarantee for personal replies from Hailo's New York general manager. Updates with comments from Hailo.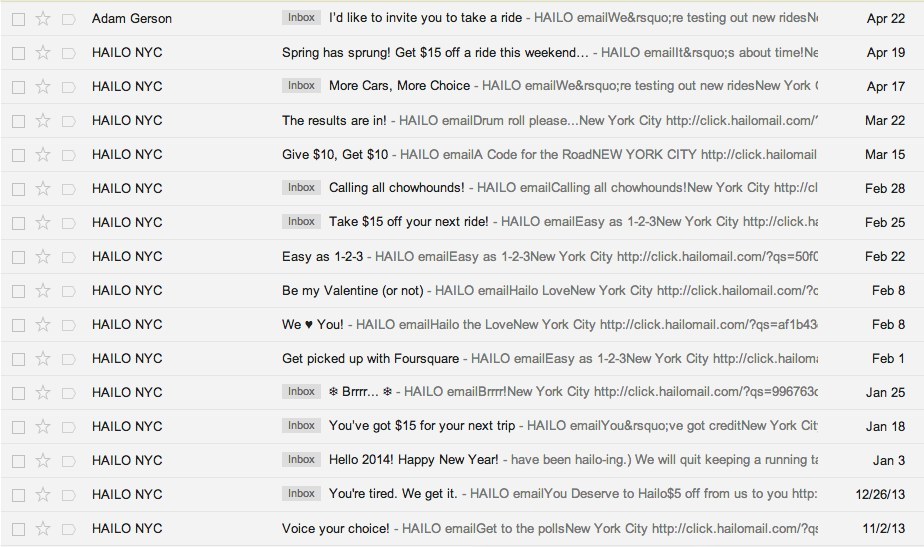 Yellow cab-hailing app Hailo has been emailing lots of promos to New Yorkers lately — to the point that they're practically giving away free rides.
Over the weekend, Hailo offered $15 off fares to their users, outlining the situations in which that might come in handy: "Your chill weekend...your productive weekend...your family weekend." ("Arm flailing is sooo 2012.") It's giving away a $15 discount on 70 rides every time the temperature hits 70 degrees this month in New York, Boston, Washington, D.C., and Chicago. And just in case the emails from "HAILO NYC" weren't getting through spam filters, there was one from Hailo's New York general manager Adam Gerson last week, outlining some new features on the app (including the addition of town cars) and promising a personal reply to anyone who sends questions or feedback to his email address.
"We really pride ourselves on delivering excellent customer service," Gerson said in a telephone interview Tuesday morning. Hailo offered personal replies because the customer feedback is so valuable, especially on new features, he said.
While Hailo has been a hit in its founding city of London, as well as other European cities, it's clearly working hard to get New Yorkers on board. Uber, which costs more than Hailo and offers similar services, appears to reign king among e-hailing apps in the city, despite complaints over its surge-pricing during busy periods. The New York Times pointed out in January that Uber fares might soar to 8.25 times their standard price during snowstorms or other inclement weather, an example of price gouging that's frustrated many New Yorkers, but hasn't really driven them to delete the app en masse.
Hailo's Facebook page is replete with complaints over its software. Ironically, many of the complaints are about these frequently distributed promo codes failing to work, resulting in riders getting stuck with large bills. The year started with $5-off offers, then escalated to $10, and are now at $15.
"We are generous with promo codes — it's common across industries," Gerson said, noting that Hailo's competitors offer similar discounts. "If they are occasionally bigger now, it's because we recently launched a new service and really want passengers to take advantage of it."
He said that the feedback has been largely positive despite "a few snags here and there," adding that Hailo is "really excited about our growth and what we've been doing in New York as well as 16 other cities in the world."
Below, the progression.
INBOX: Be my Valentine (or not) — Feb. 8 ($5 off)
INBOX: Easy as 1-2-3 — Feb. 22 ($5 off)

INBOX: Give $10, Get $10 — March 15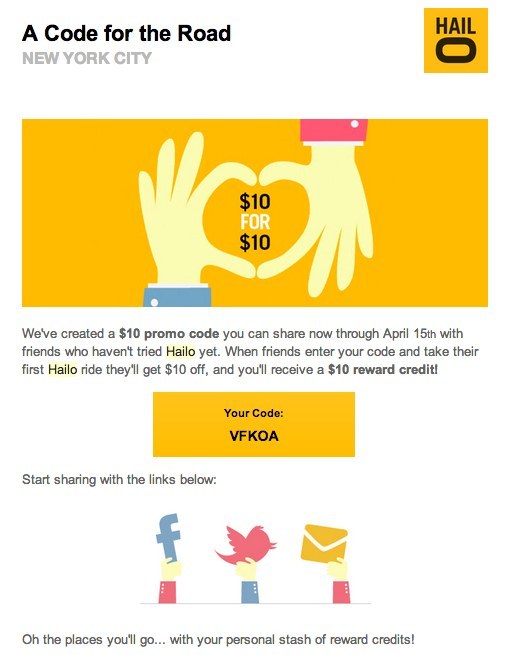 INBOX: The results are in! — March 22 ($10 off code)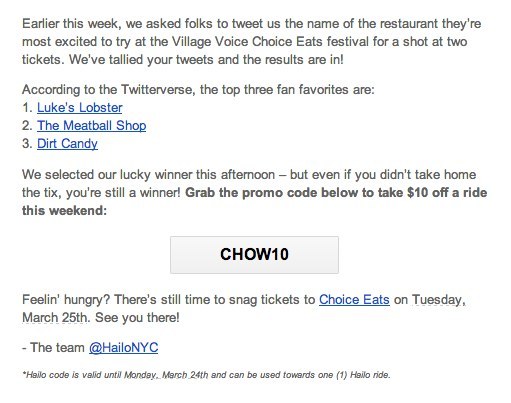 INBOX: I'd like to invite you to take a ride — April 22
INBOX: Spring has sprung! Get $15 off a ride this weekend... — April 26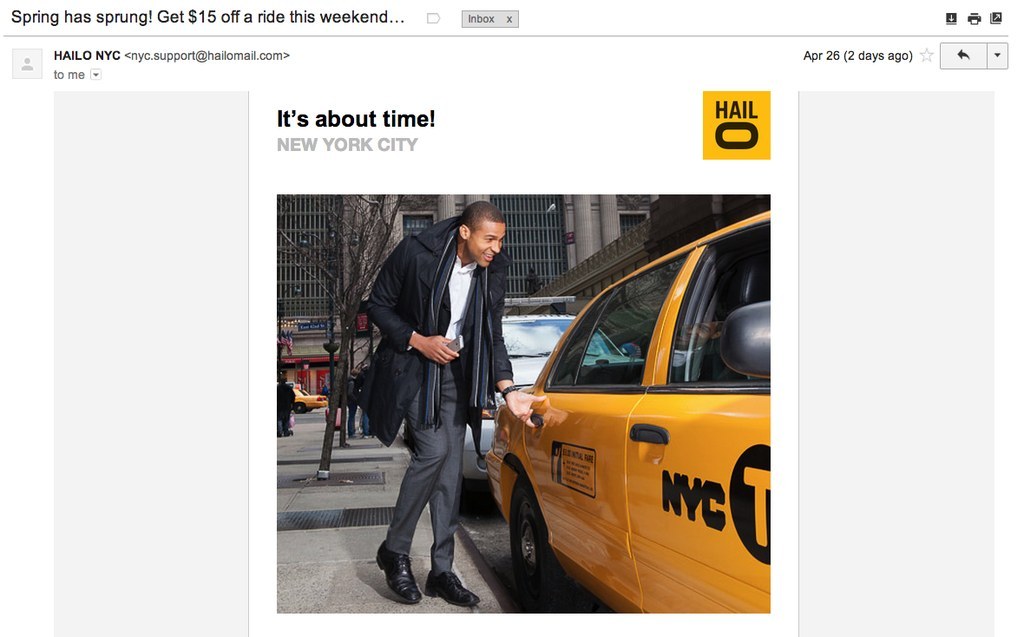 This complaint on Facebook resulted in a new Uber customer:
And others are annoyed with getting overcharged. (To be fair, that's something Uber gets a lot of complaints about too.)
CORRECTION: Uber does allow users to hail yellow cabs. An earlier version of this item said that it does not. (4/28/14)
Update - April 29, 11:11 a.m., ET: This post was updated with a response from Hailo.