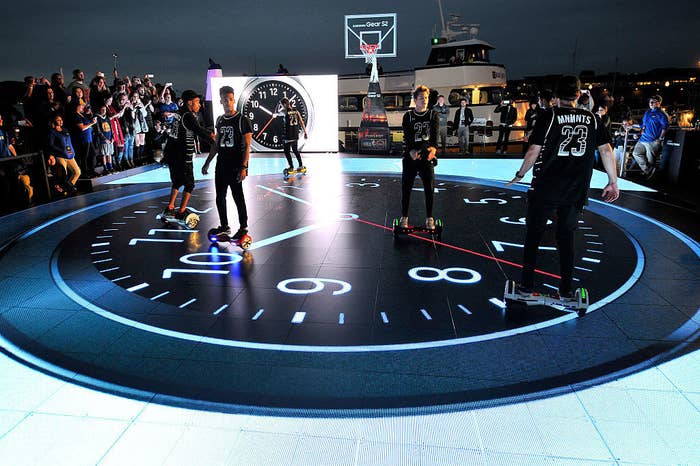 If you're in the market for a hoverboard these days, you're unlikely to have much luck with America's biggest retailers, none of whom are carrying the self-balancing scooters in their stores. Instead, you might end up doing business with a Swedish teenager.

Gustav Lundin, a 16-year-old student in Sweden, sells the devices online at $550 each, from a base of operations in his parents' garage.
Lundin lives in the small city of Gävle, about two hours' drive north of Stockholm, and controls only the tiniest sliver of the global hoverboard market. But his little website, Astowheels.com (tagline: "One Step Ahead"), resembles countless others that enterprising souls have set up through the e-commerce platform Shopify. In the absence of dominant brands being pushed by major retailers, the hoverboard business has become a massive cottage industry — and a massively fragmented one.

The boards themselves have become something close to a commodity, made in roughly identical fashion by numerous Chinese factories. The white-label products are resold by middlemen large and small, under the kind of dinky, half-baked brands you would associate with a pop-up stall selling cheap mobile phone covers in a suburban mall. Basic computer skills and enough cash to place a bulk order with a manufacturer or distributor is all you need to become an online hoverboard merchant. That, and a fair amount of gumption.

Lundin has plenty of that. The teen has been wheeling and dealing since he was a kid, when he sold four-leaf clovers. He moved on to selling e-cigarettes and mobile chargers. "I would rather do business than go to school," he told BuzzFeed News. "When I come home from school, I do business. When I wake up, I do business. On the weekend, I do business."
"I want to get the biggest hoverboard store out there," he said. "I want to be the top one."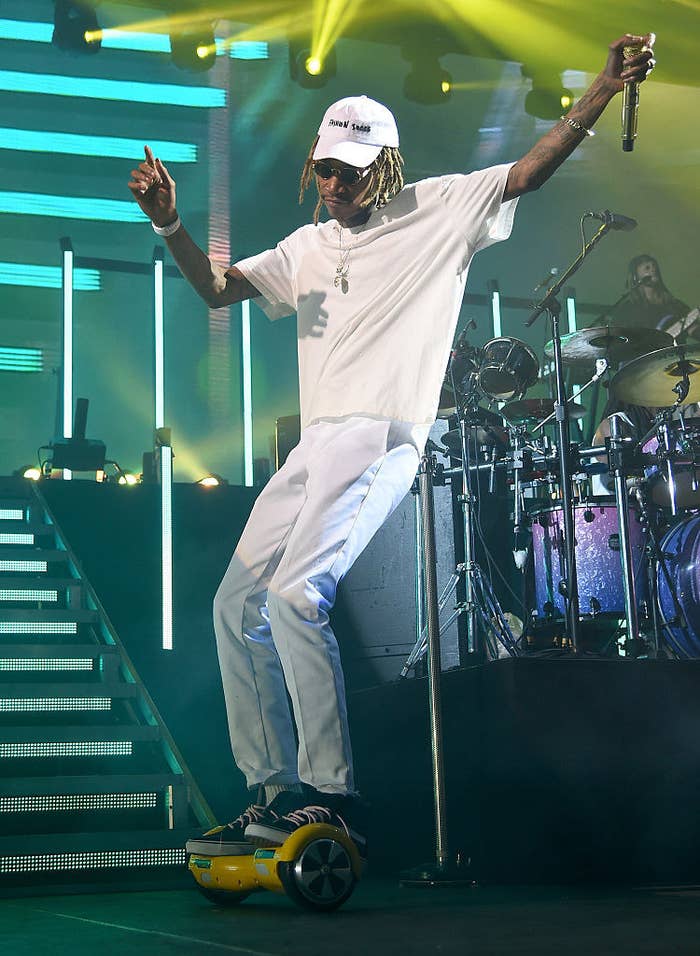 Fifteen years ago, it was a different two-wheeled novelty that captured the nation's attention.
The Razor scooter, introduced to the U.S. in 2000, sold more than five million units in its first year, and by 2010, it had sold 35 million. There's little reliable data on hoverboard sales, but it's safe to assume they are far from Razor territory. And one big reason why, according to the Razor founder, is that the company had unambiguous patents covering the scooter, and quickly crushed the imitators and black-market brands with a flurry of lawsuits.
"When something is this popular, there's a lot of people who immediately make it regardless of the patent and don't care about patents at all," said Carlton Calvin, who remains president of Razor USA after co-founding the company more than a decade ago. "We had a huge problem with that when we first began too." According to Calvin, Razor USA sued more than 20 sellers of copycat scooters and received injunctions against them in the early 2000s.
"It makes it more difficult, for sure, for the market to develop when there's a lot of controversy about the patents," he said. "In our case, it was very clear we had the patent. One of my advantages is I was a lawyer before I was a businessperson, and my wife was a lawyer. We used her firm to do the litigation. We were able to do it very quickly and we were very familiar with the process."
For now, nobody has managed to do with hoverboards what Razor did with scooters. (To be fair, Razor scooters were a lot cheaper at $100 a pop.) There's no single dominant brand, no dominant owner of intellectual property rights, and nobody with a sales channel that reaches into Main Street stores across the country.
But the latest entrant to the market has 15 years of experience doing just that. That's because Razor USA is getting into the hoverboard business.
In mid-November, BuzzFeed News reported the company has purchased exclusive rights to a patent by inventor Shane Chen for a "two-wheel, self-balancing personal vehicle" that he has been selling under the Hovertrax brand name. Chen's patent has yet to be tested against competitors selling their own brands in the U.S., but Razor has the resources and know-how to get its product into the market in a big way — and take on competitors selling knockoffs.
Razor declined to comment on specific legal actions, but its vice president of marketing told BuzzFeed News "it's fair to say that Razor always enforces its intellectual property rights. As the exclusive licensee, we would expect to do the same with the Hovertrax." The company expects its hoverboard to be on sale at major retailers' websites by the second week of December, though didn't say if it would make it into stores.
The company is already well aware of the potential market for two-wheeled electric people movers. It has sold tens of millions of its signature scooter over the last decade and a half, and in recent years, its sales of electric scooters have taken off.
"We sell so many I don't even want to say the number because I don't want other people to do it," Calvin said in an interview before the Hovertrax acquisition. "That has been growing steadily for probably 10 years but again, exploded maybe five or six years ago. It's much bigger than the non-powered scooters."
While Razor has the experience in rolling out a dominant two-wheeled device, it rose to the top of the market back in the early 2000s, when e-commerce was still in its infancy, social media didn't exist, and old-school retail techniques still ruled the business. Calvin is aware that things have changed since the scooters burst into the public consciousness.
"The concept of the internet was big but the actual people buying on the internet was not nearly what it is today," he said. "The only way to sell things was with retailers, basically. I'm sure there were internet people too, but we were really focused on retail distribution and stopping counterfeiters and people violating our patents in retail."
As the patent situation slowly untangles itself, the country's biggest retailers are keeping themselves at arm's distance from the market. Toys R Us confirmed to BuzzFeed News that it will sell self-balancing scooters online in time for the holiday season and perhaps in select stores, while Walmart recently reneged on its plans to carry the device online for the holidays.

The about-face of the world's biggest retailer underscores how splintered the market is: Walmart said in September that it expected self-balancing scooters to be a "hot holiday gift," even "as hot as the Razor scooter." One month later, it said it "probably won't have it for the holiday season." When asked if the decision was related to the patent battle, a spokesperson said: "I wouldn't peg it to that. That's one of the factors of course, but we're looking at all the factors. There are myriad factors that go into a decision like this."
Brookstone, a store whose entire brand seems built to embrace the blue LED lights and half-baked futurism of the hoverboard, briefly sold the IO Hawk model online, but has since pulled the item from its website and taken down a promotional video. A few steps away from a Brookstone store in downtown San Francisco's Westfield Mall, a kiosk now has hoverboards on proud display under a different brand: Smart Drifterz. (A Brookstone store manager told BuzzFeed News that the thorny legal situation around the hoverboards factored into the company's decision, though requests for official comment were not returned.)
Target exhibited some of the retail disarray around hoverboards in an exchange with BuzzFeed News. On Oct. 19, an external spokesperson for the company confirmed Target will sell a version of the board on Cyber Monday, online only. The next day, she said "there's a change in direction — Target will not be offering a hoverboard this holiday season." A few hours later, an internal spokesperson followed up to say: "We're still working through plans and looking to carry them online. Just nothing concrete to share at this point." On Nov. 13, the company said it will carry the $500 self-balancing Swagway board on its website, where it's available now.
"This is a hot item for the holiday season and we needed to find a vendor that could provide us with adequate inventory," a spokesperson said in an email.
RadioShack said it will not be carrying the hoverboard this season while Best Buy, as of Oct. 21, didn't have any idea as to whether or not it will be selling the product.
Consumers are better served online where sites like eBay and Amazon have page after page of hoverboard listings. An eBay spokesperson said a hoverboard is sold once per minute on the site, which has more than 10,000 hoverboard listings going into the holiday shopping season.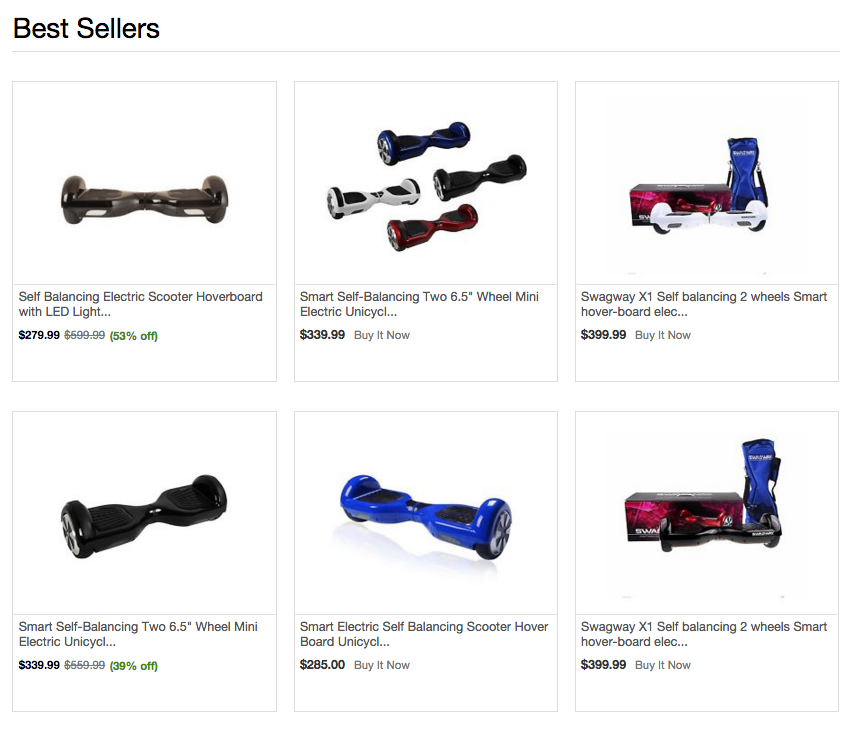 Although the big stores are staying out of the fray, the opacity of the market means mom-and-pop stores are also struggling to get a piece of the action. One store that started carrying hoverboards this summer, when the craze was just taking off, was Flying Point, a small chain of surf shops in the Hamptons on New York's Long Island. The devices generated considerable buzz among the affluent vacationers in Sag Harbor and other upscale towns. "I saw these kids flying down the streets on them," said Jamison Ernest, a venture capitalist in New York. "It looked amazing."
But selling them was another matter.
Flying Point purchased its hoverboards from a Kansas City, Missouri, company called MonoRover, which in turn bought them from a factory in southern China. But Molly Lucas, who manages a Flying Point location in Southampton, soon discovered she was being undersold by her own supplier. While Flying Point sold the hoverboards for $850 in its stores — at a markup that Lucas said left her with only a thin profit — MonoRover was selling the same devices on its own website for just $599.
Customers noticed. "I feel like a complete asshole when someone's like, 'Well, I can get it online for $200 cheaper,'" Lucas said. "In this day and age where you can buy everything online, we price-match everything. But we can't with this."
MonoRover's president, Lucas Assenmacher, said he recommended that distributors sell the hoverboards for a minimum of $599. At that price, he said, distributors like Flying Point could still earn a "fair margin."
Still, Molly Lucas said, selling the hoverboards was "nothing but a pain in the ass."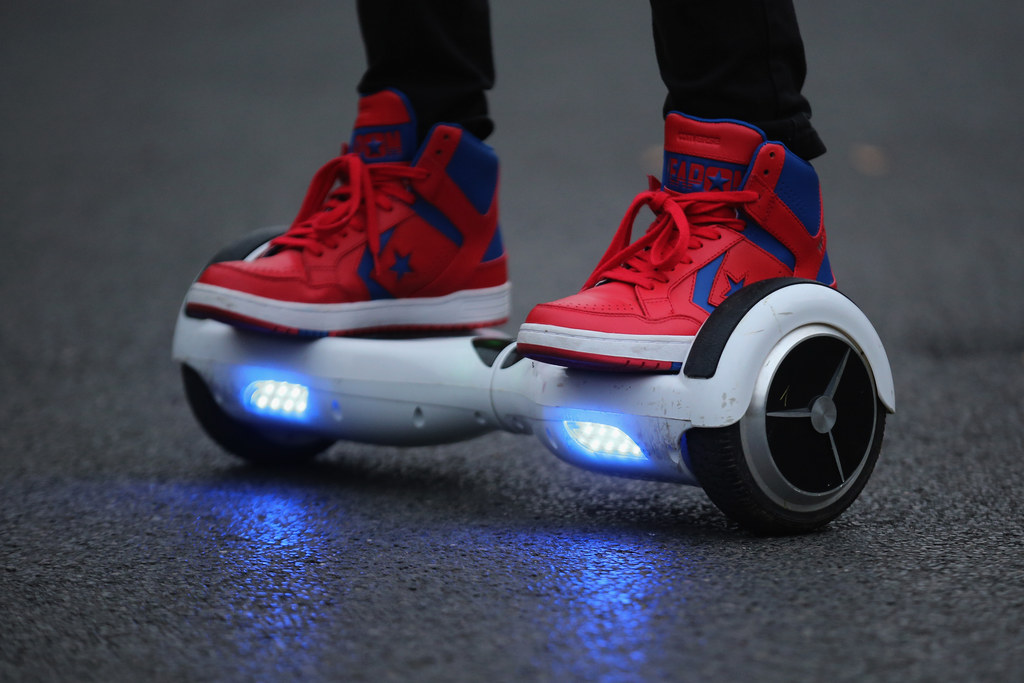 Selling hoverboards may be a pain in the ass, but wait until you fall off one. Social media is littered with evidence of disastrous tumbles, and in the kind of freewheeling tech and creative-industry offices where the boards have become a favored gadgets, tales of epic crashes are widespread.

Some, including Razor USA's Carlton Calvin, say hoverboards remind them in some ways of Heelys, the shoes with built-in roller skates in their heels, which became ragingly popular among 6- to 14-year-olds in the mid-2000s. The company is a cautionary tale for trendy wheeled gadgets that look cool but lead to a lot of people hurting themselves.
Heelys went public at the end of 2006, at the height of the brand's popularity. The company was pulling in close to $200 million in annual sales at the time, and was valued at more than $1 billion.
But it never got to $200 million in sales. After another strong year, its revenue began evaporating at a startling pace as injuries mounted and the trend faded. Accidents involving roller shoes led to about 1,600 emergency room visits in 2006, the Associated Press reported.
The company, which hinged its success entirely on wheeled shoes, desperately sought to diversify into non-wheeled footwear and was confident enough in its ability to turn itself around that it rejected a $143 million takeover offer from Skechers in 2008 as "inadequate."
Ultimately, Heelys' revenue dwindled down to around $30 million a year in 2011 — the next year, it agreed to be purchased by Sequential Brands for about $63 million. Have you seen many kids wearing Heelys lately?
If hoverboards ultimately end up looking more like the briefly trendy wheeled shoes than the durably popular Razor scooter, it might be because they're simply not safe. Ernest, the New York venture capitalist, said he was initially excited by the prospects for the industry, but hasn't considered any investments in the field due to the risk of injury liabilities.
He knows the risk firsthand. Trying out a hoverboard at a friend's house, he took a hard fall onto a tile floor, fracturing his wrist.
The hoverboard industry, Ernest said, "is going to have tremendous liabilities as soon as somebody really cracks their skull open or gets killed on one." Police departments around the world have begun reminding the public that in many jurisdictions — including New York, London, and Sydney — riding a hoverboard on public footpaths or roads is illegal.
"I don't want to be the Christmas Grinch, but I want people to know and send a message that these new toys have real safety concerns," said a statement this week by Duncan Gay, the minister for roads in New South Wales, Australia's most populous state. "Riders endanger themselves because they're unprotected around other vehicles."
Few hoverboarders would be reckless enough to take one for a spin on a highway, and for now, indoor spaces remain the board's most welcoming terrain. But risks remain, even on carpeted corporate floors under bright fluorescent light.
Tales of hoverboard injuries and near-misses in American offices are abundant, and disaster has struck many in the world of startups and technology. Rob Rhinehart, the founder and CEO of Soylent, ambled around Los Angeles in a medical boot earlier this year after busting his ankle falling from one of the boards.
BuzzFeed's offices in New York and San Francisco have each hosted spectacular hoverboard crashes. In Manhattan, one author of this article went down so thoroughly that a trash can was destroyed in the process; in San Francisco, bureau chief Mat Honan introduced his ass to the floor in a manner one onlooker described as "poetic...like a cartoon man slipping on a banana peel."
Omar Choudhry, a designer at Whipp, a startup in London, said he was thrown from his hoverboard (which he purchased from someone he met through a friend) when the battery suddenly died. He narrowly missed smashing his face into the edge of a glass table. But Yousif Al-Dujaili, Whipp's co-founder, remains a big hoverboard fan regardless.
"It's almost like Jedi mind tricks," he said. "Use the Force. Think about where you want to go."