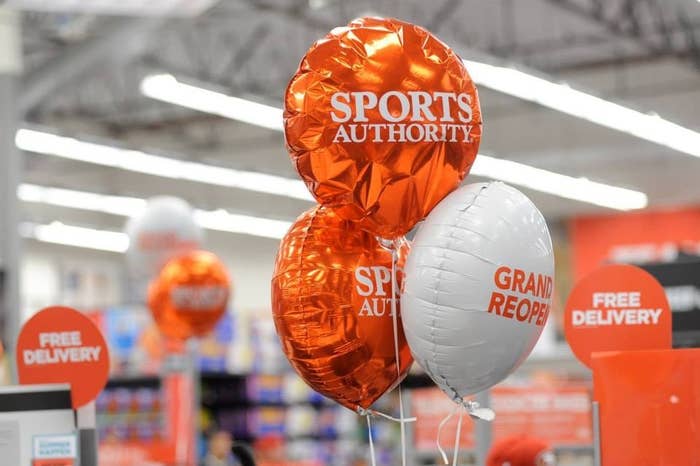 Sports Authority, the specialty store where you may have purchased your first basketball or first pair of Umbro shorts, filed for bankruptcy today.
The company announced its Chapter 11 petition Wednesday after weeks of rumors that the filing was on its way. Sports Authority said it will close 140, or 30%, of its 463 stores in the next three months as part of the bankruptcy and continue operating the rest of its locations. It will also close or sell two of its five distribution centers.
"This decision follows a comprehensive review of the Sports Authority store portfolio in light of the increasing amount of shopping that is occurring online," the company said in its statement today. "As a result of these changes in consumer buying patterns, Sports Authority determined that it needs fewer stores as part of its long-term business model."
Sports Authority, founded in 1928, has floundered in recent years, even as the retail industry has experienced a boom in fitness apparel. The company, which has its name on the stadium where the Denver Broncos play, was once the biggest U.S. sporting-goods retailer. It hasn't been able to maintain that position in the face of competition from Dick's, Walmart, Amazon and many others.
The Wall Street Journal reported that Sports Authority will need to close the rest of its stores if it can't find a buyer to put more money into the business by the end of April, citing unnamed sources.
"Given our strong brand recognition with a large and growing customer base, valuable business assets and loyal Team Members, we have received strong interest from third parties interested in investing in or buying some or all of Sports Authority," CEO Michael Foss said in today's statement.

Sports Authority was purchased by Leonard Green & Partners LP in 2006 as part of a $1.3 billion leveraged buyout that saddled it with debt. Its bankruptcy follows a string of other retail bankruptcies in the past two years, out of chains including American Apparel, Wet Seal, dELia*s and Caché.