Soon You Can Buy Sharknado T-Shirts Because Sharknado Is Never Going Away
We all did this.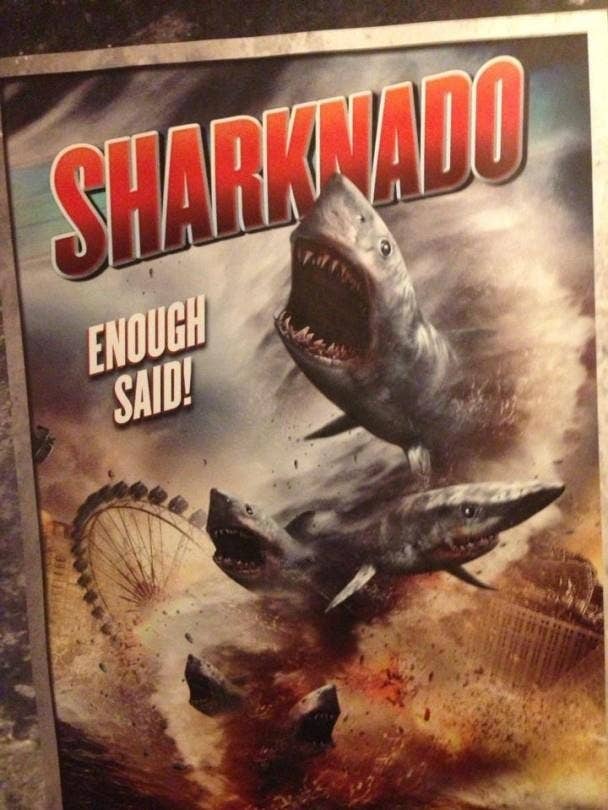 In an effort to milk every ounce of revenue out of the social media craze surrounding Sharknado, cable network Syfy is launching a merchandising program tied to the campy movie.
Unfortunately, this is not a joke.
Syfy and movie studio The Asylum said they've partnered with Earthbound LLC, a retail and brand licensing agency, to create Sharknado apparel, bags, posters, accessories and other merchandise, with the "first wave" of T-shirts entering retail stores nationwide in the next few weeks, according to a statement today.
At some point you'd expect the movie about a tornado pulling sharks out of the ocean and into Los Angeles to jump its proverbial self, but the ratings suggest otherwise. The third broadcast of the film on Saturday drew 2.1 million viewers, more than the previous two airings. Syfy has already approved a sequel, which is scheduled to premiere in July 2014 and will force the steely citizens of New York to confront turbulent winds tossing flying killer sharks around.
To be sure, not unlike The Rocky Horror Picture Show or Showgirls, there is a distinct possibility the low-budget slot filler starring Tara Reid and Ian Ziering is never going to go away, thanks to the tweets that fueled its popularity. The movie is even getting the cult fan midnight-airing treatment, à la The Rocky Horror Picture Show, in 200 movie theaters nationwide this Friday night.
So if you soon see hipsters walking down the street in Sharknado T-shirts, blame social media. And the next time a campy movie airs, think before you tweet. We don't want this to become a trend.