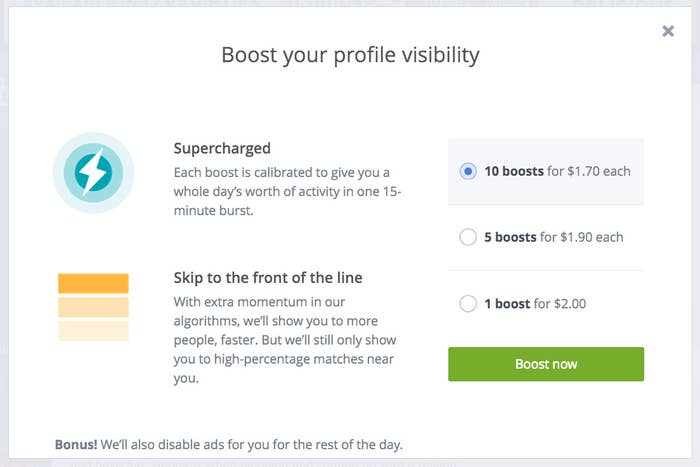 It's apparently possible to spend $1,800 on a free online dating website in three months.
OkCupid introduced a new feature in July that allows users to pay $2 for 15-minute "bursts" of extra promotion across the site. While the results are still rolling in, it's working well enough that one person apparently spent $1,800 boosting their profile's visibility to crushes and compatible strangers with the Spotlight feature in just three months, executives said. (The site doesn't show whether someone is using it or not.)
"There's a row of potential people of the gender you're interested in across the top of your screen when you log in — that row gets clicked on with much greater propensity than if you do a search," Jeffrey Kip, chief financial officer of InterActiveCorp, which owns OkCupid, said at a Wells Fargo conference last month. "Now you can go in there and pay $2 to get piped into the Spotlight row of everybody you're interested in who's out there logged in right now, and it's instant gratification. There's a panel that appears to the right that says you're now being looked at by six women, now being looked at 14 women, 42 women. It's worked well and we believe that kind of product can play across all of our products and a lot of our sites well in different ways, and I think there's other services we think of bringing it into."
IAC Chief Executive Officer Greg Blatt alluded to the $1,800 customer in a conference call at the end of October without specifying which of the media company's services it was spent on. (IAC's dating properties also include Match.com, Twoo, and Tinder.)
"Someone paid us $1,800 in three months on a so-called free site," Blatt said. "On Match, the king of so-called paid sites, the most someone can pay us over three months is around $150 or less than one-tenth of that even if they're willing to pay us more...the biggest indicator of who will pay for these dynamic features is the fact that they're already paying for subscription offerings."
It's a fresh way to monetize OkCupid, which outside of advertisements, draws revenue from "A-list memberships." With those, users pay $5 to $10 a month to get better matches, browse profiles invisibly, get read receipts from messages and an ad-free experience. The site, which IAC bought in 2011, says it has 7 million registered users. It's categorized as "developing revenue" for IAC along with DateHookup and Match's international operations, excluding Meetic. Together, the division brought in $66.9 million last year. Match's revenue was $713.4 million.
Brands like OkCupid and Tinder have been viewed by IAC as a means to get people more comfortable with online dating, ultimately paying for subscriptions down the road, which bring in the most money.
Blatt said in February there are 100 million American singles and 50% say they're open to online dating. That may grow to 112 million people, with 55% to 60% comfortable with online dating by 2017, he said.
Most of the people paying for the promotions on OkCupid are already paying subscribers, according to Kip. The idea of "transactional monetization" is something IAC may introduce to other of its dating apps and sites.
"We think there is a lot of upside," he said. "We've been working on this and thinking about this for a while, but we've just started to really show the traction in the results, and we think we can really talk about it affirmatively."
OkCupid didn't immediately respond to a request for comment on the adoption of the profile boosts or whether the $1,800 user found love. In July, OkCupid co-founder and President Christian Rudder told BuzzFeed that more than 2,500 people paid to promote themselves with the tool in the first 24 hours, which started out as a 10-minute boost. Rudder said he anticipated it would mostly be guys making use of it.