Some Discounted Items At J.Crew Are Now Even Cheaper Than At Outlets
J.Crew, Banana Republic, and Gap are all holding massive sales right now after fashion missteps. Now you can compare those prices to their factory merchandise, which is also available online.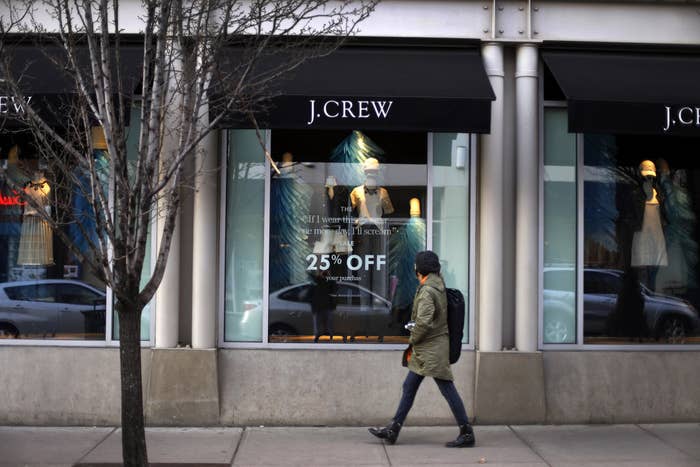 J.Crew, Banana Republic, and other retailers that had a rough start to the year are offering big discounts this month on full-price and sale items, in an effort to clear through a glut of unsold clothes that failed to resonate with many of their core customers.
Some of those discounts, it turns out, are so steep that they're selling regular clothes cheaper than similar items in their outlets — which are designed to be the lower-cost version of the brand. And thanks to the introduction of separate "factory" websites, consumers can now examine this strange pricing conundrum side by side.
This J.Crew Factory shirt, which looks virtually identical to the one above but is made in Cambodia, cost $14.50 as of Wednesday.

In recent years, outlet stores have become profitable places for major retailers to hawk a separate, often lower-quality version of their brands for customers on the hunt for a bargain. But as the Wall Street Journal noted last month, heavy promotions at retailers' regular stores are having the unusual effect of undercutting outlet prices at chains from American Eagle to Ann Taylor.
Nowhere is this unusual pricing easier to see than at the few retailers that have made "factory" merchandise available online in the past few years.
J.Crew, which reported dismal sales and a slew of job cuts earlier this month, set up a separate J.Crew Factory website in late 2012 that, along with its outlet stores, sells "a specific line of merchandise" that's "based primarily on products sold in previous seasons in our J.Crew retail stores and through our website."
The retailer is offering an additional 40% off its sale items on its main website this week. One V-neck T-shirt, with the extra discount, was offered for just $11.99 on jcrew.com on Wednesday, while a similar-looking V-neck cost $14.50 on jcrewfactory.com the same day. The regular J.Crew shirt was made in China, as per a zoom onto its label, while the factory shirt was made in Cambodia, where labor costs are cheaper.
A similar discrepancy appeared on a pair of shorts (pictured below) that are roughly seven inches long — with the discount, you could snag a pair in the color "dusty bamboo" for $24 on J.Crew's regular website. A nearly identical-looking pair, made of cotton rather than cotton and spandex like the other pair, and in a similar color called "beechwood," run for $29.50 on J.Crew's Factory website.
There are more like these, as well as less stark examples of the pricing inversion throughout the sites, from skirts with drawstring detailing to dresses in similar colors.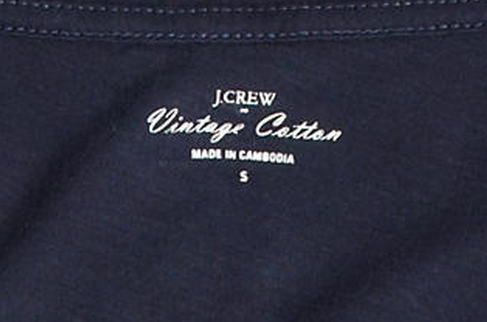 The shirt label on the left, delineated as J.Crew Factory by the dots under the brand name, shows it was made in Cambodia. The one from J.Crew's regular website, on the right, is made in China.
On Banana Republic and Gap's websites, a review by BuzzFeed News found fewer direct comparisons between full-price and factory merchandise. But due to each brand's 35% discount earlier this week, which Gap upped to 40% on Thursday, a number of sale items cost within a few dollars of comparable items on the factory sites. (Gap and Banana Republic both started testing websites for their outlet chains last year.)
That's striking because often, the regular brand version carries certain hallmarks of quality — perhaps a zipper closure instead of a drawstring, or a dry-clean–only fabric versus a machine-washable one. Further, the regular website tends to carry in-season items, while many retailers carry a different version of the previous year's best-sellers in their outlets.
Oh, and at the regular, full-price brand websites, you can see the whole model — the ones on Gap and Banana Republic's factory websites are mostly faceless. Like so: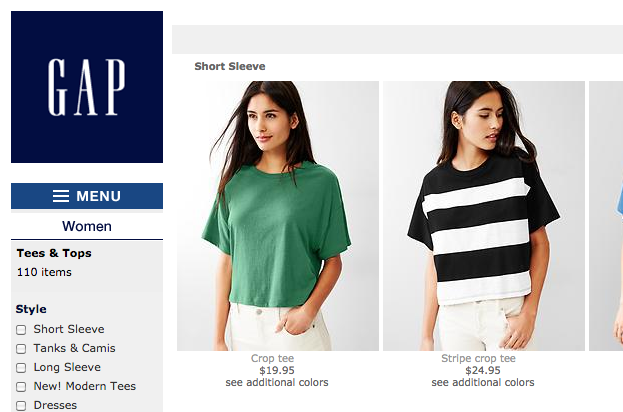 Gap's regular website, with models, on the right. Gap Factory's website on the left...no face but the smile.
The point is that shoppers can now comparison shop between a full-price brand's sale section as well as the outlet section — all on the internet.
"I don't know that it's a problem yet because the reality is most people are not going to be sitting there and comparing the exact items," Simeon Siegel, an analyst at Nomura Securities, told BuzzFeed News.
"But the fear would be as that message proliferates and consumers start realizing they should just be trolling the full-price website sale items rather than the outlets, you just allow the customers that are truly price-sensitive to make you fight against yourself."
At the same time, by putting outlet merchandise online, and allowing customers to price shop between the full-price version of the brand and the "value" one, retailers might actually reduce the allure of their outlet locations, which have been one of the rare, expanding bright spots within the industry since the recession.
These two gray hoodies from Gap are similar products — both 100% cotton and machine-washable. But with Gap's 40% off discount on Thursday, the regular hoodie on the left costs about $18, less than the $20 Gap Factory hoodie on the right.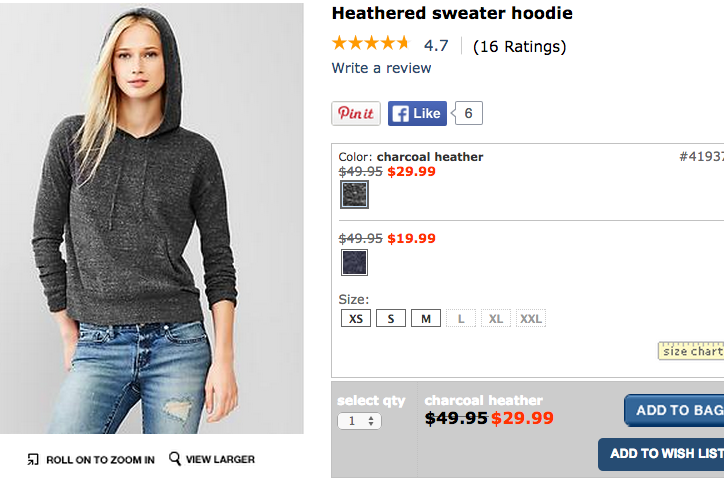 Of course, in good times, J.Crew, Banana Republic, and Gap wouldn't be discounting to this extent to lure customers, and thus, the price differences illustrated in this article might not be typical.
But the brands have struggled to create designs that resonate with women in the past year, especially in the face of increased competition from fast-fashion behemoths like H&M and Forever 21 and off-pricers like T.J. Maxx and Nordstrom Rack.
A spokesperson for J.Crew declined to comment. Kari Shellhorn, a spokesperson for Gap, said "both Gap Factory and Banana Republic Factory stores and online channels carry unique unique product collections specifically designed, styled and produced for our value-conscious outlet shopper."
"We know the apparel retail sector has been highly promotional in recent months and, during any window of time, our promotional cadence may vary across channels depending on a number of factors," Shellhorn said in an email to BuzzFeed News. "We're proud of both expressions and continue to work hard to improve product quality and value for our customers, regardless of channel."
These chambray shirts from Banana Republic are both made 100% of Tencel. The Banana Republic Factory version on the left costs $34.99. The regular website version, on the right, cost $26 after the 35% discount as of Wednesday.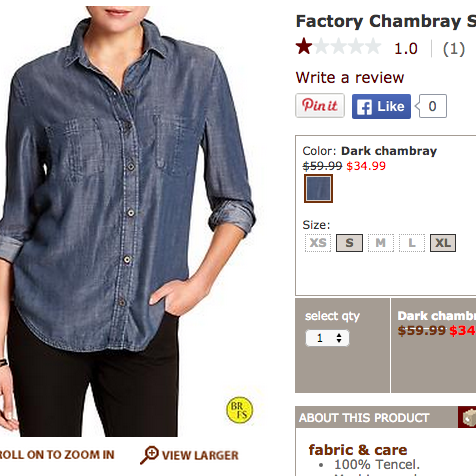 The regular item on the right is a "Soft-Wash shirt," which means it will "undergo a delicate wash cycle for 60 minutes followed by an enzyme wash, giving the shirt a softer and more worn-in finish."
Gap CEO Art Peck acknowledged the company's aggressive 40% off discounts in a presentation to investors on Tuesday, saying its stores have been "way too 40-off every day in too many places."
"The second worst place to be in this business is overbought," Peck said. "The first worst place to be in this business is to be overbought with product she's not responding to and that yields too many 40-offs."
J.Crew CEO Mickey Drexler said earlier this month that the company tries "to hold the line" when it comes to the retail industry's "rampant discounting," adding that the brand doesn't promote as much as its competitors.
"It's very hard to hold the line, because you still need to drive traffic, and you still need to sell goods," Drexler said. "But we have trained the world. And if you look at the capital, by the way, in the shopping developers, their capital is skewing towards the outlet malls. I think that says a lot also about the environment we're dealing in. And that's why it's hard to predict a lot."
Banana Republic carries two patterned black-and-white "soft pants." The one on the left from the regular website's sale section, is dry-clean only and cheaper with the discount than the factory pair on the right.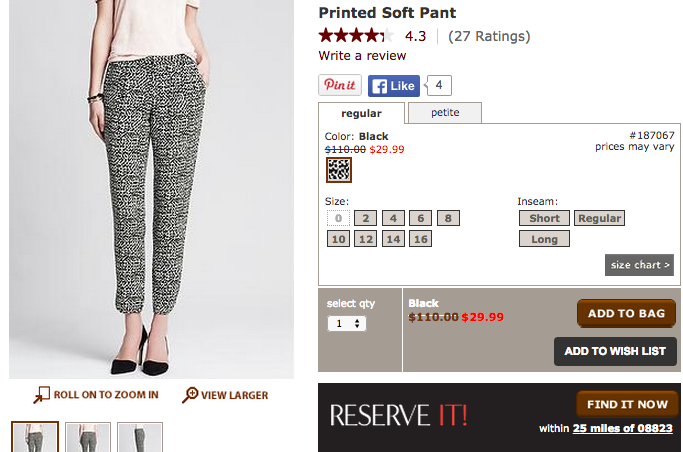 These drawstring skirts appear to be similar items. With J.Crew's discount, the skirt on the left was $30 on Wednesday, vs. $33.99 for the outlet item on the right.