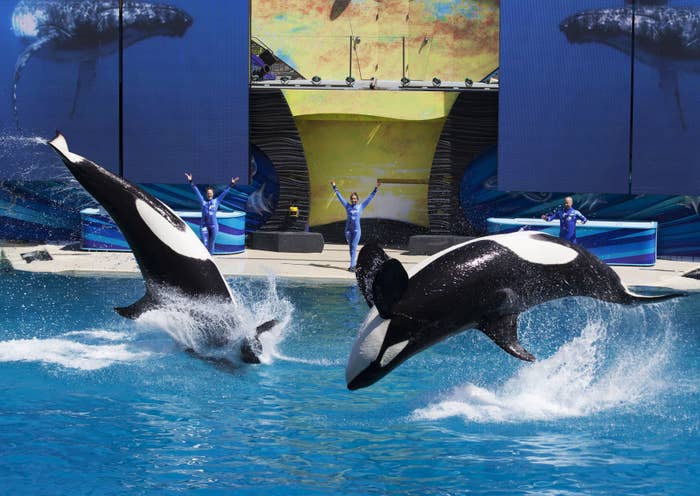 SeaWorld will get rid of its famous killer whale show in San Diego after 2016, amid ongoing criticism of its treatment of captive orcas and attempts by legislators to prevent the company from breeding new whales or capturing additional ones.
The company said today it will "launch an all-new orca experience" in 2017 that will be "focused more on the natural setting, natural environment and also the natural behaviors of the whale" with a "strong conservation message." Next year will represent the last year of SeaWorld's "theatrical killer whale experience" at its original San Diego park, the company said in its presentation Monday.
SeaWorld's announcement, reported earlier by the San Diego Union-Tribune, comes a month after California's Coastal Commission approved the company's massive new killer whale facility as part of its "Blue World Project" — but banned the breeding of any captive orcas.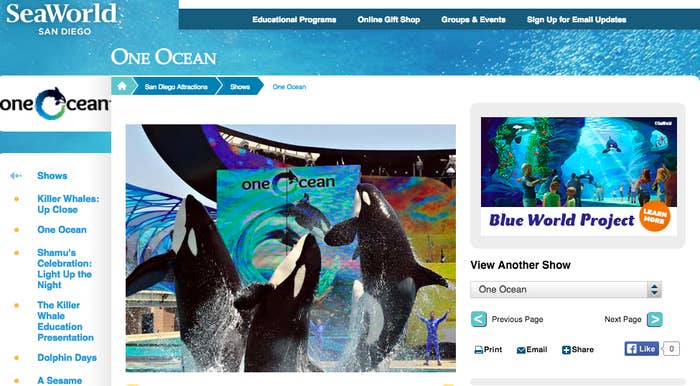 The company said today it will divert some of Blue World's $100 million for expanding killer whale tanks to alternative attractions.
The company also said it will sue the California Coastal Commission and called the restrictions "overreaching," according to the Los Angeles Times.
SeaWorld, which closed at $33.52 a share in its first day of trading after it went public in April 2013, had fallen to $17.91 by the close of trading on Monday, valuing the company at $1.64 billion.
SeaWorld has struggled with attendance and profitability since the release of the 2013 documentary Blackfish, which focused on the parks' treatment of orcas after one of its whales killed a veteran trainer in 2010. The damning film has since spurred an outcry from animal activists and regular viewers, as well as legislation targeting the sustainability of the live orca shows.
The end of SeaWorld's theater show is specific to the San Diego park, as visitors there are looking for "experiences that are more natural" and less theatrical, executives said today, noting it is "not universal" across its properties.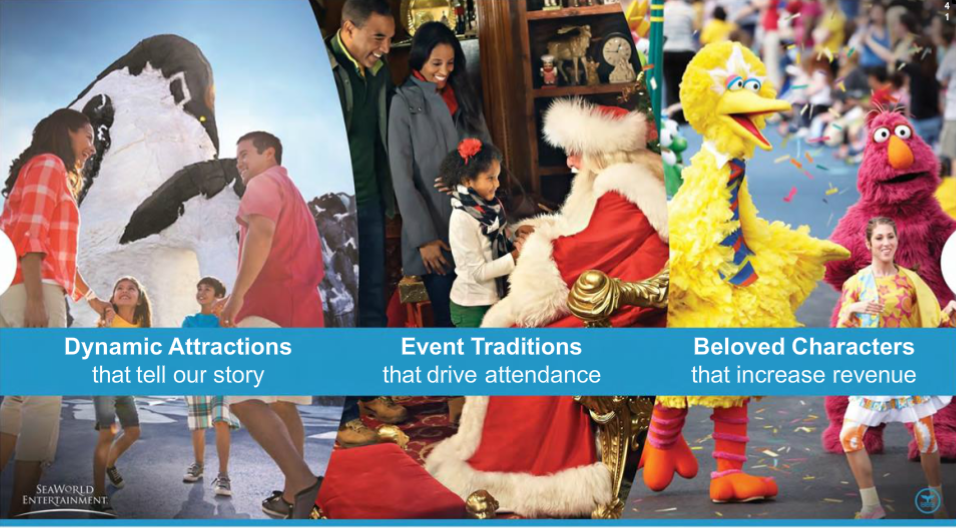 Some animal activists who were at the center of public pressure on the theme park say that the move does not go far enough in protecting the whales.
"The decision by SeaWorld to phase out killer whale shows in San Diego is a welcome step along the path towards ending the captivity of these magnificent creatures," said Rep. Adam Schiff, who plans to propose federal legislation that would ban the captivity of orcas. "Much more needs to be done, however, and I would urge the company to curtail the breeding of their orcas and partner in the creation of ocean sanctuaries. The fact still remains that as long as SeaWorld holds orcas in captivity, the physical and psychological problems associated with their captivity will persist."
SeaWorld CEO Joel Manby denied that the changes to its killer whale attractions were a result of animal activist pressures in a call with investors on Monday.
"We start everything by listening to our guests and so far in California we're hearing they want experiences that are more natural and experiences that look more natural in the environment," he said. "We think it's a good thing because our guests will resonate with it more."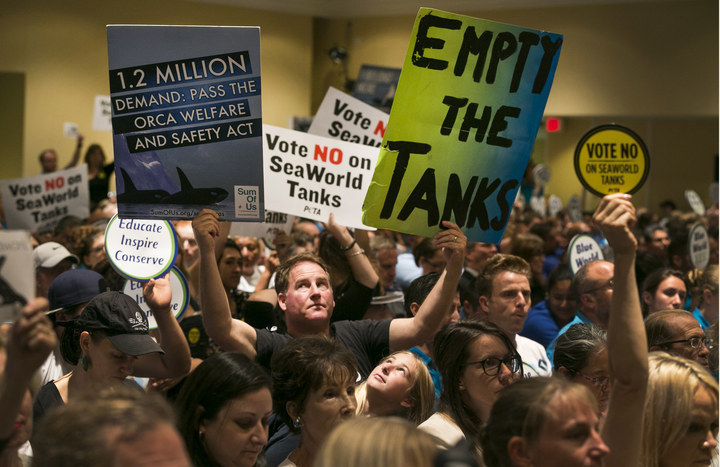 Manby referred to the redesigned attraction as a "show" in a more natural pool that would be an orca experience with the kinds of activities whales tend to do in the wild, which includes jumping and splashing but no tricks.
Jared Goodman, PETA Foundation's director of animal law, said on Monday SeaWorld's announcement to end its killer whale shows does not go far enough in protecting the animals. He called for open sea sanctuaries to house rescued orcas and an end to captive breeding.
"An end to SeaWorld's tawdry circus-style shows is inevitable and necessary, but it's captivity that denies these far-ranging orcas everything that is natural and important to them," said Goodman. "This move is like no longer whipping lions in a circus act but keeping them locked inside cages for life or no longer beating dogs but never letting them out of crates."
It was not clear on Monday whether the changes will affect SeaWorld's parks in Orlando and San Antonio.