Sari Rental Market Takes Off As More Indian-American Millennials Marry
A wave of Indians born in America are reaching marriage age and having blowout weddings in the U.S. with a diverse group of guests. Both Indians and non-Indians are turning to new sari-rental websites for the latest fashions at a low cost.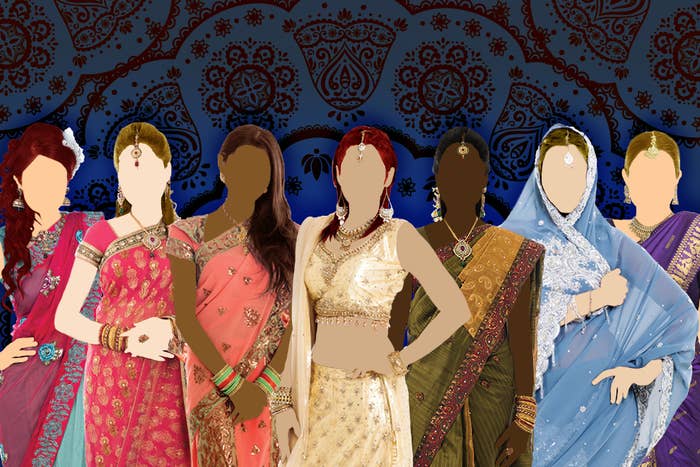 The traditional Indian sari has infiltrated American pop culture in recent years, appearing on celebrities like Oprah and Lady Gaga and on shows from New Girl to The Office. Not surprisingly, what was once a largely unfamiliar foreign garment to many Americans is now an extremely hot item, complete with a booming rental market.
A number of sari-focused websites have cropped up in the U.S. in the past few years that are akin to Rent the Runway, the online startup that rents designer gowns to gala-goers at a fraction of their retail price. But instead of offering Narciso Rodriguez and Trina Turk, Luxemi, Borrow It Bindaas and Devi's Closet are renting out the Indian fashion equivalents for an American audience.
The websites, all introduced by American-born Indian women in their late twenties and early thirties, share a common thread: an origin story that started with a stack of invitations to Indian weddings — which, if you haven't been lucky enough to attend one, are usually elaborate three- to four-day affairs with hundreds of guests (and yes, a horse, and yes, sometimes an elephant, and yes, Indians have to field that question starting in elementary school). Luxemi and Borrow It Bindaas launched in 2011, while Devi's Closet went live last year, and each privately funded website said it's seeing significant growth in sales and web traffic.
Indians have been one of the nation's fastest-growing ethnic groups for decades, now numbering at least 2.2 million, and more and more children of Indian immigrants who were born in America are reaching marriage age and want to have their weddings in the U.S. You're now five times as likely to see "Hindu" in a New York Times wedding announcement than 20 years ago, according to a database from Rap Genius. Even when Indians marry outside their ethnicity — though Pew Research shows they're the least likely of Asian-Americans to go that route — multicultural weddings often include some, if not many, Indian components.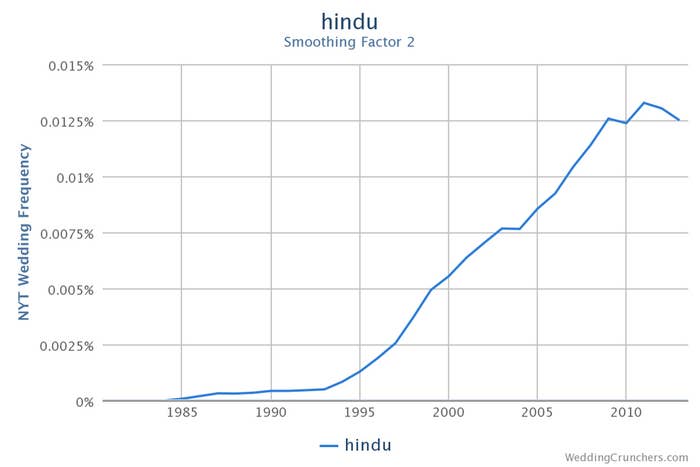 Borrow it Bindaas customers show Indian clothing has cross-cultural appeal. To the right, a Luxemi mailing, with bindis and safety pins.
The increase in weddings begets demand for saris from not just Indians, but also from non-Indian guests who are eager to participate in the traditional customs of the marriage ceremony. Borrow It Bindaas and Devi's Closet estimate at least 60% of their rentals come from non-Indians, while Luxemi draws it closer to half. And while Diwali (the Hindu New Year that's two and a half weeks away), Bollywood-themed parties, and even Halloween drive some rentals, weddings make up a majority of the market, according to Siddhi Khara, who co-founded Borrow It Bindaas from Orange County, California, with her twin sister.
"Even if it's two Indians getting married, one-third — if not more — of the guests are non-Indian friends and family of the bride and groom, who this is perfect for because they love to embrace wearing the outfits and jewelry and accessories but don't necessarily need to own them," said Khara.
Brides, both Indian and not, are including links to the rental services on wedding websites for their guests, inviting them to don Indian garb, or using the websites for their bridesmaids' saris. A major benefit of sari rentals is that outside of the blouse, it's essentially a one-size-fits-all piece of clothing, cutting out the pesky dress fittings that usually accompany bridesmaid duties in the U.S.
Similar to Rent the Runway, which tells BuzzFeed it doesn't currently have plans to branch into ethnic wear, customers can select from a range of saris, lenghas, and accessories, as well as kurta pajamas for men, and get them via mail in four to ten days.
Rental prices typically range from a low of $35 to a high of $278. The websites send along matching bindis, safety pins, backup blouses and sari-draping guides, plus pre-paid packaging to ship the garments back without having to worry about dry cleaning. (Luxemi offers a series of YouTube videos on draping saris with hundreds of thousands of views.) Luxemi and Borrow It Bindaas also allow shoppers to separately purchase Indian clothing and accessories on their websites.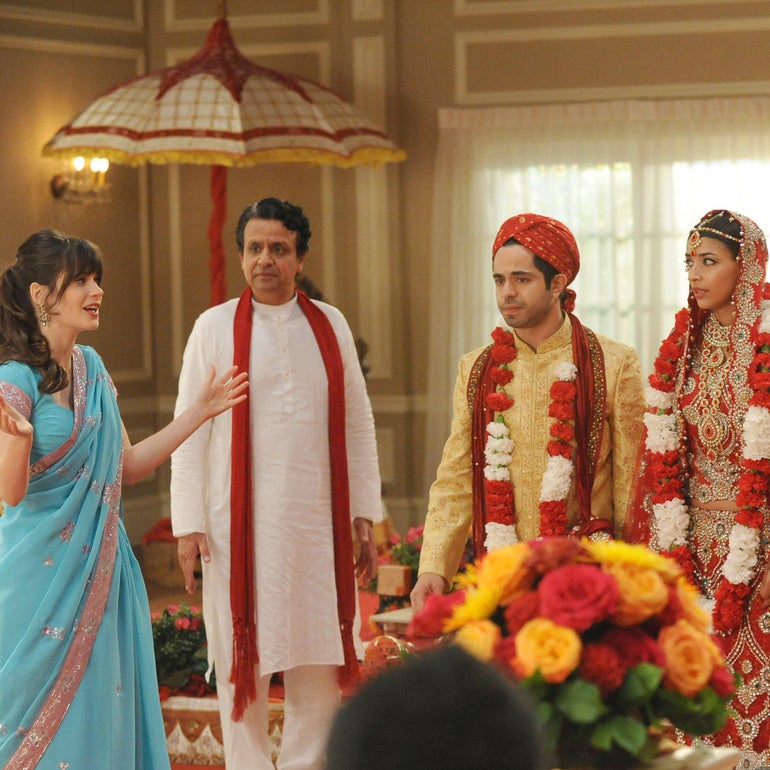 Saris, also spelled sarees, are a more common sight in American pop culture than they used to be, from New Girl to The Office to Oprah.
Targeting Indian-American wedding spending is a smart move from a consumer perspective. Indian-Americans have the highest median household income among ethnic groups in the U.S., at $88,000 a year, according to Pew, and spend heavily when it comes to marriages, which are steeped in tradition and deeply important culturally. Many Indian parents save for their children's weddings the way they save for college. Cost estimates for the average Indian-American wedding range from $75,000 to $100,000, though half a million dollars isn't uncommon. By contrast, the average American wedding typically costs less than $30,000.
One problem with buying saris is that they are so patterned and vibrant that they can't be styled in a variety of ways like a little black dress, said Swapna Chandamuri, who co-founded Luxemi with Swathi Narra. Many women wear these $300 –$700 garments two or three times, then store them in a closet.
By extension, as more and more Indian-American millennials come of age and get married, figuring out how to dress can become an expensive proposition, said Chandamuri, who, along with her co-founder, was raised in Louisiana and now runs the business from Chicago. But a vibrant rental market goes a long way toward solving that problem.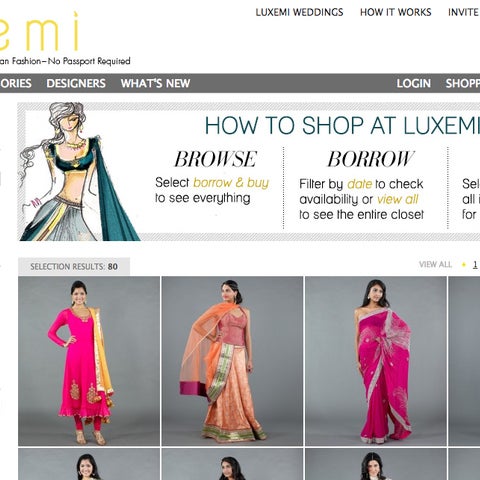 Selling the idea of sari rentals to Indians who immigrated here versus non-Indians is actually a bit tougher of a proposition, even with the lure of the latest styles from India's hottest designers, said Meera Patel, the co-founder of Devi's Closet.
"It's almost like the Indian mentality, they want to be able to tell people they bought it, especially older people," she said. Indeed, in India new clothes are often tied to special occasions like Diwali, and culturally, Indians typically value newness over something secondhand, even if it's a better, more expensive brand.
Still, Patel, who is from outside Boston, said the site's traffic has quadrupled in the past year while sales are up by five times.
Non-Indians and younger Indian-Americans don't have the same hang-ups, she said. That, combined with the more strapped finances of people in the early stages of their career and the number of weddings occurring, is probably why the 24- to 35-year-old demographic makes up its biggest customer base, she said.
Both Luxemi and Borrow It Bindaas say the younger group is their largest demographic as well. And business seems strong enough that all three websites, as well as other competitors online, are thriving.
Plus, customer service lines and the websites offer practical resources for guests at Indian-American weddings who have simple questions on what colors and styles are appropriate to wear, the differences among various Indian outfits, the significance of certain customs, and so on.
"People ask simple questions like, 'Can I wear red to an Indian wedding if the bride is?' We love it because it's so nice to hear people embracing the Indian fashion and culture and wanting to be a part of it," said Khara of Borrow It Bindaas. "We've grown up like all these girls, where we have a hybrid of loving our Indian culture but also being American. We get it."
Borrow It Bindaas stresses the cost savings for customers in its advertising.