A Month After RushCard's Failure, Many Apologies But No Compensation
In late October the company said it would launch a fund to help those affected by its catastrophic outage. There's been little word since, but complaints keep rolling in.
RushCard, the prepaid debit card company co-founded by Russell Simmons, has made headlines for declaring its catastrophic system failure is over, and for promising a multimillion-dollar fund to compensate customers who suffered financial losses.
But almost a month after customers first began reporting their cards were not working, and two weeks after RushCard said "all major functionality" was restored, customers are still posting to social media about missing or inaccessible funds and delayed paychecks. As for the reimbursement fund, RushCard said on Oct. 29 that it would share details "pending review by financial regulators," banking industry advisers, and community leaders — but as of Nov. 9, no further information has been made available.
Regulators say the company is free to launch the fund whenever it's ready. The Consumer Financial Protection Bureau told BuzzFeed News that RushCard doesn't need its regulatory approval to start making "full and immediate remediation to all consumers that were harmed."
RushCard's issuing bank, MetaBank, is regulated by the Office of the Comptroller of the Currency. That regulator told BuzzFeed News that since RushCard, not MetaBank, would be handling the compensation, the fund does not require its approval prior to launch.
"When the plans for the fund are completed, we will notify all impacted card holders," a RushCard spokesperson told BuzzFeed News.
The outage last month, caused by a switch in payment processors, devastated thousands of financially vulnerable Americans who use the prepaid debit cards in lieu of traditional bank accounts. Many reported being locked out of their money for more than a week; others cited system glitches that set account balances to zero or made transactions disappear.
Last Wednesday, the company said that while some customers are still experiencing issues, "the overwhelming majority of customer inquiries" are "no longer related directly to any ongoing system problems," and more focused on "direct deposits that were previously halted by employers or about instructions on how to reset their accounts."
But as has been the case throughout the RushCard saga, the company has not specified how many people are experiencing problems.
And even as the system returns to normal, the ripple effects are still wreaking havoc on the lives of people with little margin for error in their financial lives: dealing with late fees on bills, spending hours trying to reach RushCard's customer service, and figuring out where their paychecks are.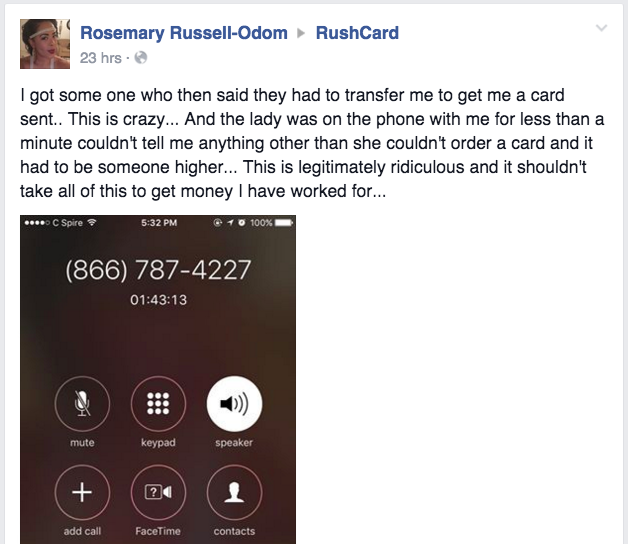 RushCard has said that its system problems ended last month — it hasn't posted an update to customers on Facebook or Twitter since Oct. 26 — but interviews with customers show they were struggling with the service into last week.
AJ Seay, a 26-year-old cook at a hospital in Cincinnati, opted to use RushCard to pay bills a few years ago after a bad experience with overdraft fees from his bank. Despite the system failure, he decided to give the company a second chance after reading on Facebook that its two-day advance direct deposits — a major draw for customers, offering early access to paychecks — were back as of Oct. 26. Since then, his paycheck has been late twice, including last week, he says, sticking him with extra fees on his electricity bill and car payments.
"I not once ever got an email or text or call back from them once the issue started," he told BuzzFeed News on Friday, Nov. 6. "The only thing I really saw was that video they posted from Russell Simmons saying he's trying to fix it, but I was on the Facebook page the other day and people are still having issues. Like, I'm still having issues — my check came two days late. I'm not dealing with RushCard anymore."
Seay said on Tuesday that he's no longer having issues with RushCard, noting the company contacted him after he spoke with BuzzFeed News.
Phillip Parsons, a cellular technician in Oklahoma City, says he was able to access the money on his RushCard for the first time in three weeks on Wednesday, Nov. 4, and has withdrawn most of it, noting the system is still having "tons of issues."
"We had delayed deposits and everything was still up in the air — I was negative a couple days ago because a transaction that should have went through 15 days ago just went through randomly," he told BuzzFeed News on Friday. "Nothing's been offered to help, they just keep saying, 'It'll get better,' or 'We'll get this fixed.' ... 'It'll get fixed when it can get fixed.' That's sort of the overall response from them."
Dakaris Joyner, a 29-year-old in New York, told BuzzFeed News on Friday that $65 had been missing from his RushCard account since mid-October. He said his calls to customer service were disconnected before he could talk to a person and his Facebook messages went ignored. BuzzFeed News asked RushCard about Joyner's account on Friday afternoon; on Monday afternoon he said the funds were available.
The company's Facebook page and Twitter mentions are rife with customers expressing frustration over accessing funds and getting help from customer service. (The company said Wednesday it tripled call center capabilities.)
Cardholders also have yet to receive information about the fund that was announced on Oct. 29 — a statement from the company didn't say how big it would be, although the New York Times said it will pay up to $3 million. That amount "could change depending on how many customers ultimately make use of it," the Times said, citing RushCard executives.
Simmons, a hip-hop mogul, co-founded RushCard in 2003 for Americans "who need an alternative to traditional banking, check cashing, and credit products." About 68 million Americans either don't have bank accounts or rely on services like check cashers and pawn shops to supplement their bank accounts, according to the Federal Deposit Insurance Corp. The group tends to be comprised of minorities and the "lower-income, younger, and unemployed" — a financially vulnerable group.
While plenty of alternatives to RushCard now exist, Simmons told the NNPA News Wire earlier this month that the card serves a unique role for the black community.
"I like when this company is really profitable, then we can go out and help the community in a way that no bank, no non-Black institution, ever will," he said in an interview.
Weeks ago, RushCard told consumers it would waive fees from Nov. 1 to Feb. 29 of next year as a "thank you for sticking with us," apologizing for the pain it caused its customers. The company typically charges up to $10 to activate cards, $8 in monthly fees (that goes down to $6 when linked to direct deposits), and $2.50 for out-of-network ATMs and over-the-counter withdrawals.
Seay was unimpressed by the company's fee-waiving gesture, noting: "Anyone can pay a $10 fee. People got late fees from paying bills late."
On its website, the company is touting the deal to new customers with the heading: "Holiday Magic: RushCard Made Fees Disappear!"
Some customers aren't feeling the magic just yet. "I can't understand how I can call the customer service for this multimillion-dollar company, and they cannot service me as a customer," said Joyner, who has been speaking with other frustrated users.
"They have children that need diapers, that need food, that have gotten their direct deposit onto their card and the money has just disappeared," Joyner said. "We're all in limbo and there has to be something that can be done."
UPDATE
Updates to show amount of customer fund could change from $3 million.